Surfers Paradise is a destination I've always had mixed feelings about.
On one hand it's a soulless metropolis where steel and glass dominate the landscape, but on the other it's a beachside haven that somehow fills my heart with a sense of childlike wonder.
Though seen through older eyes now, it still lures me back again and again.
It'd been a while since my last visit, so I was keen to see how Queensland's most popular getaway had changed. Did Meter Maids still watch over parking meters like guardian angels? Would Ripley's Believe It or Not have finally installed a new exhibit? My inner child was ready to be unleashed on the GC theme parks.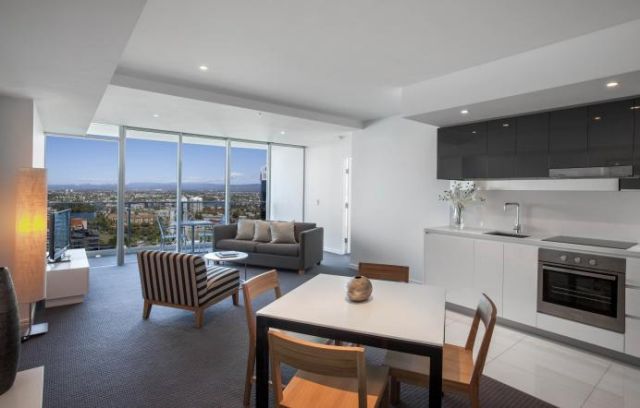 Our group of 6 – 1 couple, 1 family – was always going to be a tough one to accommodate. After scouring the net for a convenient location, we settled on the Hilton Surfers Paradise Residences. Located directly off Cavill Ave, you probably couldn't find a better location (save from right on the beachfront).
Cruising down Cavill Ave, passing the Hard Rock Cafe on the right and the Bavarian Haus Restaurant on the left, memories of past holidays came rushing back. Reaching our hotel, the valet was a mess of taxis and minivans, so we parked the car ourselves – better signage wouldn't hurt. We handed in our keys at check-in.
Situated on level 24, our one bedroom apartment faced towards the beautiful Gold Coast hinterland, with afternoon sun beaming through the floor-to-ceiling windows. At night, as the streets below were waking from their slumber, the twinkling city lights provided a soothing background for alfresco night drinks on the balcony. It's a great room for a weekend away, though not really conducive for romance.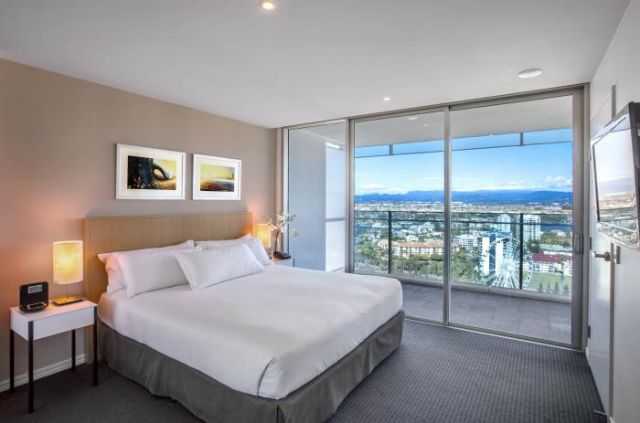 One level down, the two-bedroom apartment provided sanctuary for the family of our group. Once their childproofing ritual was complete, taking a good 5-10 mins to place breakable items out of reach of toddlers, relaxation began. The layout of this room radiated from the living and dining areas, with a huge balcony providing the perfect vantage point for people watching, from Cavill Ave to the beachfront.
Both rooms were near-perfect carbon copies. Same lounge, same carpet, same silver vase placed to the left of the sideboard… the hotel was decorated with the kind of systematic precision you'd expect from such a large property. Surprisingly, both rooms had the exact amount of same furniture – though it worked better in the smaller of the two rooms. Both rooms were crying out for a pop of colour.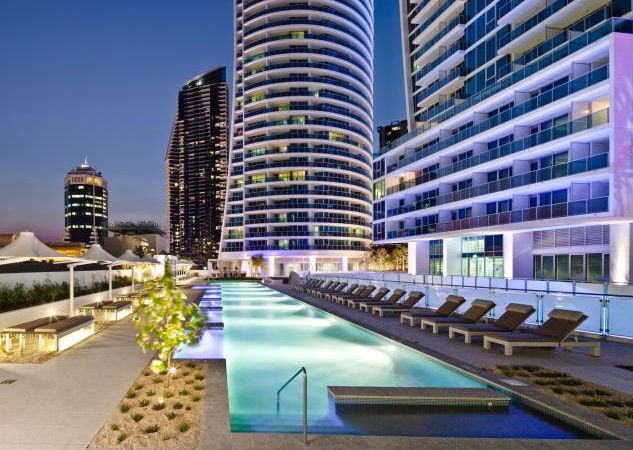 One area where the apartments did shine was the kitchen. Equipped with Ariston appliances, the cleverly design provide more storage options than you'll be able to use in an entire week. But with so many cheap food options close to the hotel, they didn't see much use from us – aside from washing the odd cup.
Using the hotel as our base, we made our daily pilgrimage to the Gold Coast theme parks. Dreamworld and Whitewater World were just the adrenalin fix the doctor ordered, while Wet n Wild let us float away into a relaxed frame of mind. Movie World was tempting, but past experiences during school holidays made us skip it this time.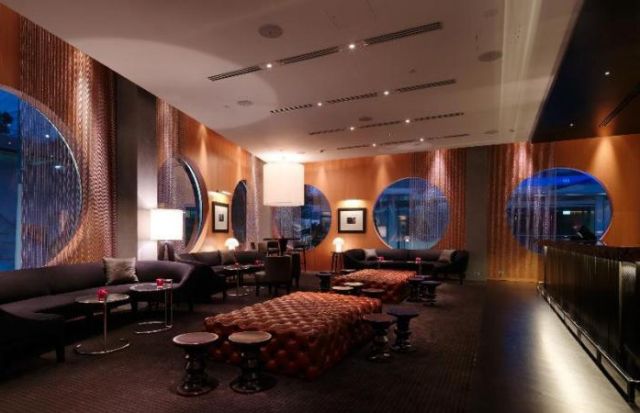 When weary from the day's activities, you could find us in the heated spa on level two. The outdoor pool area looked fabulous, but would be much better during the warmer months. The coffee shop in the lobby was a lifesaver. FIX Bar on Level 1 was a great place to start the night, with it's edible cocktails a definite highlight.
Satisfying my earlier curiosities, Ripley's Believe It or Not still hadn't changed, and the bikini-clad meter maids were present but their numbers greatly reduced.
The best feature of Hilton Surfers Paradise is its location. Positioned in walking distance to all the bars, restaurants and attractions of Surfers Paradise, with views that go on forever, the hotel is a fabulous base to explore the Gold Coast. With just a few minor tweaks, such as clearer valet instructions and pool heating, the hotel could easily be counted as one of the best family hotels in Surfers Paradise.
Things To Do
Dine at Salt grill by Luke Mangan
Located on level 1 of the Hilton Surfers Paradise, Salt grill is an absolute must. Chef Luke Mangan, perhaps known best for Virgin Australia's inflight menu, has created a signature restaurant showcasing Modern Australian cuisine at its best. With dishes such as 'glass' Sydney crab omelette with miso mustard broth, Rangers Valley grain fed scotch fillet, and salmon fillet with nicoise salad and quail egg, each paired with sommelier selected wines, the Salt menu is one of the best fine dining options on the Gold Coast.
Head to the Gold Coast theme parks
Though Dreamworld is getting a bit old, it still has some of the best rides on the Gold Coast. Having WhiteWater World situated right next door, with a simple 'world hopping pass' available, it's the perfect way to break up the day. Movie World is a fantastic spot to relive your favourite movie moments, but be sure to choose the right day so you're not in endless queues.
When You Go:
Learn more about Hilton Residences Surfers Paradise
Check live rates at Booking.com
-I stayed as a guest of Hilton Hotels & Resorts.