I love a good design hotel. Any property that breaks out of the boring cookie-cutter mould to deliver something new or exciting is doing something right in my books.
One brand making waves in this space is Aloft Hotels, a part of Starwood. Created with tech-savvy Gen-Y travellers in mind, this unique brand is at the forefront of innovation with robot butlers, voice-activated guest rooms, and even emoji room service.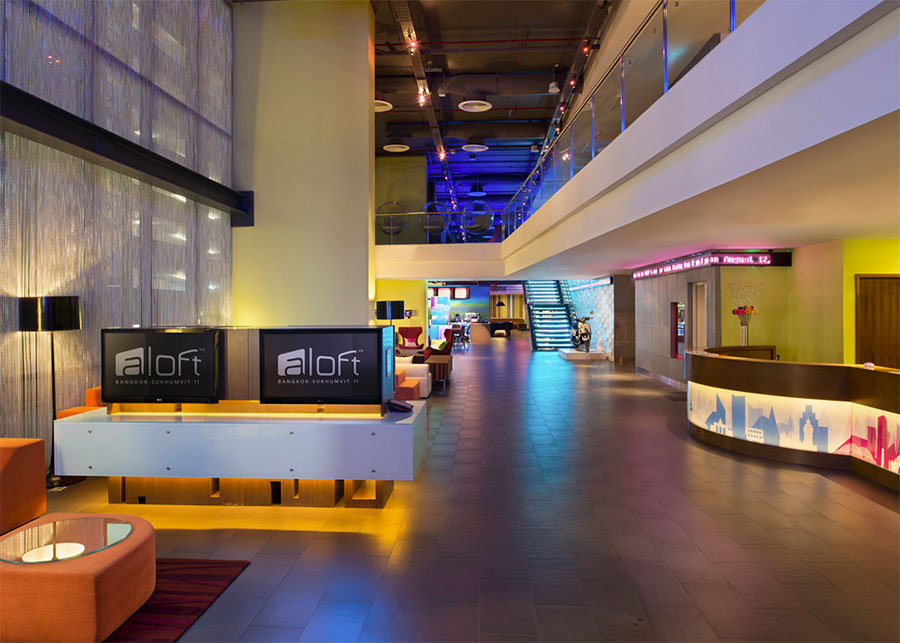 Located in the hip Sukhumvit 11 neighbourhood, Aloft Bangkok is not your average hotel. From the exterior painted by local graffiti artist Cheap7 to the overhang pool on the 11th floor, everything has been designed for maximum visual impact.
A fusion of art, music and technology; Aloft Bangkok is a hotel for the Insta generation.
Entering the lobby area, the first thing that hits you is the bold use of colour – it's industrial-meets-nightclub chic. From there, things only get more outrageous.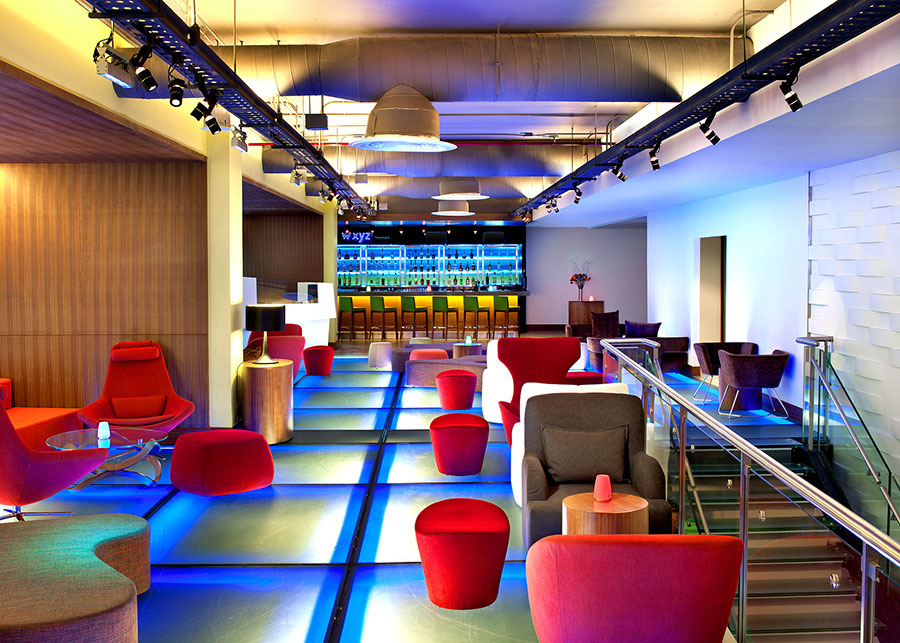 W XYZ Bar on the mezzanine level has a 'Saturday Night Fever' style light up dance floor, while the function areas could double as set pieces for the next 'Tron' movie.
Elsewhere you'll find standard hotel amenities such as gymnasium, swimming pool, and ground floor cafe, but all of them are designed with a similar creative flair.
The over-the-top style may not by everyone's cup of tea, but I'm in heaven.
Thankfully the eclecticism is toned down a bit in the guest rooms, which are simple, elegant, and much more conventional (but still with a good dose of colour).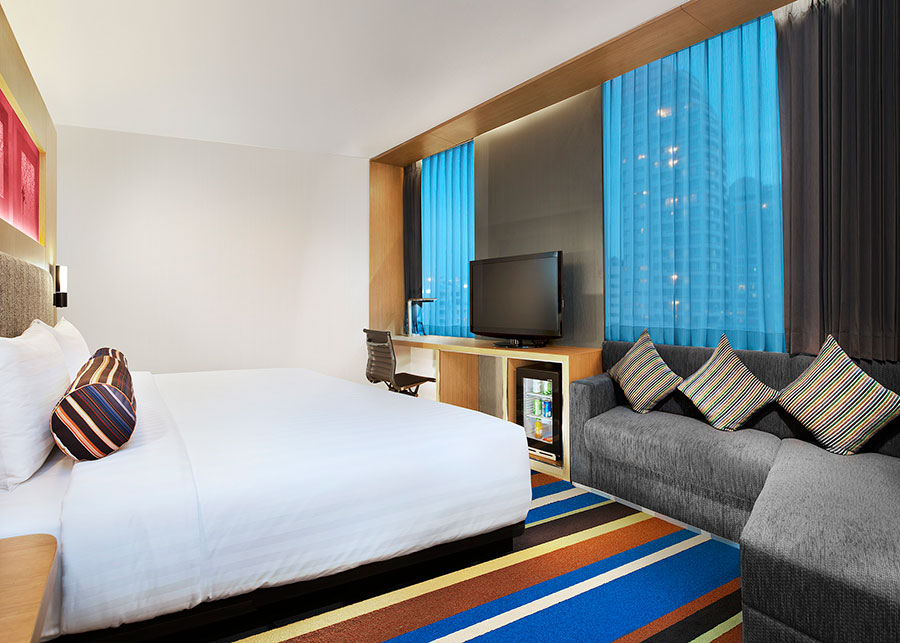 One feature I was keen to try was emoji room service. Realising the huge potential for misunderstandings, they've sensibly locked down the options to a select six.
Texting a water droplet, weightlifter and banana for example will see you receive a bottle of Gatorade, a peanut butter bar and banana for THD 150. Three beer steins will get you a local beer bucket with a Singha, Chang and Heineken beer for THB 300. To throw a spanner in the works, a wrapped present gets you a surprise.
To satisfy my curiosity, I went for the surprise option. Within a few minutes, a knock at the door signalled the arrival of a brown bag with sea salt chips, a novelty lollipop, container of cookies, bottle of orange juice, and an Aloft Hotels wristband.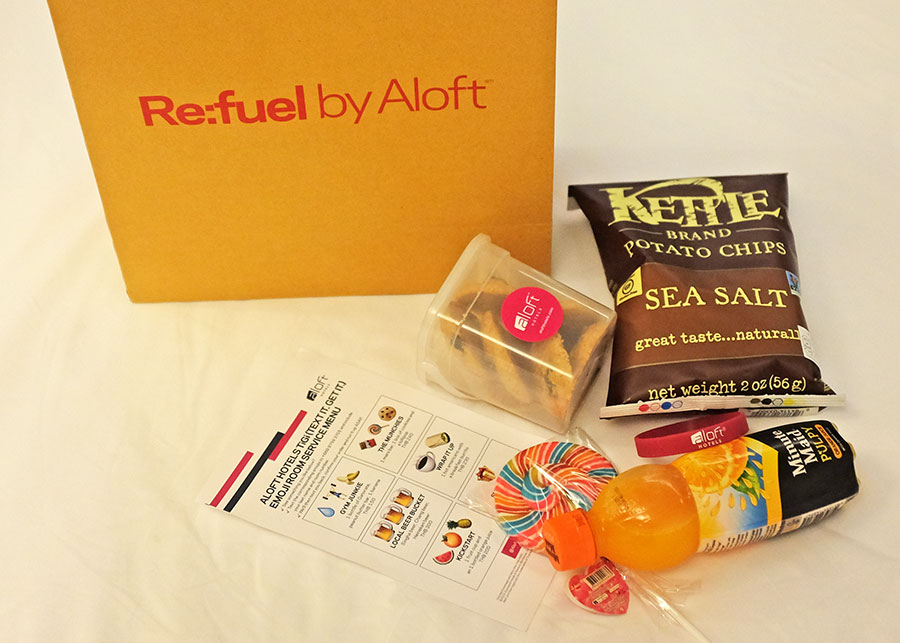 One big selling point for the hotel is its location, surrounded by one of Bangkok's best nightlife districts. There are bars, restaurants and nightclubs a plenty.
At night the street outside is a hive of activity; music blares from passing tuk tuks, restaurants spill onto the pavement, and pedestrians weave from one bar to the next. It's intense, but that intensity is at the very essence of Bangkok.
Prior to travelling, I read several TripAdvisor review to see what I was getting myself into. Some reviews, such as ones that referenced vibrations from nearby nightclubs being felt in guest rooms, had me a little nervous. But I'm pleased to say that I didn't experience anything of the sort. I was on the 31st floor though, so perhaps lower rooms could be more affected.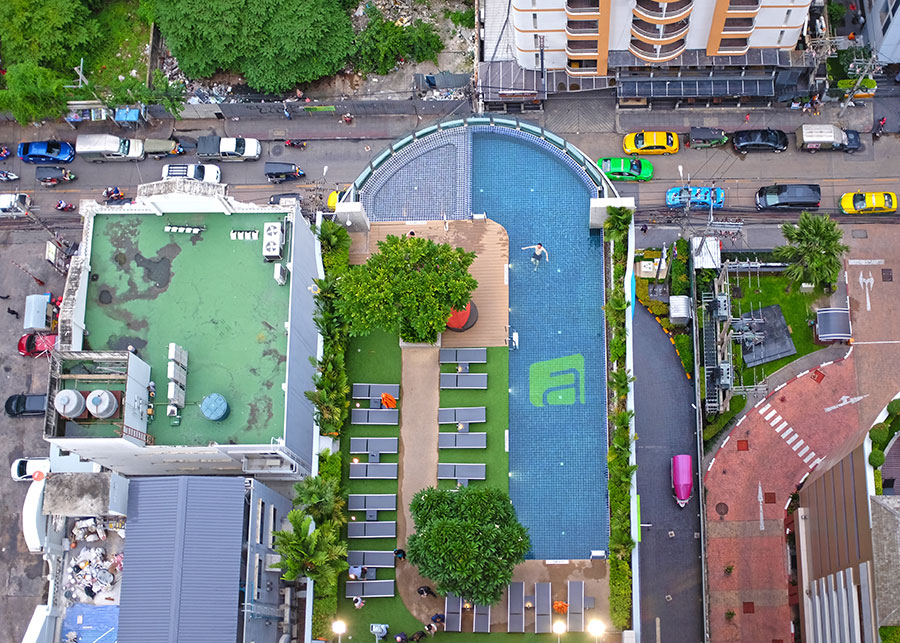 Nana BTS station is conveniently located just five minutes up the road, meaning almost all of Bangkok is within easy reach. A tuk tuk shuttle is available from the hotel to the station if you don't fancy the walk. One area particularly worth a visit via the train line is Ratchathewi, home to some of Bangkok's best street art – including works by Cheap7 and the late Mamafaka.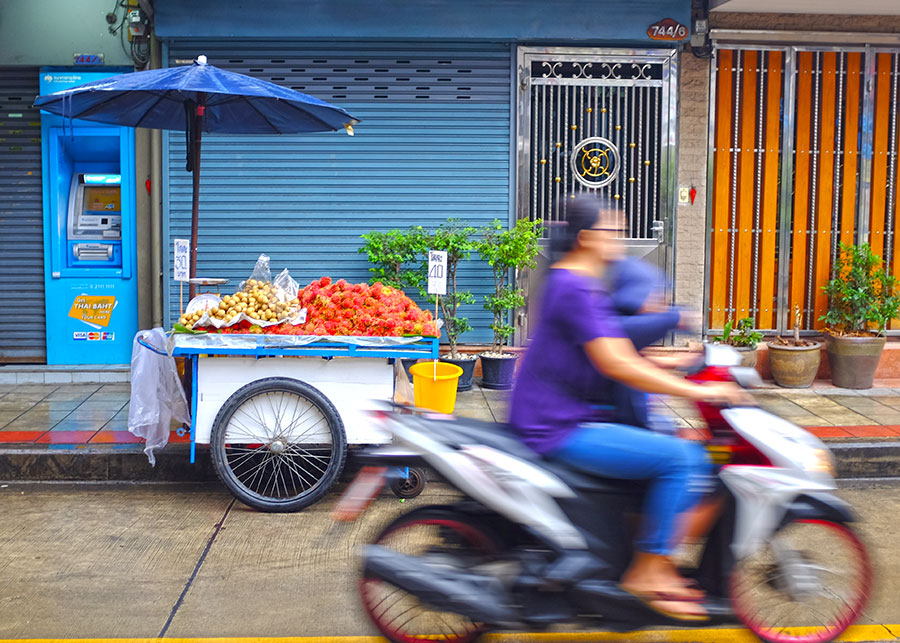 Travel is often at its best when it surprises you, and a big part of that surprise can come from the hotel. While I had an idea of what to expect from Aloft, it surprised and challenged my ideas of what a hotel is and could be at almost every turn.
If the upcoming Perth property is even half as good as this, we're definitely in for a winner.
For more info visit aloftbangkoksukhumvit11.com
Click live rates at Booking.com.
Getting There: THAI operate direct services from Sydney, Melbourne, Brisbane and Perth to Bangkok. For more information, visit thaiairways.com
– I travelled as a guest of Aloft Hotels