"Can you handle one more climb?"
I'm beginning to wonder if that's a rhetorical question. We've climbed two steep inclines already, both preceded by that one question, and a third ascent is looming before us.
"Yeah, sure. One more sounds good", I reply.
Within seconds of setting off up the next slope, heading along its rocky surface one peddle after another, I begin to regret that snap decision. My legs are aching.
Graham Fragiacomo, my guide for the next hour or two, is from Cairns Mountain Bike Tours. Based in Smithfield, an easy 10 minutes drive from the Cairns International Airport, he operates guided trail rides through the 300-hectare Cairns Mountain Bike Park.
"There's a bend up ahead, make sure you stay to the right. You don't want to go left. That's the express route down the mountainside."
He didn't need to tell me twice. We'd passed a few spots just like that already.
Scanning the trail in front of me, I work out which line I'm going to take. Setting off, I feel the wind whipping at my face as I speed ever faster down the rocky hillside. The adrenalin has kicked in. I can feel each rock as it passes beneath my wheels, but I'm not going to stop now.
I narrowly miss a tree to my left, and then lean to the right in preparation for that perilous turn. The gravel gives way beneath my wheels, I slide a little round the corner, but I nail the turn without a hitch. I can breathe again.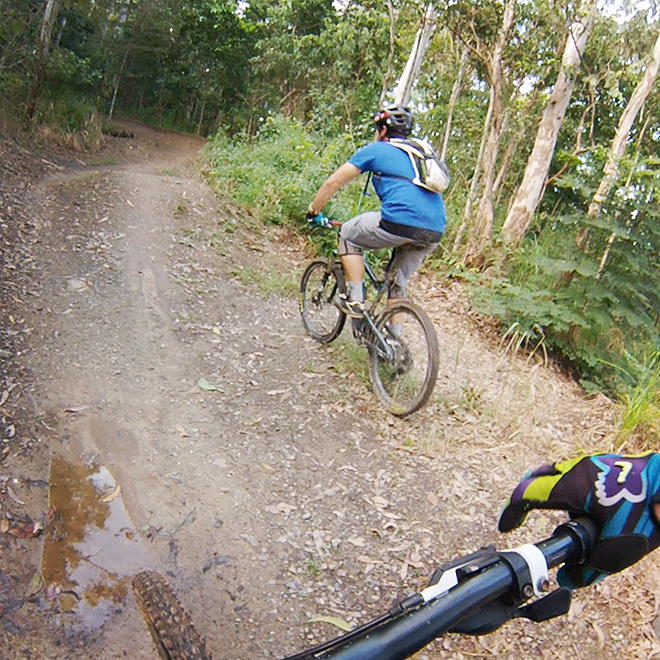 Now we've slowed to a more relaxed pace, Graham fills me in on the mountain bike park. It's been used in several world-class races, including the UCI MTB World Cup in April 2014. Trails range from beginner (green) through to advanced (double black diamond). Just like in the skiing world, black diamonds are tough.
Glen Jacobs, a seventh-generation Cairns local, designed many of the trails here. Considered one of the world's first professional trail builders, with some 300 trails across 20 countries to his name, it should be no surprise to learn that Glen has crafted something pretty amazing in his home town. The trails are designed to not only give riders of all levels a rush, but also celebrate the natural environment.
Graham and I are about three quarters of the way through our ride, and I'm struggling to keep the pace. I've also just realized that I change gears on a bike about as well as I do in a manual car (not very well). Once I become reacquainted with the gear lever, I spend a good minute trying to get back to my previous gear, one that won't have me spinning the peddles faster than a hamster on a wheel. Success.
"Can you handle one more climb?" Graham asks again.
Though I consider saying no, I can't. It's tough, but the ride is too much fun.
"Sure", I respond, praying to the trail gods that my legs last the distance.
It takes us a good 10 minutes, but we eventually make it to the top of the mountain. Soaking in the views, and feeling like I've just conquered Mount Everest, I prepare myself for the fun part. What goes up must come down. And I'm ready to give it my all.
When You Go
Cairns Mountain Bike Tours
cairnsmountainbiketours.com
Learn more about Tropical North Queensland
tropicalnorthqueensland.org.au