Laying naked on a table at the heart of a shopping complex wasn't an experience I anticipated when I started my day. Nor was having a mature gentleman briskly exfoliate my skin with what looks to be a giant loofah. But then, my time in South Korea so far has been full of some rather unexpected experiences.
Earlier this morning I was exploring the third infiltration tunnel of the Demilitarized Zone (also known as the DMZ) between North and South Korea. The biting cold of winter was seeping through my multiple layers of clothing; the view from Dora Observatory's rooftop lookout blanketed in fog with only fleeting glimpses of villages in the distance.
Now, at the Aquafield Spa in Goyang, that fog has been replaced by the swirling steam from a heated plunge pool.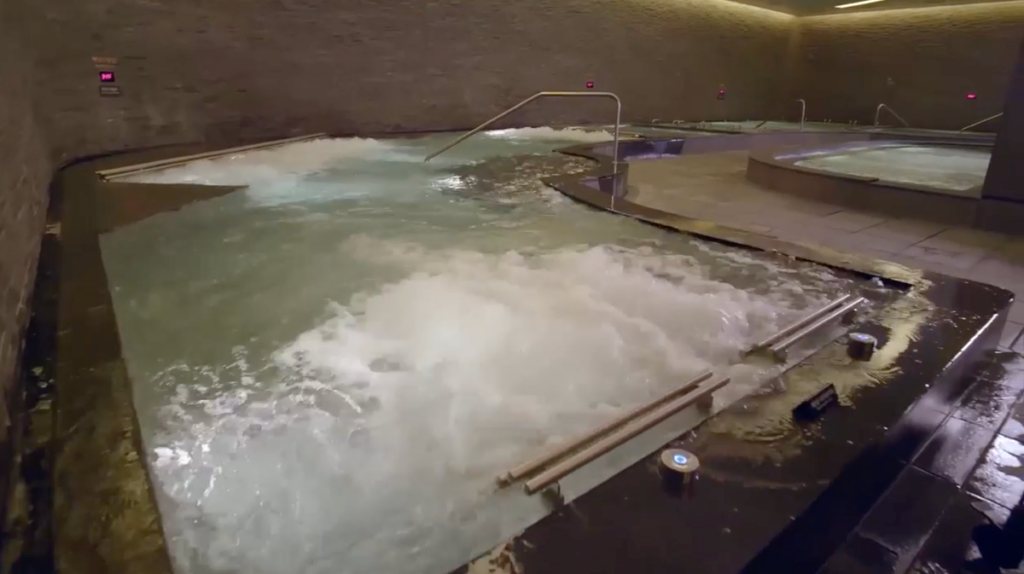 It's one of nine pools throughout the complex, which sits on the fourth floor of Starfield Mall and also counts igloo-shaped dry saunas, foot spas, a rooftop pool, massage chairs and even a snack counter among its numerous features.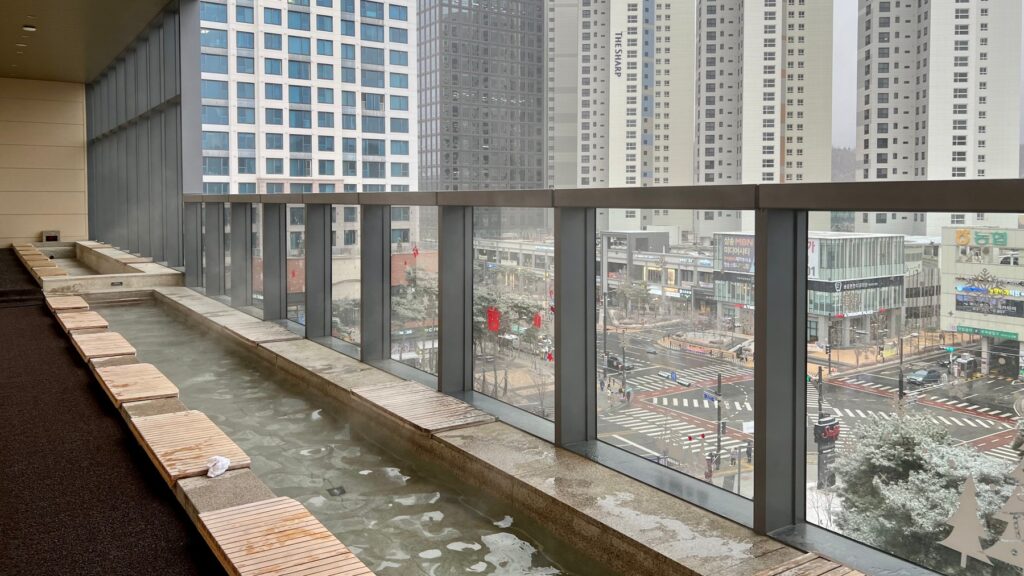 South Korean spa culture may not be as ubiquitous as that of Japan, where open-air onsen hot springs and sento bathhouses have been engrained in their cultural identity for centuries, yet it is an experience worth relishing.
Where Japanese onsen are designed for a quick scrub and a soak before departing, South Korea's jjimjilbang are social-oriented destinations where you can spend an hour, half a day or even longer enjoying all the venue has to offer. And there is a lot to experience.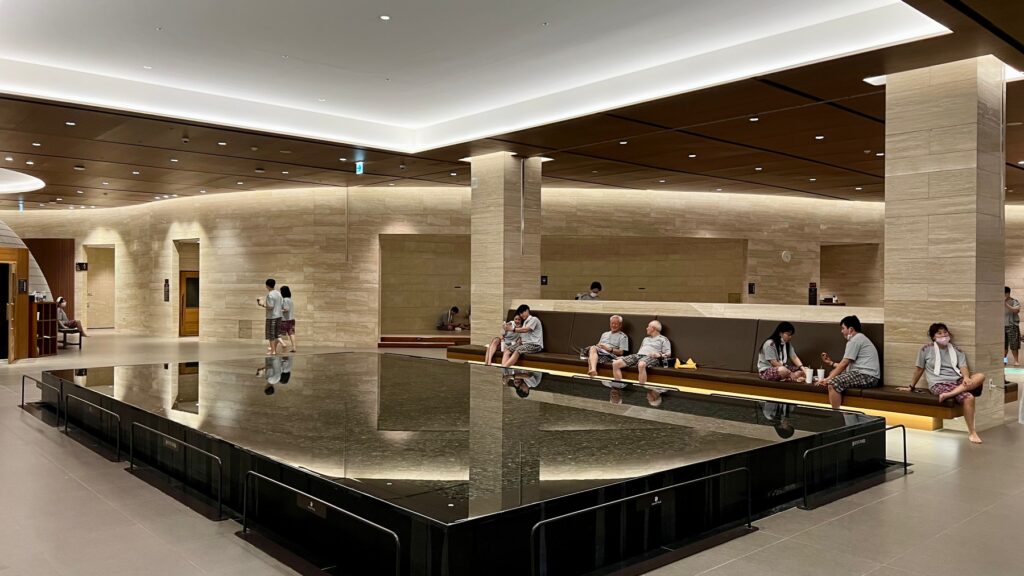 The majority of activities are unisex and enjoy fully clothed in supplied, loose-fitting outfits, with just the showers, locker rooms and pools separated by gender.
Which leads me back to my head-to-toe body scrub – an intense cleaning process known as seshin. It's an add-on experience taking place in a dedicated scrubbing corner, just off the main bathing section.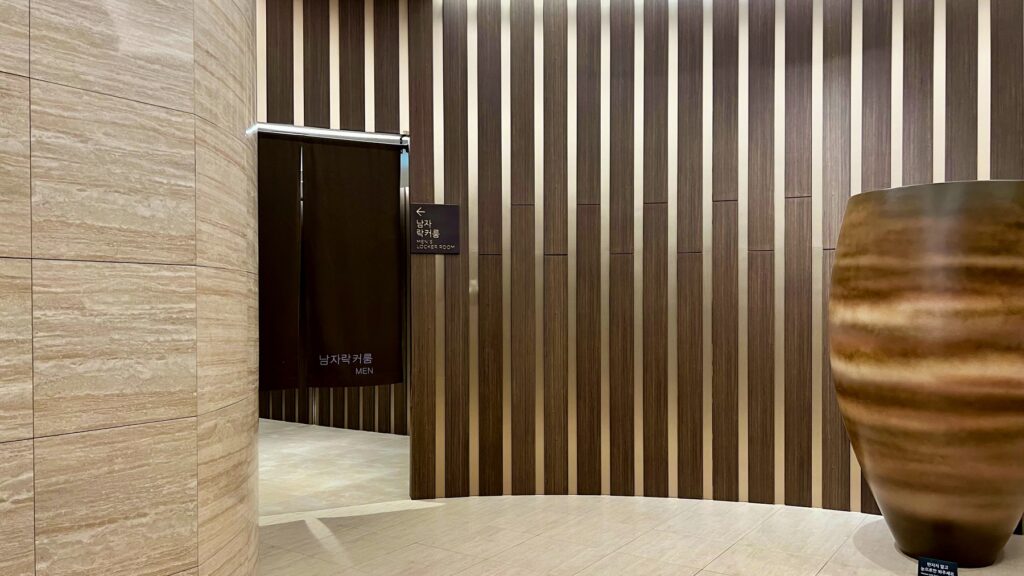 Within the tiled annexe sits a large massage table manned by an older gentleman – probably in his 50s, I'd say. In his hand is a large cloth with a gritty, almost sandpaper-like texture, and behind him a tub of water being constantly refilled by a small tap.
He gestures for me to lay down on the table and after a few quick splashes of warm water on my skin, the scrubbing begins. It's vigorous and rather uncomfortable at first – a shock to discover just how rough the cloth is – but I soon get into the groove and relax.
Ribbons of dead skin fall away from my arms and shoulders (and I assume the rest of me, though I can't see from this position). With each vigorous scrub the man chuckles both at my expression and the volume of skin peeling away. Though we don't speak each other's language, we share a few laughs, and I can tell exactly what he's thinking.
More liberal splashes of water wash away the newly removed skin, revealing the soft pink layers underneath, and it's time to roll over.
All up the scrubbing process takes around 20 minutes or so, and I soon roll off the table feeling like a new man. A quick rinse in the shower and I'm off to dry and change into the supplied clothing, ready to enjoy everything the Aquafield Spa has to offer.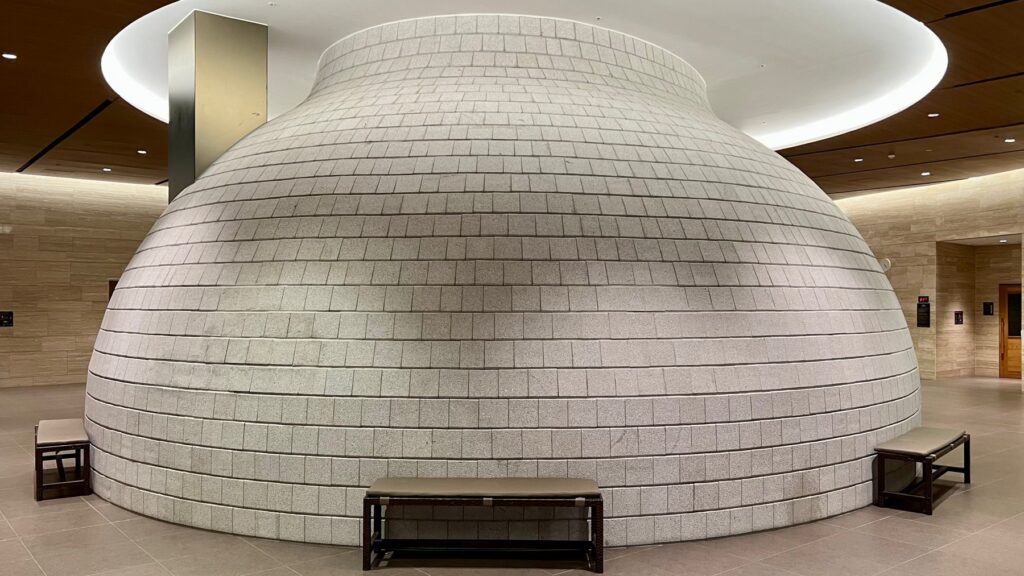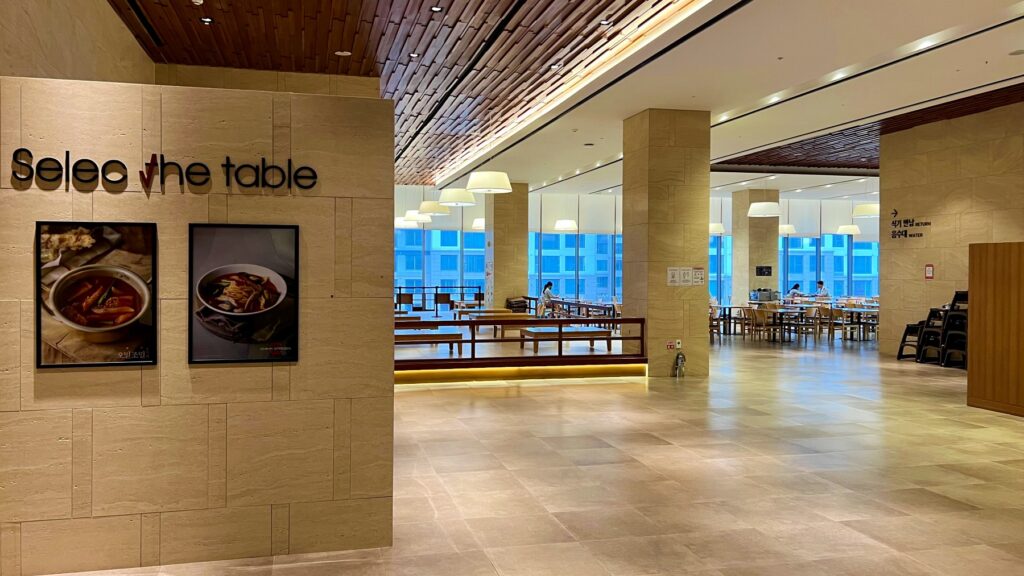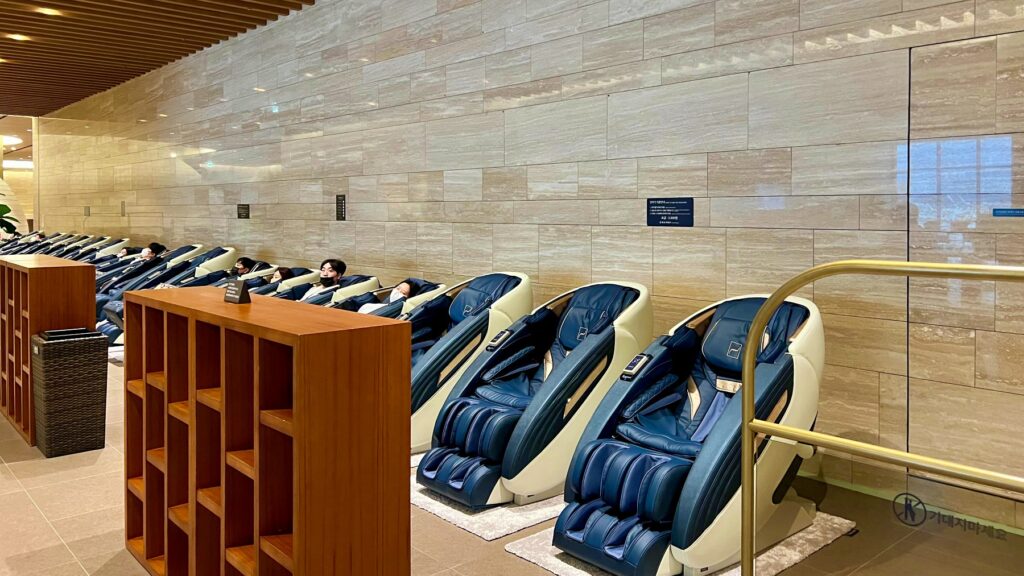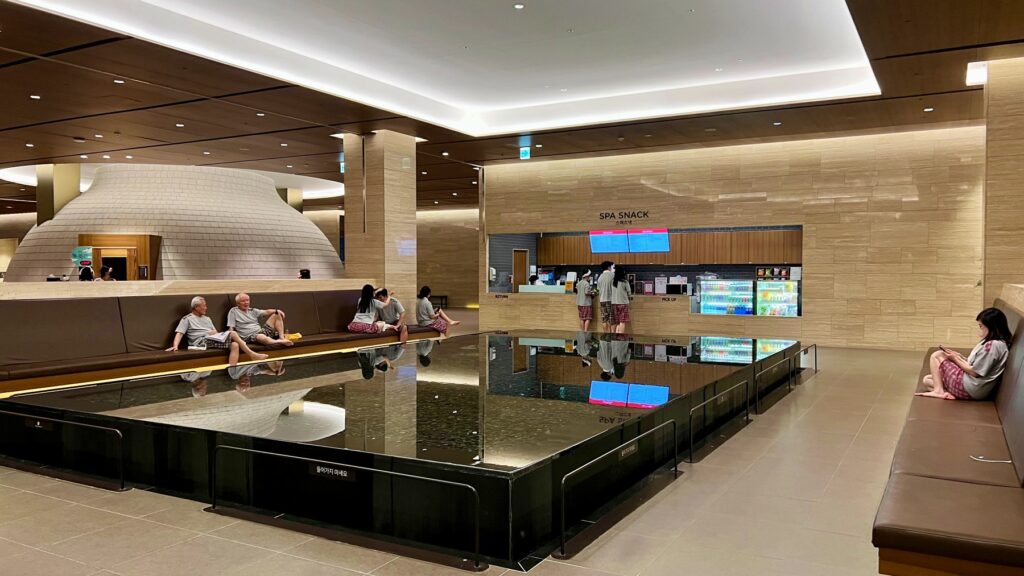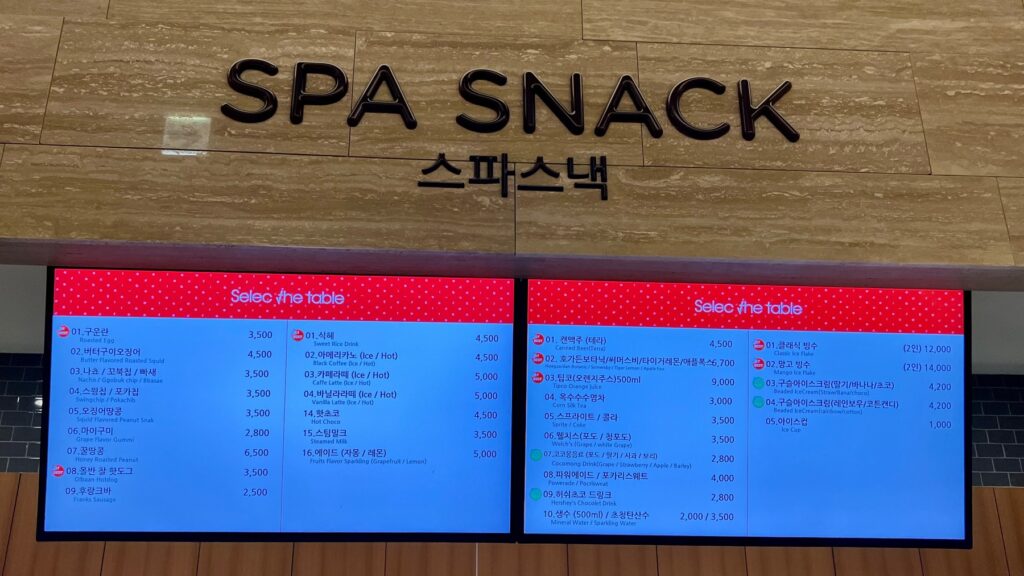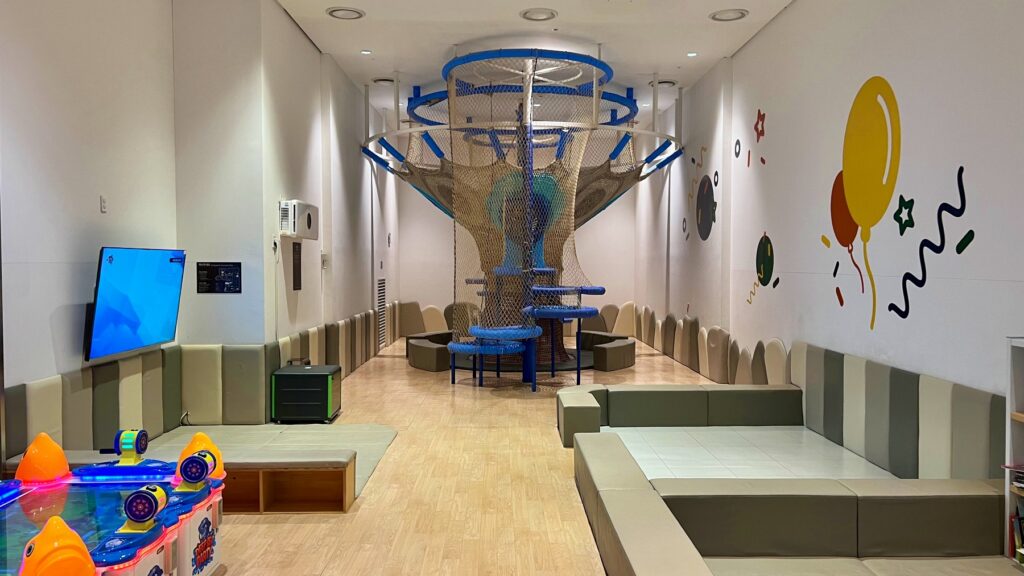 There's a real social atmosphere in the main areas, with groups of friends, couples, families, and solos all enjoying the facilities. Given the temperature outside is 2 degrees and likely to snow at any moment, it's no surprise no one is in any hurry to leave.
After an hour or so exploring and ducking in and out of the saunas, I'm ready to leave – and am SO glad I had the opportunity to experience it. It's not a typical must-do for most Western travellers but gives a genuine insight into this locally adored pastime.
Tickets/pricing for Aquafield Goyang Korean spa
Aquafield Goyang is open daily from 9am to 10pm. Tickets can be easily purchased on touchscreens at its entrance, or from a cashier desk. These are priced at:
• Jimjil Spa – 23,000 KRW (AUD $26.50)
• Water Park – 45,000 KRW (AUD $52)
• Multi Pass for both the spa and water park – 55,000 KRW (AUD $64)
You can use the Jjimjil Spa/Water Park for up to 6 hours and the multi pass for up to 9 hours.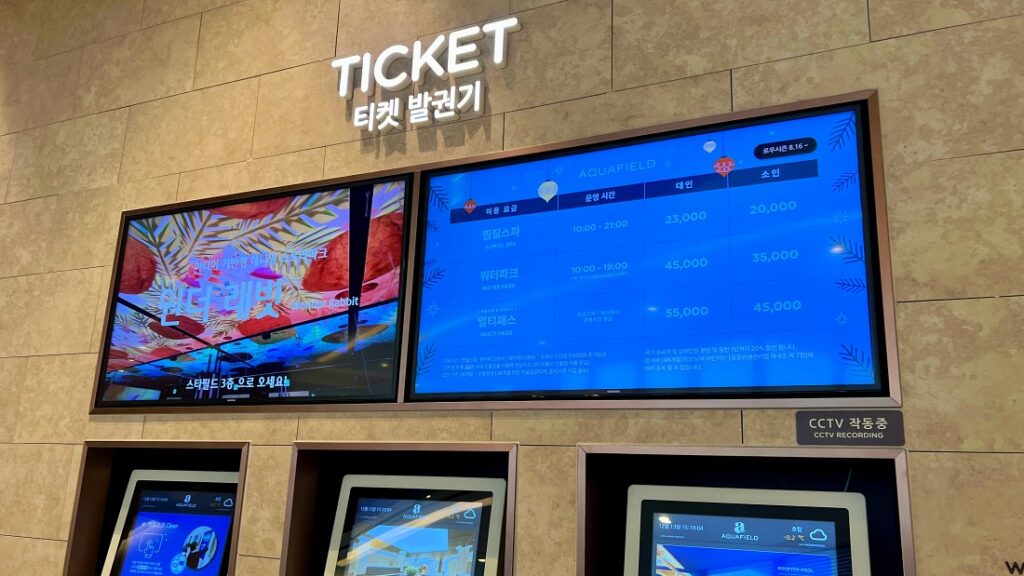 Payment for any incidentals while inside the spa (drinks, snacks, meals from the restaurant, vending machines etc) is handled via your locker key, which is you collect when putting your shores into storage. Just tap and go.
Note: Before exiting you need to visit the settlement office to pay your final bill, even if you haven't purchased anything additional. Shoe lockers will no open without prior payment.
Aquafield Goyang: how to visit the Korean spa
Step 1: Purchase your ticket from the manned reception or pay via the touchscreens.
Step 2: Visit the concierge to store any belongings. The Aquafield website specifically states food and restricted items, though this could also include any bulky shopping items.
Step 3: Make your way to the shoe lockers. Each locker has a tap and go tag, which is used for payment while you're within the facility. Your bill must be settled before you can access the locker again.
Step 4: Head on into the locker room. This is where you'll store your clothes prior to showering/washing and soaking in the pools, and then pop on the supplied clothing to use in the wider spa.
Step 5: Enjoy all the spa has to offer. You can relax in multiple saunas (each one has a theme, such as charcoal, clay, Himalayan salt and the temperature within listed at its entrance), soak your feet in the outdoor foot spa, stop for a bite at the restaurant, or relax in the massage chairs. Those who've paid for access to the water park can also enjoy this.
Step 6: Once you're done, head back to the lockers to get changed. Next, settle your bill at the counter located near the shoe lockers. You need to visit the counter even if you haven't purchased anything additional inside, as this is required to unlock the shoe locker.
Step 7: Pop your shoes and collect any belongings from the concierge on your way out.
Getting to Aquafield Goyang
Starfield Mall in Goyang is around 50 minutes by bus from Seoul Station. Alternatively, you can catch subway line 3 to Samsong Station – the mall is a 500m straight walk from Exit 3 and takes around eight minutes. The latter would probably be the simplest.
Aquafield Goyang is located on the fourth floor of Starfield Mall, Goyang. Other Aquafield locations can be found in Hanam and Anseong.
Address: 1955, Goyang-daero, Deogyang-gu 4F, Starfield Goyang, Goyang, Gyeonggi-do 10595 South Korea
Key links:
Starfield website (Korean language)
Aquafield website (Korean language)
Visit Korea guide to Aquafield Goyang (English)