Hearing it described as the "Hawaii of China", Hainan Island made me more than a little curious. Would it be a tropical island escape that has remained undiscovered by Australian travellers, or were the Hawaii comparisons simply an exaggeration aimed at attracting unsuspecting tourists?
To my relief, it turned out to be the former… to an extent.
Located in the South China Sea, Hainan Island is just across the Gulf of Tonkin from Vietnam. That means that unlike other parts of China, it has a balmy year-round climate with hot, humid summers and mild winters.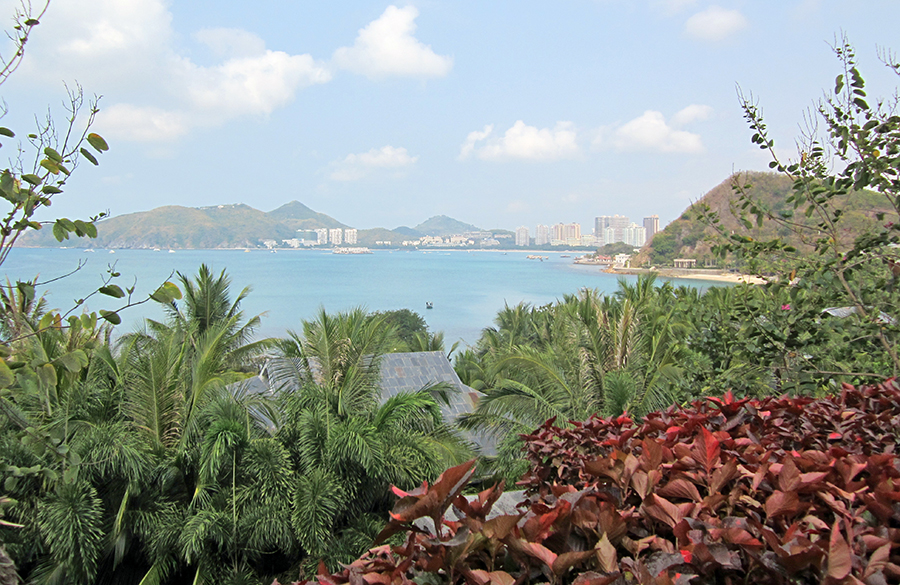 After arriving at Haikou Meilan International Airport, and getting a thorough sizing up from the woman at immigration, we made our way to the busy train station. Many of the signs were in English, but some of the more important ones – such as an explanation of the rather unusual boarding process – seemed to be missing.
We waited on the sidelines, watched curiously by onlookers, until a queue was formed and we could board the bullet train to Sanya. Reaching a top speed of 195km/hr, the scenery whizzed by and we arrived in just under 2 hours. A word of warning, don't fill up on durian chips on the way down.
Waiting outside for the taxi, ignoring the illegal cab operators who circled like a flock of vultures, I couldn't wait for the next part of our journey to begin – the cocktails were calling me. After spotting so many run down villages on the way here, it was a great sense of relief to find Sanya was indeed a real city – not just a product of someone's Photoshop skills.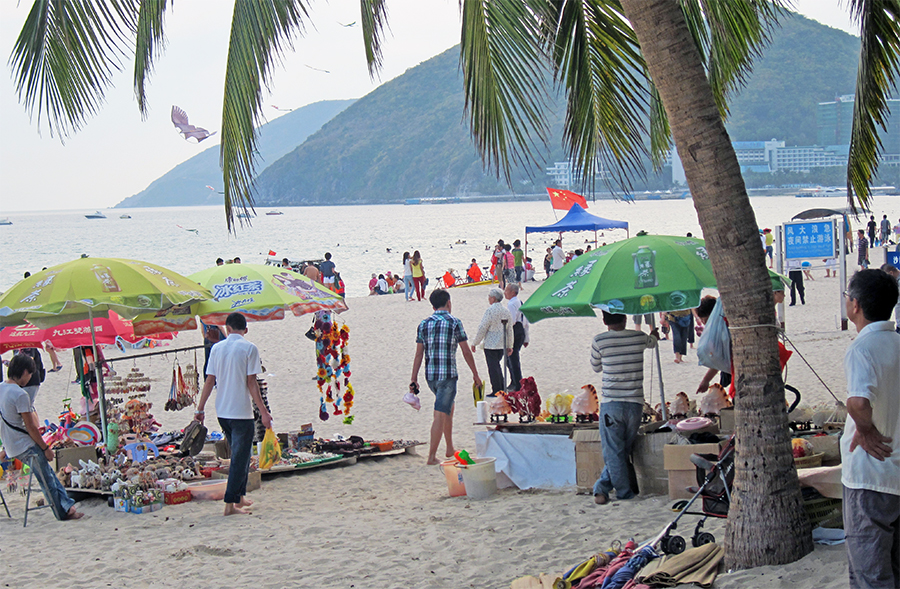 The taxi from the station wasn't as peaceful as our journey down however, and left us fearing for our lives with no seat belts and a driver with no need for pesky indicators. Lanes were a fluid concept to him, and if traffic backed up he simply created his own. Two lanes became seven in an instant. Despite strong feelings of terror, the trip did give us a chance to soak up the city.
When we finally arrived at the hotel, giddy from exhaust fumes and sensory overload, we'd never been so happy to walk on solid ground.
Set within 12 hectares of palm-filled gardens, and feeling like an oasis from the busy streets we'd just been through, Mandarin Oriental was our home for three sunshine-filled days. Looking out over Dadonghai Bay, it was pure heaven.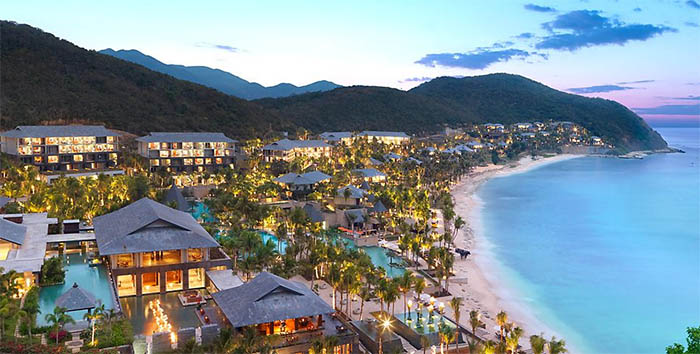 Spread out along the bay, the resort was incredibly peaceful. A fusion of cultures and building styles, the semi-industrial design looked more like an ancient fort than a tropical hideaway… but clever plantings softened the appearance and helped the imposing buildings settle into the landscape.
Behind closed doors though, the resort took on an entirely different feel.
Swapping the industrial-chic look of the exterior, the inside of our Ocean View Room was more like the tropical resort I'd imagined. Maybe this was where the Hawaii comparisons came in. With rich timber flooring, a white timber-clad ceiling, quirky coconut weave headboard, and artworks inspired by local ethnic cultures, every inch of the room was styled perfectly.
Out on the tiled balcony sat two upholstered chairs and a tiny ceramic table, along with a small bamboo ladder (handy to dry the swimwear on). The marble bathroom boasted a deep bathtub and separate shower area.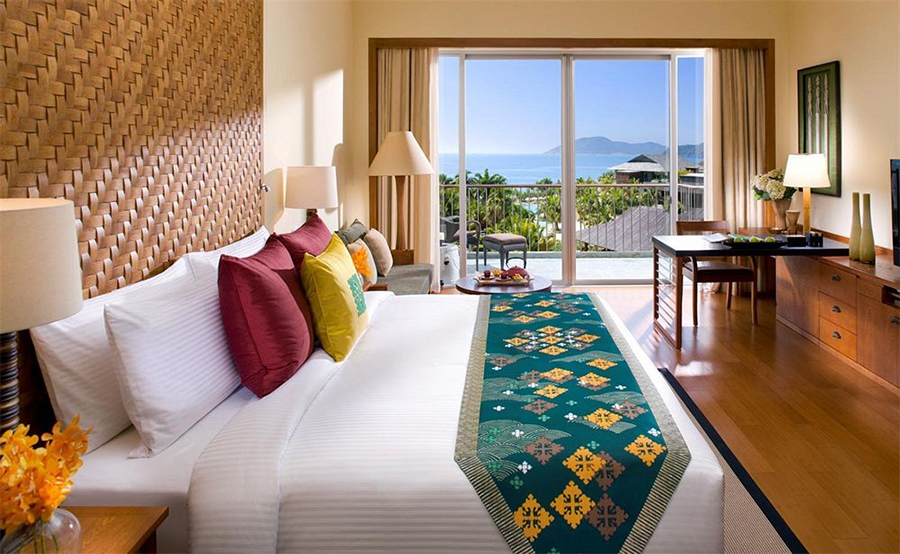 On first glance the detail was superb, but on closer inspection many of the finer details and paintwork appeared to be a bit rushed. But it was only a minor grumble, with the positives of the room far outweighing the negatives. In the morning, the view out over the bay was stunning.
Just below our room was the resort's main swimming pool, complete with water slides and swim-up bar. Part tiled and part sand, something I'd never seen before, the pool's clever design offered plenty of private nooks. I'd imagine even in high season the resort pool would still feel like an oasis.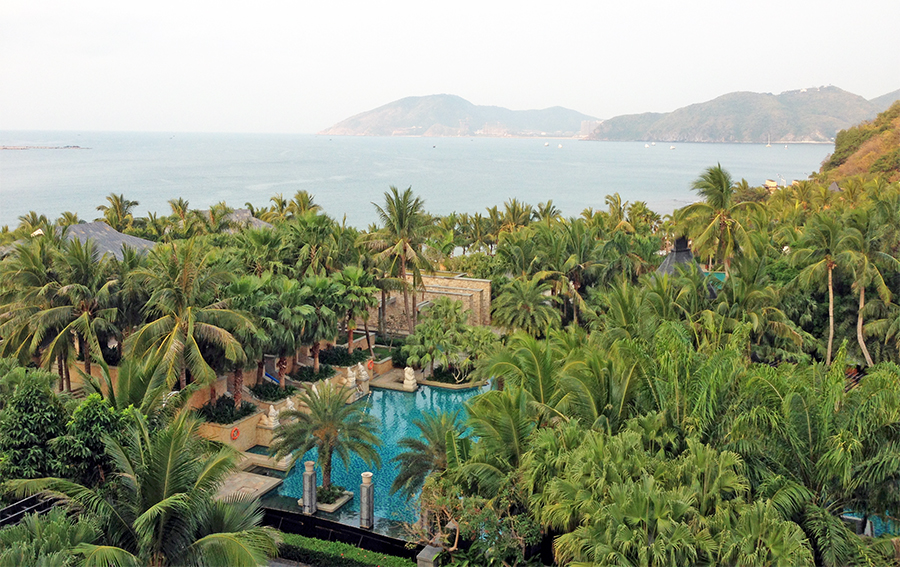 Mandarin Oriental Sanya has several great dining options, ranging from for traditional Cantonese at Yi Yang to Fresh – an alfresco restaurant serving Australian-fusion cuisine. The Aussie head chef has created a fantastic seafood menu, complemented by a great wine list and cocktail menu.
One of the biggest pluses for the resort was privacy (we couldn't see downtown Sanya from our room or beach), yet it was only a short walk from all the action. Down the road was a great undercover market, along with a promenade of restaurants, massage huts and karaoke bars.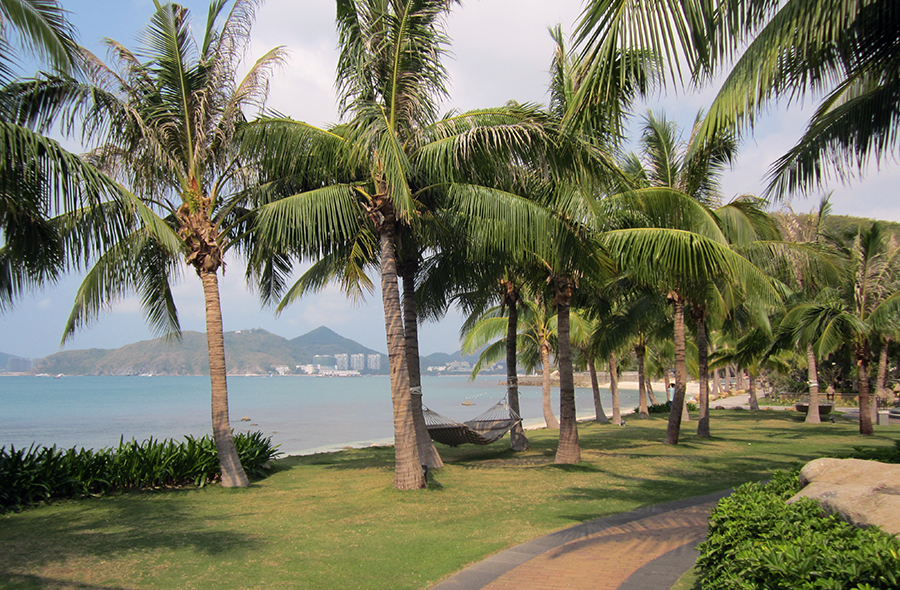 Sanya is spread out over a vast area so taxis are essential for getting around. Many of the city's big shopping areas are within easy reach of the hotel. A word of warning though, don't drive – road rules are few and far between.
If you're looking for a holiday destination that's a bit outside the ordinary, Sanya is an interesting place to check out… but don't go expecting a place in tune with its own history and culture. Sanya is mostly frequented by wealthy Russian tourists, so the bars and restaurants are catering to those markets.
Aside from the touristy areas, very few of the people we met speak English, so brushing up on your charades before travelling is essential. Don't let the language barrier put you off though, it can be part of the city's unique charm.
Though Sanya isn't somewhere I'd personally go back to, I wouldn't mind tackling some of the other Mandarin Orientals to see how they compare. Mandarin Oriental Sanya is a beautiful hotel, and if you're looking for a place to lock yourself away from the world this is a pretty good place to do it.
Learn more about the Mandarin Oriental Sanya – mandarinoriental.com/sanya
Check live rates at Booking.com
Things to do:
Explore – If there's one piece of advice I can offer, it's to get out and explore. We headed to Mingzhu Plaza, a labyrinthine shopping mall selling everything under the sun. You could easily spend a few hours in this place. After the mall we ventured out to explore the neighbourhood and get a feel for life in Sanya.
Eat – The beachfront promenade near the hotel has a massive range of dining options, from noodle bars to Russian restaurants. If you want good food though, bypass the Russian restaurants. They're there to cater to the tourists, but the quality of the food isn't up to scratch. Beer is cheap, and meal sizes are substantial. The bars are a great spot for people watching.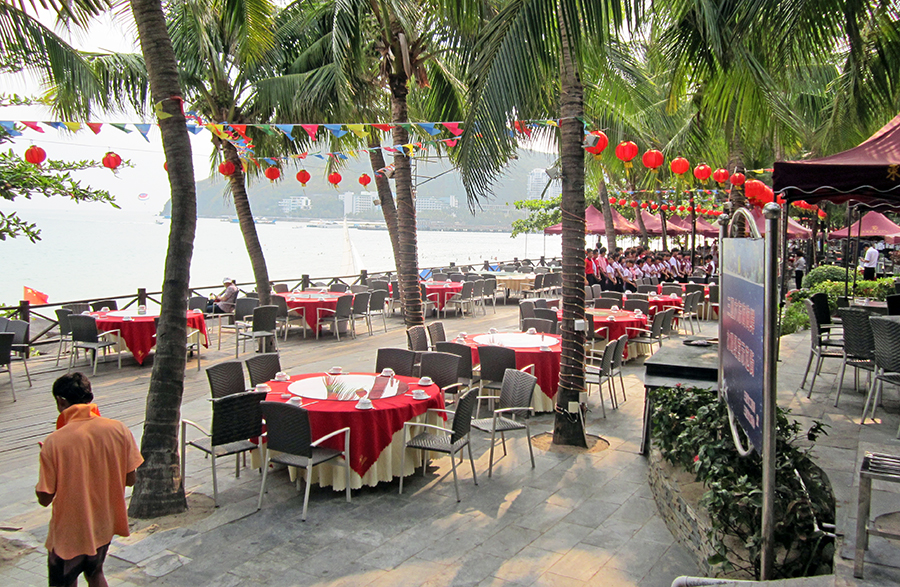 Relax – There are countless massage huts on the beachfront, so you shouldn't have too much trouble relaxing. For just A$10 you can get a great 1 hour massage.
A word of warning – When walking around Sanya, keep an eye out for people on scooters. It doesn't matter if you're walking on the footpath, queuing on a zebra crossing, or strolling through a pedestrian-only area, scooters will be zipping in and out all over the place.
Getting There:
Cathay Pacific operates daily flights between Brisbane and Hong Kong.
Connections to Haikou Meilan International Airport are available with Dragonair.
For more information, visit: cathaypacific.com.au
Chinese Visas are required for travel to Hainan Island.
– We travelled as a guest of Cathay Pacific and Mandarin Oriental Hotels.