Working from home has become part of the new normal for many of us. And although there are plenty of upsides, like a short commute to the office, a fridge always stocked with snacks and dress code that says: 'it's ok to rock ugg boots all day', there are some downsides too. Perhaps two of the biggest are missing out on the energy you can get in team environments and how easy it is to not leave the house for days. Guilty!
Enter the rise of 'work from hotel' life.
To help us shake up our work routines, an increasing number of hotels are now offering day packages that allow us to meet and work in flexible workspaces – and enjoy some room service or refreshments too. Park Regis North Quay in Brisbane is one of the hotels dipping its toe into this new world. And I recently had a chance to give it a test drive.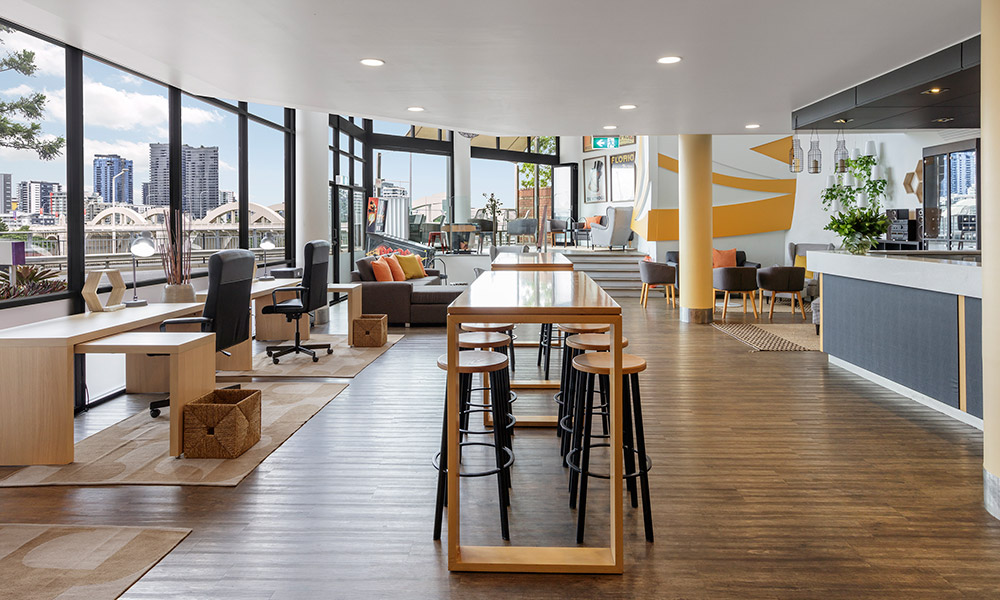 Known as Hive Club, it's a space for businesspeople (not just business travellers) to meet and work, with desks on demand, breakout lounges, meeting tables and a separate dining area. They even have an AC/DC themed pinball machine and vintage video game to help relax.
The Location
Park Regis North Quay is positioned across the river from South Bank, just a few minutes walk from Roma Street station and within easy reach of the CBD and local restaurants and cafes. It's also a handy position to access the M3 heading north and south. The hotel has a selection of self-contained apartments and studios if you're planning an extended visit.
The Space
Hive Club is available for in-house guests of the Park Regis North Quay or anyone else who needs a workspace for a day, week or month. Access is granted via a pin code entry door. I received a code on a slip of paper at reception. It also listed the Wi-Fi password.
The venue itself is spacious and bright, with three regular work desks, two high bar tables surrounded by stools, and multiple lounges and armchairs to relax or enjoy an informal chat. At the front of the space is a small outdoor area overlooking the road and river.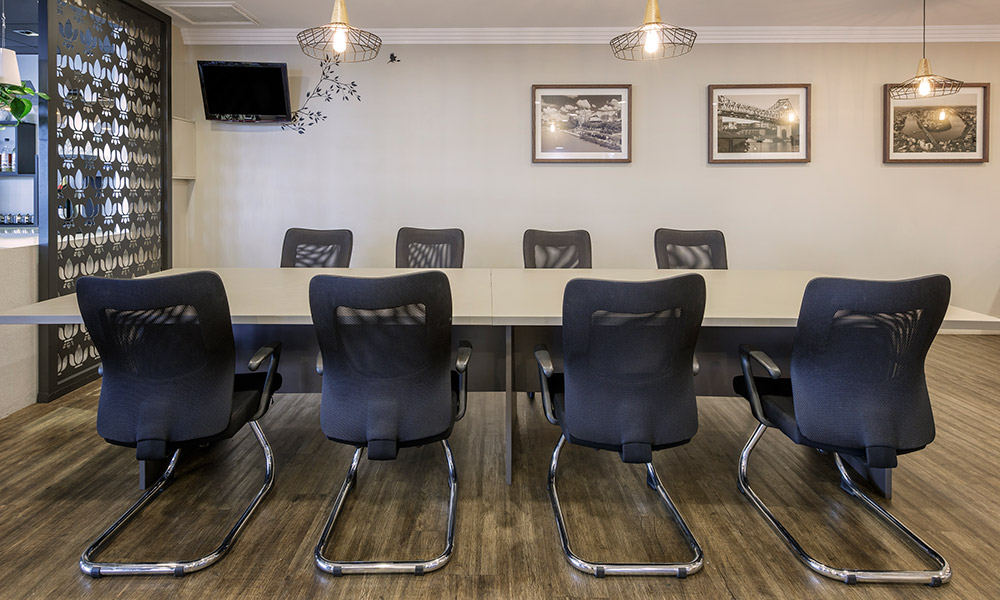 Down at the other end of the room, you'll find a large meeting table with seats for eight people, along with numerous café style tables and chairs. The walls are adorned in black and white photos of Brisbane, giving the space a warm and inviting feel.
A long bar also dominated the space, but sadly it was unstaffed during my visit. In fact, I only saw one staff member enter the space for a fleeting moment in the hours I was there. This wouldn't be an issue if there was signage outlining how the Hive Club worked or, at a minimum, the name of the Wi-Fi network you were meant to be using listed somewhere.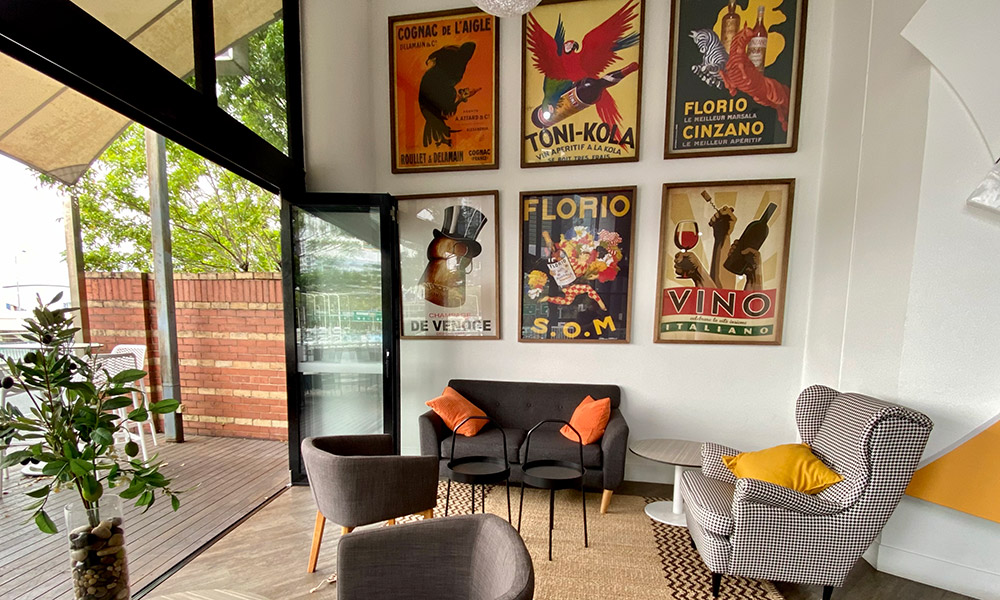 Despite its proximity to the highway, noise levels inside were surprisingly minimal when the bi-fold doors to the outdoor seating area were closed. With them open the traffic noise was definitely noticeable, but no more so than if you were at a roadside café.
The Refreshments
A refreshment zone with an automatic coffee machine, a small display fridge stocked with juices and cakes, cabinet with muffins, bread and banana bread, and assorted breakfast goods like Weetbix and muesli bars are provided free of charge to visitors. There's also a toaster and a microwave, plus a range of teas. All up, it was good for all-day grazing.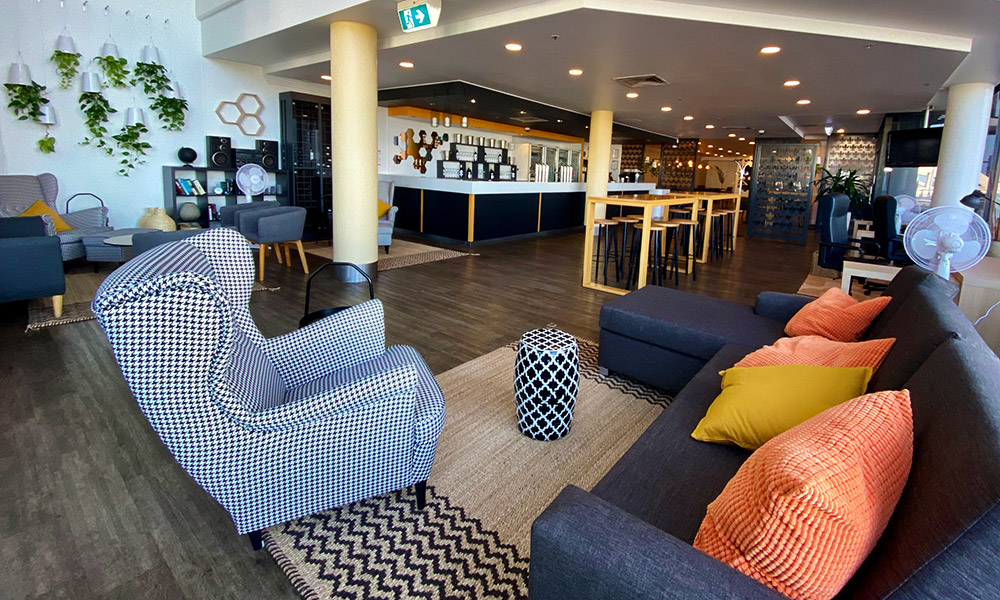 The Verdict
Hive Club probably isn't a space I would go to every day, but it would be ideal for a change of scenery or if I was in town and needed a handy spot to work or meet colleagues. The facilities were great and location excellent. With a few small tweaks, like additional signage or some kind of a welcome pack, it'd be a great 'work from hotel' option.
Hive Club is open daily from 7am to 7pm.
For more info visit parkregisnorthquay.com.au