Hotels are always better when they have a connection to their location. The first hotel that really made me realise this was the Hotel Indigo Hong Kong (read our review here). Located in historic Wan Chai, it took design cues from well-known local sights and incorporated elements of the area's history to tell a story, not just offer a place to stay.
Opening March 1, Hotel Indigo Adelaide Markets is aiming to do the same in the City of Churches.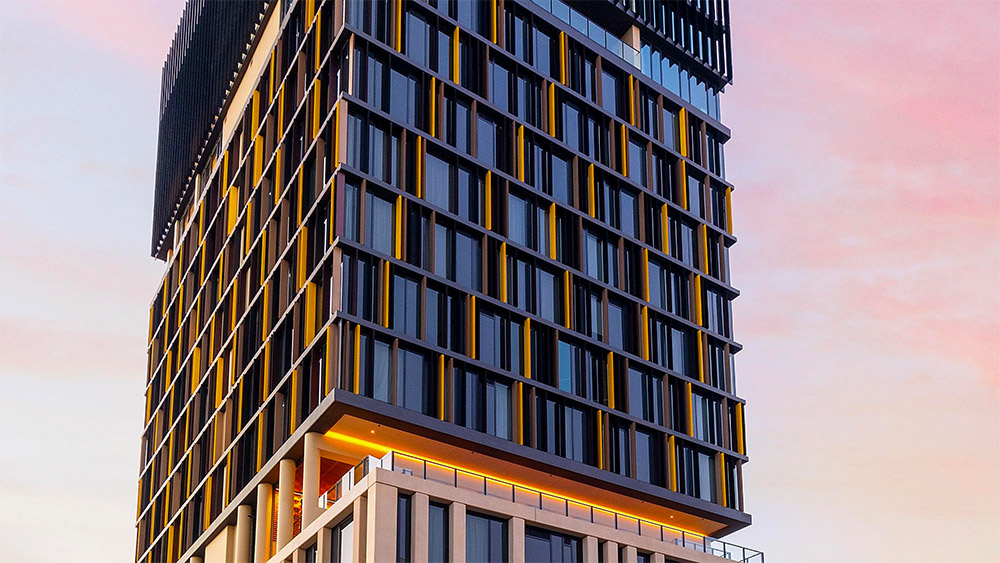 Positioned right next door to Adelaide Central Market, the 145-room boutique hotel was inspired by the commercial past of its neighbourhood. With an exciting blend of heritage-listed and modern architecture, not to mention some genuinely stunning bespoke artworks, it's a hotel that feels part of its location. And that's not even the best part!
Just as no two neighbourhoods are alike, no two Hotel Indigos are the same.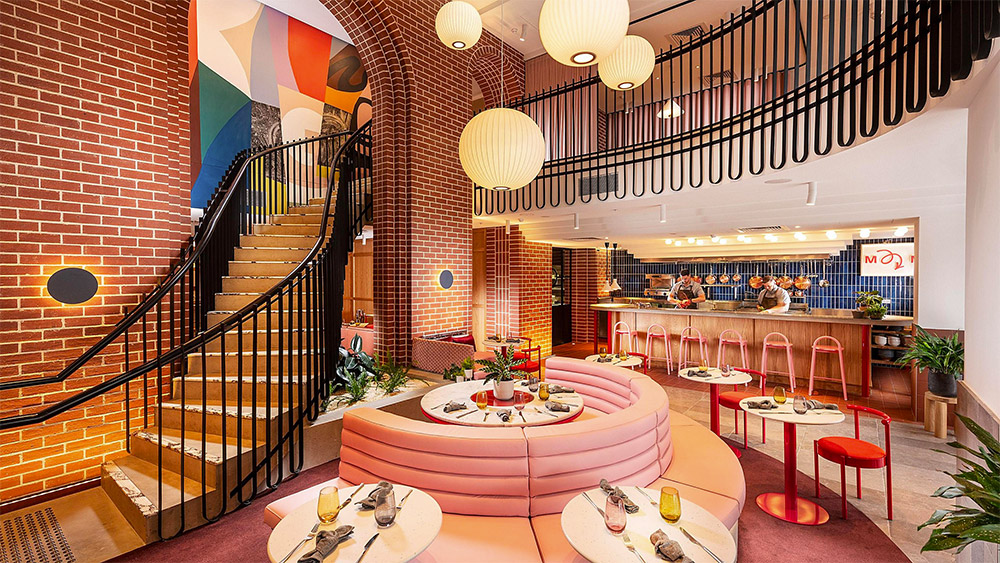 The hotel's public spaces feature brick archways that mimic those found in the adjacent market, colourful street art-inspired murals by Australian artists such as Tristan Kerr, and an exposed terracotta brick feature wall etched with neighbourhood references such as "Six o'clock Swill" and "Mad March" – the name given to Festival month in the city.
Continuing that cultural tribute, exclusive Adelaide Festival-inspired poster art will adorn corridors and rooms, while a rotating selection of artworks will create an engaging, ever-changing backdrop in public spaces.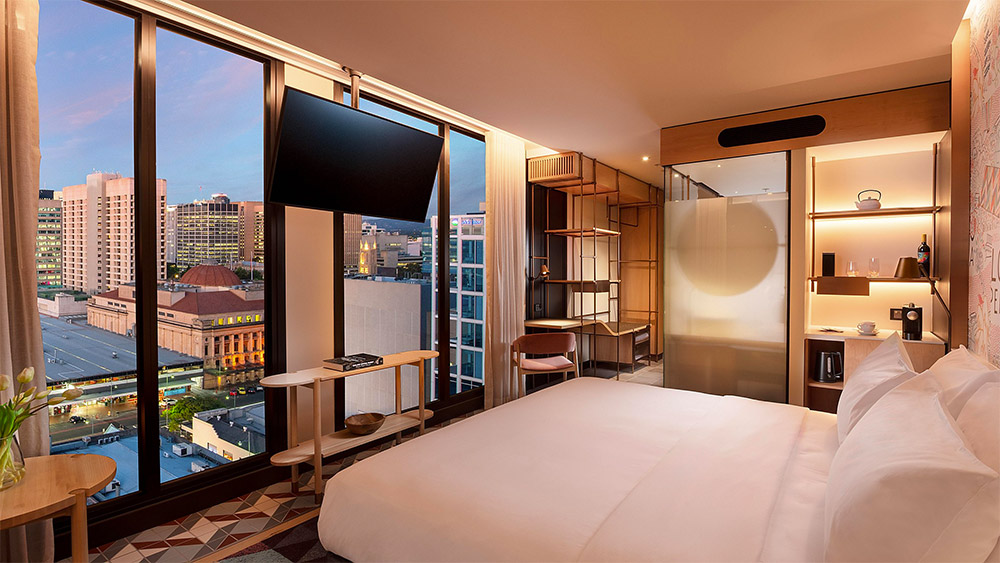 The guest rooms and suites all feature locally inspired design features like copper fixtures, a nod to South Australia's copper mining heritage, as well as light timber furnishings and colourful rugs depicting the tessellated tiles so-often used in traditional Adelaide homes. Bathrooms have two-head rainfall showers and premium Biology amenities, supporting the hotel's green ethos with large-format bottles and environmentally friendly packaging.
The hotel's 25 suites feature luxurious king size beds, espresso machines and minibars with locally sourced items including a pre-batched Wattleseed Negroni from Lot 100 in the Adelaide Hills, Floral as Hell Gin by local distiller, Blend Etiquette and the delicious Inch Licorice Block by Adelaide-based Melba's Chocolates.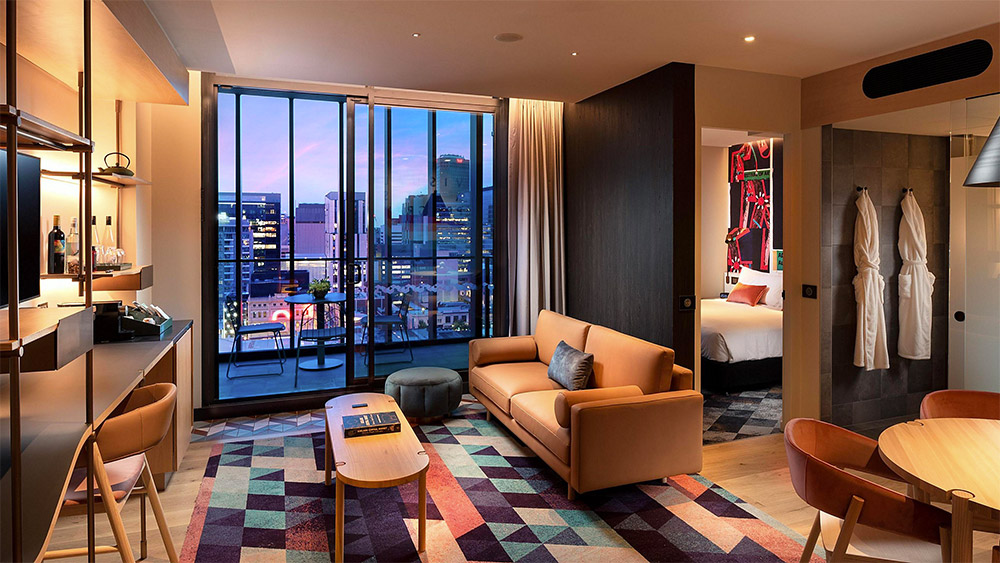 Outside the rooms, there will also be two fabulous dining options – Merrymaker and Market & Meander – that showcase the meal's provenance, with a focus on all things local.
As the city's highest rooftop bar, Merrymaker boasts mesmerising views of the CBD and Adelaide Hills from its 16th-floor vantage point. The raw food-focused venue offers a mouth-watering selection of local seafood, charcuterie and cheeses prepared in an open kitchen. Guests will be able to enjoy more than 25 award-winning gins plus a wide range of South Australian wines and craft beers.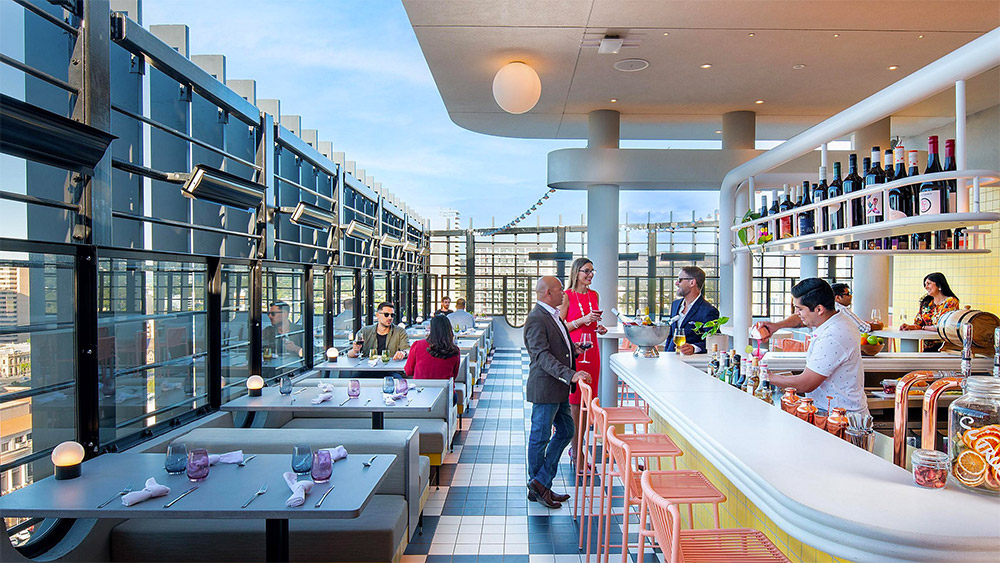 Market & Meander is a ground-floor all-day dining venue that champions local produce, while honouring the district's multicultural influences. Signature dishes include slow-cooked smoked brisket and delicious free-range chicken prepared on an authentic South American-style parrilla grill. The drinks menu showcases South Australian wines and craft beers, including a bespoke beer created by Goodies on Brewery in McLaren Vale.
Guests will also enjoy the local design touches found in this bar and eatery with its colour scheme inspired by long-serving South Australian premier Don Dunstan, who was famous for his social advocacy and flamboyant pink shorts. The venue will also utilise hand-crafted crockery and glassware by Adelaide-based Caslake and Pedler Glass, plus artisan knives forged from recycled materials by Dog Boy Knives in Brompton.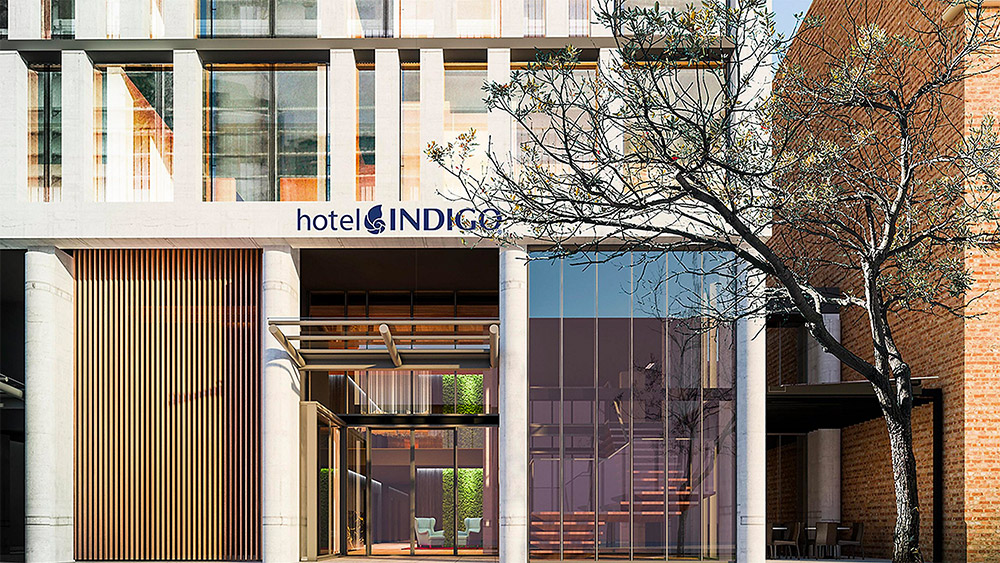 In addition to a well-equipped 24/7 fitness centre, the property will have a 13m outdoor infinity pool, two boardroom-style meeting rooms and the option to hold events on the mezzanine level and rooftop.
King Standard rooms start from $250.00 per night.
For more info visit hotelindigo.com/storiesforthecurious