JW Marriott Gold Coast Resort & Spa has unveiled further details of the new-look and design of its highly anticipated December 2020 relaunch. Formerly known as Surfers Paradise Marriott, the revamped Gold Coast icon is looking to exceed all past glories.
I touched on the impending relaunch here, but new insights into the five-star experience – and the collaboration with Australian design studio DBI – have just been released.
DBI Director, Susan Rossi, who worked on the original design concepts for the property in the lead up to its opening way back in 1992, has spearheaded the hotel's transformation.
"The theme of 'nature' was central to the hotel's design when we first worked on the property in the 90s," says Rossi. "Revisiting the luxury resort today, we wanted to retain a focus on its striking location and views of the beach and hinterland, as well as respect the hotel's original fabric in the most sustainable way.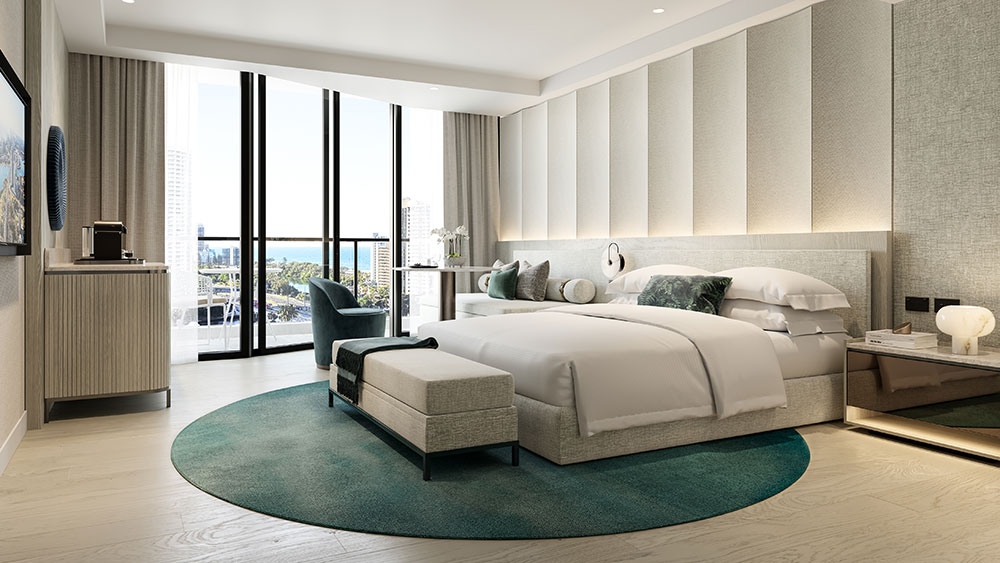 "We therefore kept these elements core to its redesign, only this time presenting their influence in a more elevated and modern way, and through the refined lens of the JW Marriott brand."
The concept for the porte-cochere and reception area was to create a greater connection to the rainforest of the Gold Coast Hinterland with dappled light and a grander sense of scale. Stone features and timber screening with lush planting, textured vessels and rough-hewn materials are a hint to the solace you experience when strolling through the rainforest.
Another reimagined space is the earthy lobby, lobby lounge and concierge library. The latter has been curated to provide a quiet space for research and contemplation, with reading and reference materials focussing on local culture, culinary insights and wellbeing.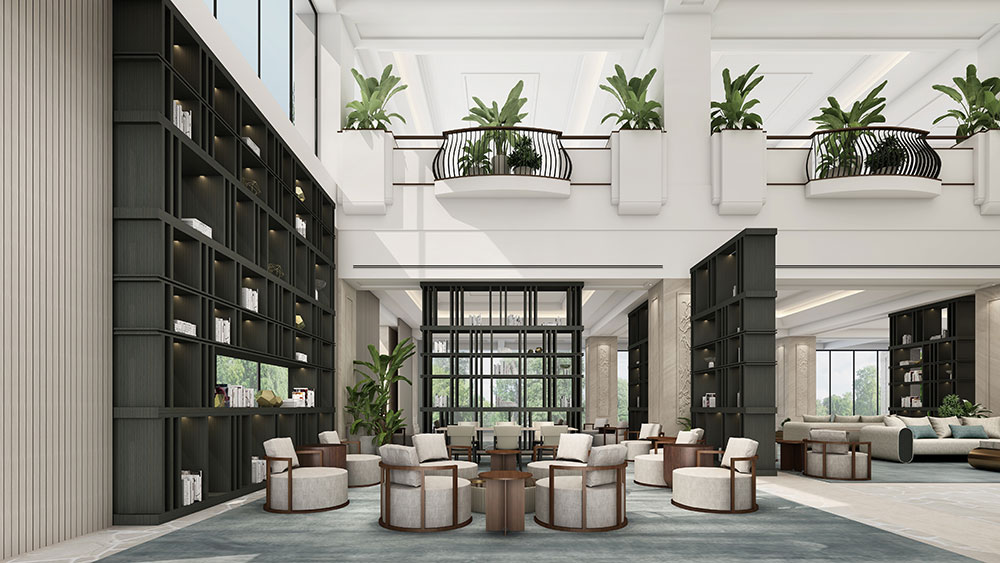 Working with DBI to deliver on the new vision is General Manager, Ravinder Dhesi. With over 20 years in hospitality, Dhesi will guide the hotel and its team through the rebrand and transition, while also working to retain everything that people love about the property.
"Since it first opened its doors in the early 90s, the Surfers Paradise Marriott Resort & Spa has been a much-loved property on the Gold Coast," says Dhesi.
"It holds a lot of fond memories for both locals and visitors, as it fast became one of Australia's most popular family resorts with an international reputation due to its incredible location, facilities and famous lagoon pools. The renovation and rebrand is therefore a significant one and marks yet another chapter for the property and for Marriott International here on the Gold Coast."
Bookings are open now for the December relaunch at surfersparadisemarriott.com