Hold onto your hats, folks. The Jetsons vision of the future has finally arrived.
Hotel Jen has become the first international hotel brand to debut autonomous Relay robots in Asia, with not one but two Singapore properties welcoming high-tech robo-colleagues.
Hotel Jen Orchardgateway and Tanglin Singapore are the first properties to receive the robots, which will be tasked with delivering amenities and in-room dining favourites.
Stationed in the hotel lobbies 24/7, Jeno and Jena can ride elevators, make phone calls to rooms on arrival, and are equipped with sensors to help them avoid obstacles in their paths.
The pair stand at almost a metre tall and travel at a leisurely 2.5 km/h, roughly half the average human walking speed. Need an extra towel or maybe bottle of water? You can expect to have these delivered to your room within around 15 minutes from time of request.
Jeno and Jena are unmistakable in their snazzy uniforms. Playing on the concept of butlers, Toby Tan from Band of Doodlers designed a jacket and tie for Jeno, and a scarf for Jena.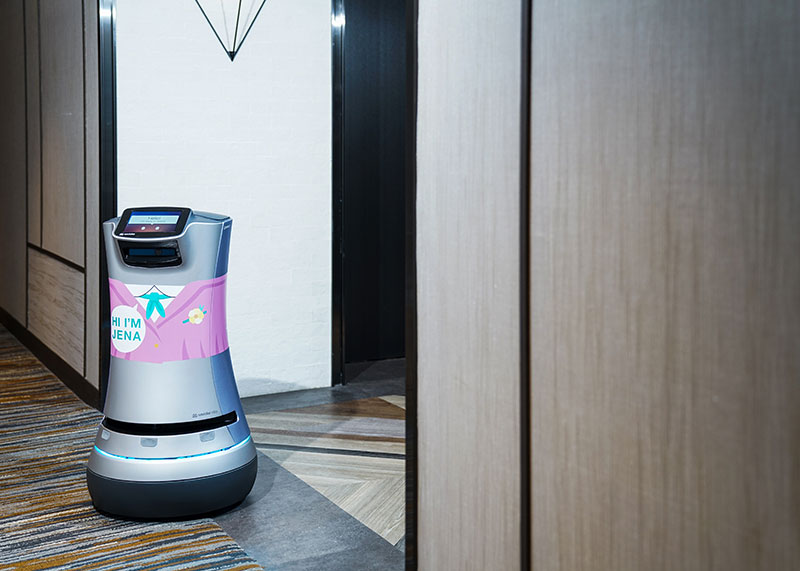 Designed and built by Savioke, Relay fully-autonomous delivery robots have been deployed in over 70 busy environments such as hotels, office buildings, and high-rise apartments. Jeno and Jena are the first (of many, no doubt) Relay robots to launch at hotels in Asia.
Though not everyone may be thrilled at the idea of a robot taking a human's job, I for one welcome our new robot overlords and can't wait to order room service at a Hotel Jen!