Food is always one of my chief deciding factors when picking a destination to visit. All you need to do is tempt my taste buds and I'll be ready to hitch a ride on the next plane outta here. And where could I be headed next? It looks like Tahiti could be on the cards.
To get us hyped for a visit in the near future, Tahiti Tourisme has released an amazing video campaign called 'Tahiti Comes to You' – showcasing many aspects of local life. You can learn about reef preservation from Tahiti's famous coral gardeners, get a crash course in Tahitian dance moves, and even delve into the art of Polynesian tattooing.
The video that caught my eye was Hinatea Colombani's recipe for Poisson cru – Tahiti's delicious national dish, made with fresh tuna marinated in lime and coconut milk.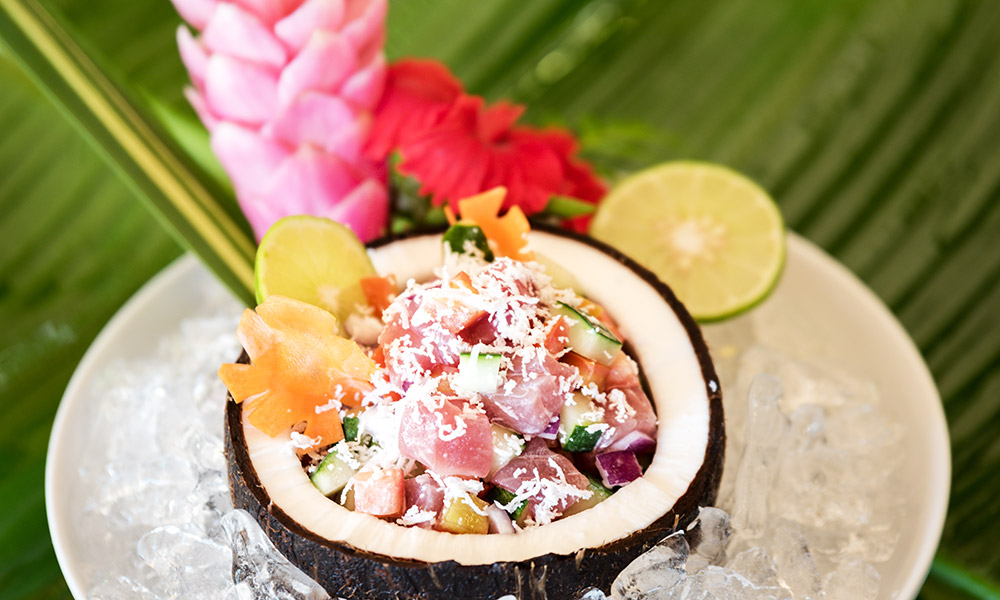 You can find variations of the dish throughout the Pacific islands, like Kokoda in Fiji.
This version does things a little differently though, giving the classic Tahitian staple a bit of a Mexican twist. Until we can get over to Tahiti and experience the real deal in person, making it at home could be the next best thing. Who's hungry? See the recipe below.
Recipe: Poisson cru tacos
Equipment Needed:
• Large bowl for mixing ingredients
• Large spoon
• Chef knife
• Cutting board
• 8 inch frying pan or cast-iron pan
• Cooking tongs for turning tortilla
Main Ingredients:
• 1.5 lbs (approx. 700g) fresh fish (halibut, yellowtail, snapper, or sea bass are great). Ask your fish market specialist what fish is best to eat raw in your area.
• 1 can coconut milk or cream (fresh if available)
• 1 small yellow onion
• 2 cloves of minced garlic
• 2 red radishes sliced into round pieces (use a mandolin if you have one)
• 2 limes
• 1 Hass avocado
• ½ Solo papaya or mango (optional). If you don't have them, it's ok to substitute or omit
• Bush of coriander (cilantro)
• ¼ cup 100% olive, coconut, or sunflower oil (do not use extra virgin olive oil)
• Sea salt to taste
• 6-8 tortillas (homemade or store bought)
• Garnish, Optional: Pickled red cabbage
Sauce Ingredients:
• ½ cup mayonnaise
• ½ cup ketchup
• 1 tsp Perrin sauce
• 1 teaspoon Tabasco or Tapatio hot sauce
• 1 lime
• Salt and pepper to taste
Method:
Make your sauce. Add all the sauce ingredients in a bowl and mix until creamy. You can always adjust the heat of the sauce by adding more hot sauce to taste.
Set marinade aside
Slice fish into 1 inch pieces or cubes
Cut avocado and mangoes into cubes
Slice onion into thin "julienne" style slices
Add coconut milk until you have reached your desired consistency (not too "wet" or saturated)
Combine these ingredients into a mixing bowl and add oil and lime juice. Season with salt and mix well. Put into refrigerator to marinate
Meanwhile, place tortillas into a hot frying or cast-iron pan. Heat until they are cooked to your liking. You can also add oil and fry tortillas until crunchy like a tostada.
After tortillas are warmed, remove mixture from fish and add a tablespoon of the fish mixture to one tortilla. Garnish with cilantro, pickled cabbage (optional) and add sauce mixture to each taco.