It's finally happened. Nintendo is at last entering the theme park arena with a newly announced expansion – aptly named Super Nintendo World – coming to Universal Studios Japan. Best of all, it's expected to open in time for the 2020 Olympic Games!
Imagine walking through the corridors of Princess Peach's Castle, battling enemies in Bowser's Lair, dodging whomps and other booby-traps… it's going to be a dream come true for millions of Nintendo fans around the globe.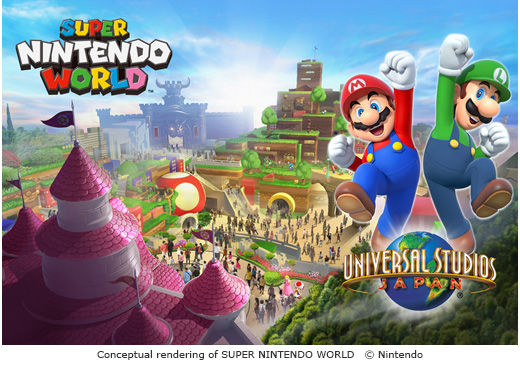 Drawing upon Nintendo's extensive stable of renowned characters and rich game worlds, the 50 billion Yen (AUD $578 million) expansion to Universal Studios Japan in Osaka will feature expansive and multilevel environments filled with state-of-the-art rides, interactive areas, shops and restaurants.
Nintendo characters and the worlds they inhabit will be re-created at the highest level of quality through the strong partnership between Mr. Shigeru Miyamoto, Creative Fellow at Nintendo, and Mark Woodbury, President of Universal Creative.
Developed on the park's existing parking lot and a section designated for future expansion, Super Nintendo World will allow guests to fully immerse themselves in the worlds of Nintendo, and is expected to attract fans from around the world.
Super Nintendo World Japan will be the first of three Universal expansions, with Hollywood and Orlando to follow.