'Jumpers and thongs' are the unofficial winter uniform in Queensland. They're also the name of Alfred Wiley Distillery's new small-batch gin. Inspired by the local climate and made using premium Pinot Noir grapes that were tainted by the bushfires that rocked Victoria early last year, it's a versatile gin that's great both great on a hot summer's day or when you're chilling in your jumper and thongs on a fresh night round the campfire.
So how did it come about? Like all good stories, it started with a dog.
Will Eather, founder of Alfred Wiley Distillery in the Tweed Shire, is a paramedic by day and distiller by night. Based in Brisbane, he'd been making whisky for years as a hobby, but after finding and adopting a dog – named Alfred (Alfie) – he realised he was never going to be able to spend time with him and decided to make his hobby the main gig.
As his inspiration to pursue his new career was inspired by Alfie, it made sense he would be the name of the new distillery. The second part, Wiley, came from the name of Eather's friend group in high school, who were influential in pushing him to pursue his dream.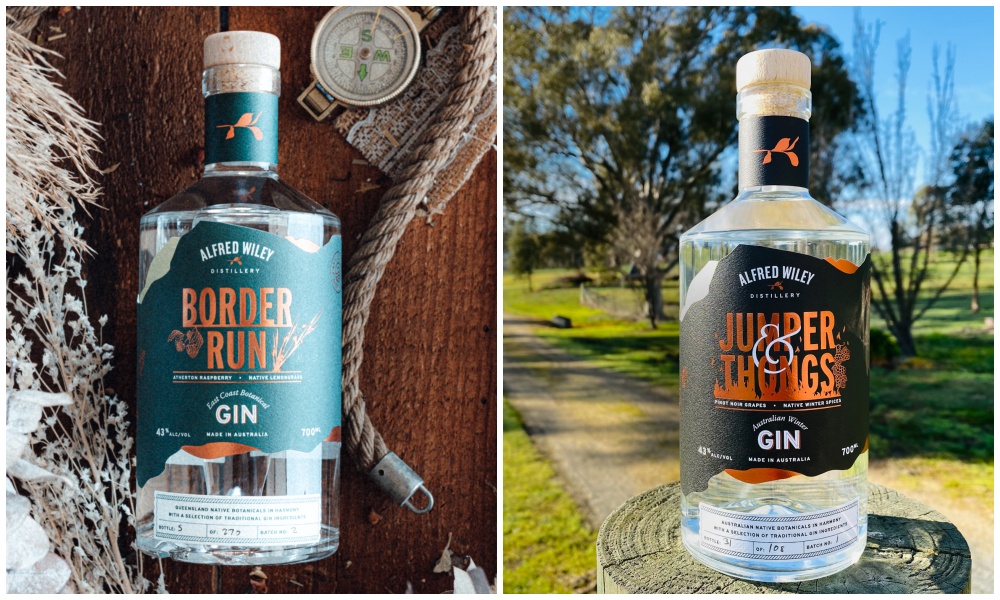 "It just goes back to creating a brand that's about a lifestyle and friendship – not about trying to make a million bucks, just trying to enjoy life and the process," Eather says.

Although his original plan was to launch in February 2020, that was just when lockdowns started to happen. All the approvals were in place but, being based in Brisbane, he was unable to commute down to the distillery just across the border in South Tweed.
An agreement was eventually made with council to produce hand sanitiser, which gave the team a chance to also iron out the kinks in the production process. Almost 12 months to the day later, Alfred Wiley Distillery finally launched their first gin, aptly named Border Run.
The location of their South Tweed distillery also plays a huge part in the final product.
"We're choosing our product and recipe to match whatever the weather is outside. If we know it's going to be sunny weather, we change our yeast profile or our grain profile. Even to the level of opening the door, shutting the door. It becomes very idiosyncratic to every nuance. It's sort of that French regional concept of terroir but taking it an extreme where the product you get is not only a fingerprint of the region but also that time."
Ingredients are less hyper local, with grain sourced from Coopers in South Australia and border malts from Pinkenba in Brisbane. The flavour of the Border Run is still distinctly Queensland though – a perfect drink for lazy days enjoying the famous Queensland sunshine – with four and a half native botanicals sourced from Australian growers.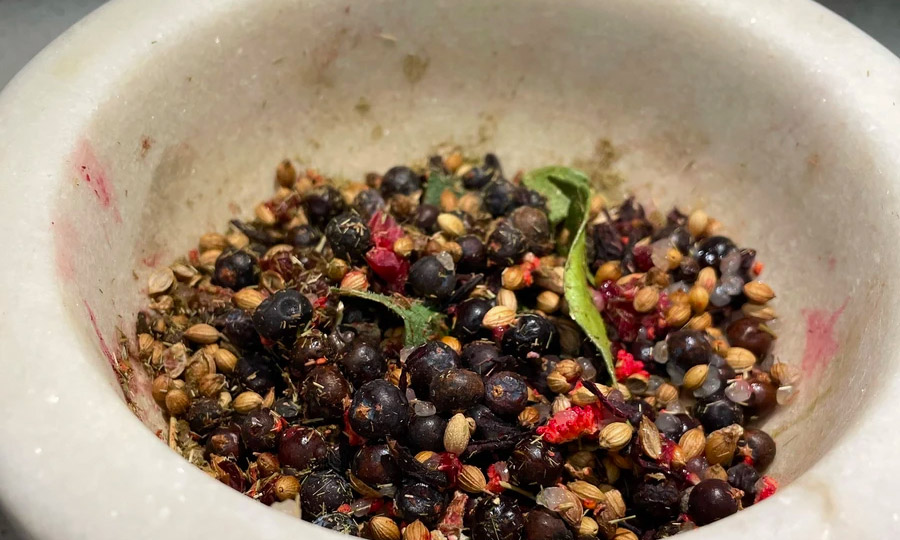 "The 'and a half' is because Hibiscus is a naturalised native," says Eather. "We have a network of growers providing lemon scented gum, finger lime, native lemon grass and Atherton Raspberry, which is from Atherton but grows wild down to the Gold Coast."
Alfred Wiley's second release, Jumper & Thongs, is described as a winter gin. It was made using smoke tainted wine resulted from the Victorian bush fires, which was then distilled heavily to remove the smoke flavour but still retained the Pinot Noir flavour.
"Pinot Noir has a sort of red apple taste, so we've turned it into a winter gin. The red apple sends it down an almost mulled wine path. We mixed that with botanicals like aniseed myrtle and cinnamon myrtle and have designed something that's to be drunk with ginger ale or cloudy apple juice, or even turned into a hot toddy, rather than a classic gin and tonic."
Judging by the instant sell out of their first batch, it's clear they're on to a winner.
Eather and the team have recently started their dark spirits production, which will be two whiskeys and a rum, and are also putting the finishing touches on their tasting room, which is located next door to the famous Ground Control Coffee in Tweed Heads South.
Alfred Wiley's products are currently available online and in Black Sheep Bottleshops in Newmarket and Hendra, with more outlets on the way.
Visit alfredwiley.com.au for more info.