Today – the 17th of September – is World Manta Day. It's an annual spotlight on one of the most remarkable creatures. If you're lucky enough to have spotted one in the wild, you'll be familiar with their beauty and grace, but there are a few things you may not know.
For starters, they're highly intelligent, with the largest brains of any fish. They're also playful and curious, and have unique spot patterns of their underbelly's that allow them to be individually identified (like human fingerprints) as they migrate across the globe.
There are also two distinct species: reef mantas and giant mantas. Reef manta rays often grow to 3.5 metres from wingtip to wingtip (though have been recorded up to 5 metres), while the appropriately named giant mantas have been recorded up to a massive 7 metres.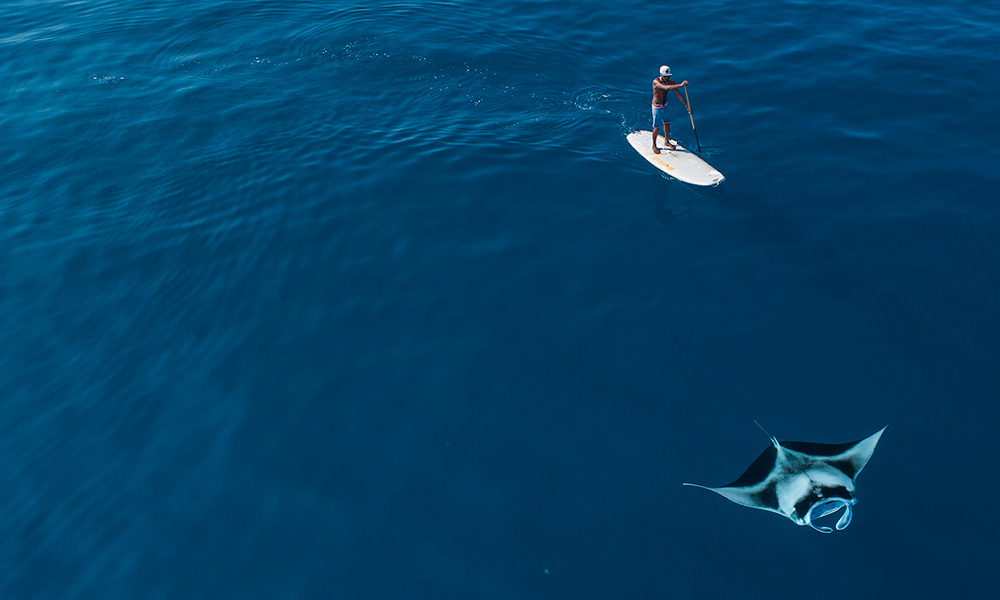 The theme of this year's World Manta Day is 'Mantas in a Climate Crisis'.
With the UN Climate Change Conference COP26 taking place in Scotland next month, it's a timely reminder of how changes to our climate and environment can impact diverse species – such as manta rays – around the globe. We all have a part to play.
Although you can find these majestic creatures from Australia to Mexico, Peru, Costa Rica, Indonesia and Thailand, one of the largest populations of reef mantas is in the Maldives.
It's estimated there are around 5,000 mantas in the tiny island nation. Migrating across its 26 atolls with the changing monsoons, mantas can be spotted in places such as Hanifaru Bay in Baa Atoll, which is a UNESCO Biosphere Reserve in the Maldives. Between May and December, hundreds of manta rays and whale sharks gather here to feed in the bay.
Love a bit of pub trivia? Here are some quick facts about manta rays:
1. Manta rays birth roughly every second year. When born, they look like tiny burritos.
2. Don't let their size fool you. Mantas are actually filter feeders who eat microscopic animals called zooplankton.
3. Manta rays have a skeleton made of cartilage instead of bone, just like sharks.
4. Every manta ray has a unique spot pattern that remains largely unchanged throughout its lifetime. The Manta Trust has a database of mantas to help identify individuals.
5. The world's largest population of giant mantas is Peru. The government passed a ban on the fishing of manta rays in 2015.
6. Giant manta rays have been known reach up to seven meters from wingtip to wingtip and can weigh up to two tonnes.
Want to know more about mantas? Visit the UK-based charity Mantra Trust.