I've been to a lot of countries, but there's one I keep getting drawn back to: Japan: For me, it offers the ultimate combination of natural beauty, history, culture, style and adventure. It's also hands down my favourite foodie destination. The flavour, complexity, and variety of dishes is mind blowing. And it's a lot more affordable than you might think.
Rather than buying one of everything, although I was tempted, there's a convenient way to try multiple dishes in one sitting: bento boxes. Divided into multiple compartments, these small boxes are filled with an assortment of tasty morsels, all beautifully presented.
You can find bento boxes for sale pretty much everywhere across Japan. They're a staple dining experience both dine-in and takeaway. Yet there's one place that has taken this humble dining experience and dialled it up to 11 – the bullet train station.
Though traditional Japanese etiquette discourages eating and drinking on trains, high speed train travel is an exception. Not only can you eat on the trains, but there's also a special cuisine that you'll only find for sale at the station. Known as 'eki-ben', combining the words for railway station and bento, they're designed exclusively for high-speed trains.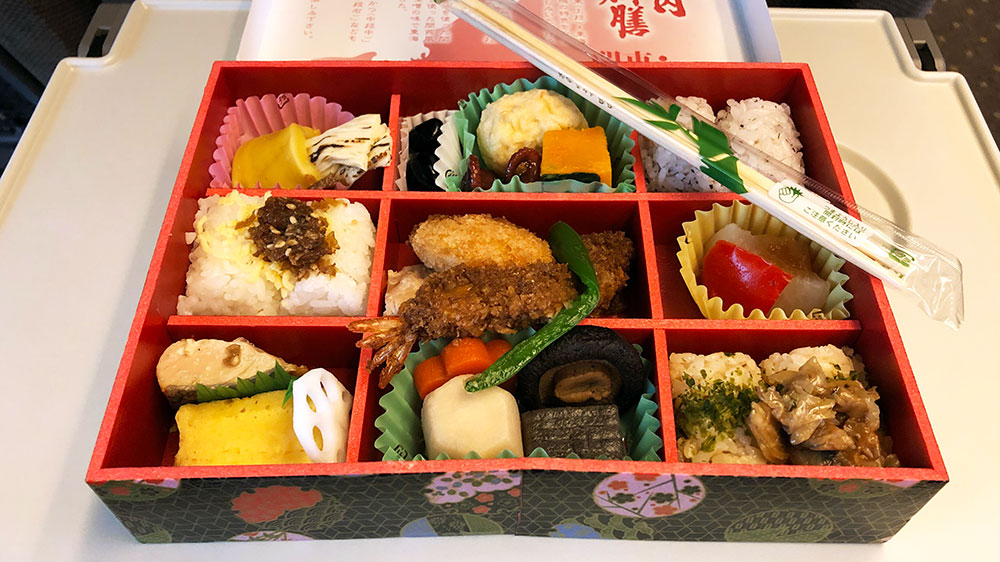 Delicious and highly functional, eki-ben come pre-packed with sauces, pre-meal hand wipes and cutlery. In addition, many regions use eki-ben as a way to encapsulate their local delicacies, offering a small snapshot of the area's speciality cuisine or produce.
So, no matter how time-pressed you may be, eki-ben provides an insight into the diverse regional flavour profiles that exist throughout Japan. Almost all JR East stations sell eki-ben, ranging from a singular stall to food halls overflowing with choice. They have shared their insights for their most popular eki-ben – from bite-sized-bits to a fully vegan bento.
Don't be surprised if you spend a long time browsing the varieties for sale. I certainly did.
Want to know a few of the must-try eki-ben? JR East has shared a few essentials below.
Sake Meshi Bento – Jōetsumyōkō Station, Niigata Prefecture
Awarded as the best eki-ben in the JR EAST 2019 Grand Prix, Niigata's salmon eki-ben is something special. With the competition inviting over 26,000 votes and measuring eki-ben based on taste, volume and packaging, it posits a result of high credibility. Niigata's Sake Meshi Bento (salmon bento) took the award due to praise for its generous toppings of salmon and roe upon a bed of high-quality brand Koshihikari rice. Priced at a reasonable 1200 yen, it can be found at JR Jōetsumyōkō Station.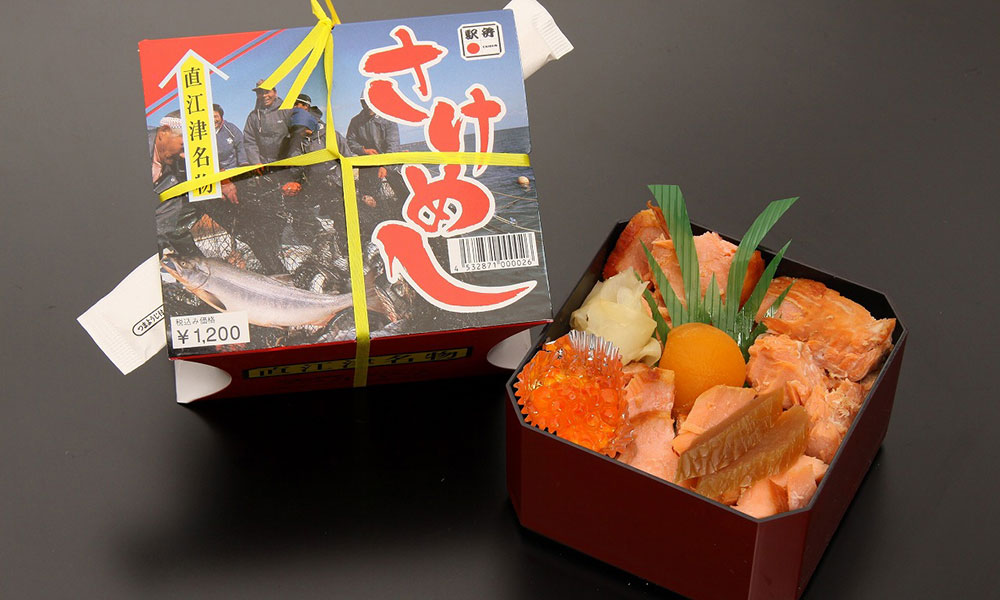 Hitokuchi Darake Bento – Shin-Aomori Station, Aomori Prefecture
Over in the Tohoku region, known for its lush wilderness, lies JR Shin-Aomori Station where you will find Hitokuchi Darake Bento. Translating to 'full of single bites', this bento lives up to its name with 24 small bites of Aomori's local specialty flavours. At only 1350 yen and changing seasonally, this eki-ben is a perfect gourmet accompaniment to your journey.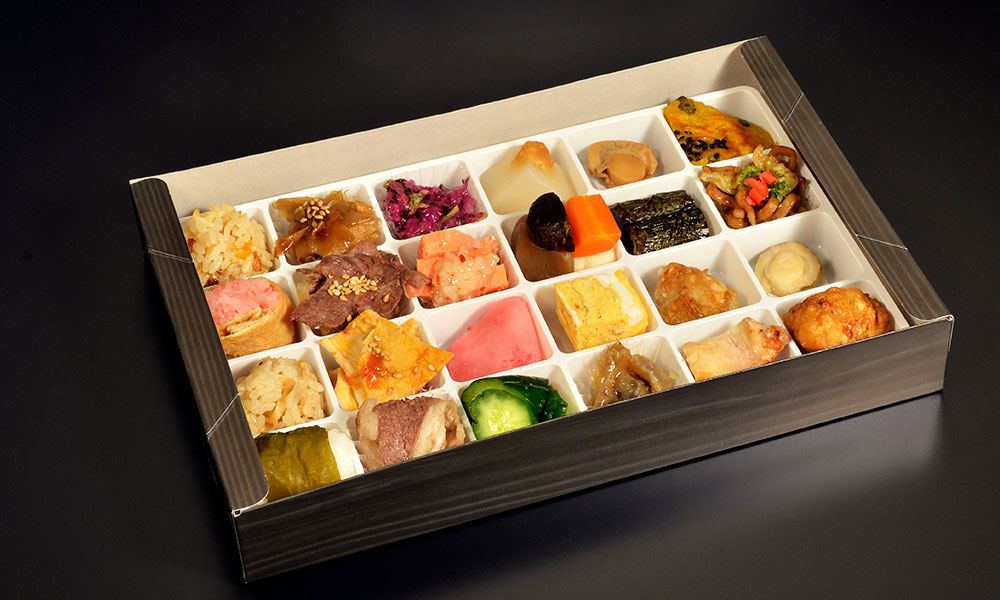 Saishoku Bento – Shinjuku Station, Tokyo
In true Japanese style, even the most ordinary ingredients are celebrated. In response to people craving vegan-friendly options, the Saishoku Bento offers a delightful array of vegan ingredients such as tohu hamburg and simmered bamboo shoots. It's the first eki-ben to be certified as vegan and is reasonably priced at 900 yen. This one can be found across some JR stations across Tokyo.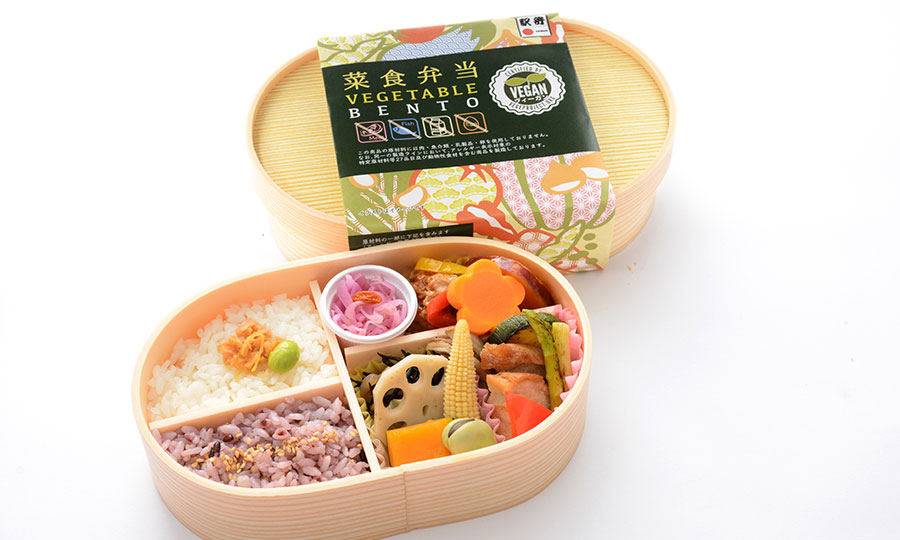 If you're looking to taste and explore your way through Japan, rail is a great way to do it. JR East recently created the JR EAST Welcome Rail Pass 2020, a special pass for foreign passport holders. It allows unlimited travel on all JR East trains in the Tokyo, Tohoku, Nagano, and Niigata areas for 3 consecutive days, including the use of Shinkansen.
Have you tried an eki-ben? Let us know what you thought.