As a frequent diner at my local Japanese restaurant, I thought I had a pretty good grasp of the country's cuisine. But, when I had the chance to visit Japan's southernmost prefecture, the stunning islands of Okinawa, I soon realised I'd barely scratched the surface.
A prefecture of Japan since the 19th century, Okinawa was historically part of the Ryukyu Kingdom, with its culture a mix of Japanese, Chinese, and Korean. As a result, its culinary scene has taken liberal inspiration from all of these to create something wholly unique.
If you're looking for a destination with rich history, culture and delicious cuisine to boot, look no further than magical Okinawa.

Here are some of its must-try dishes.
Awamori
Before we can jump into the food, we need to first mention awamori – a distilled version of sake unique to Okinawa. Why? Because it's so strongly linked to the local cuisine.
Made from long grain rice, awamori is similar in flavour to whisky and regularly enjoyed on the rocks or in cocktails. You'll also spot it on the table at most restaurants in the form of a spicy condiment infused with chilli too.

Awamori is a great icebreaking tipple, one that opens doors and starts conversations with those around you.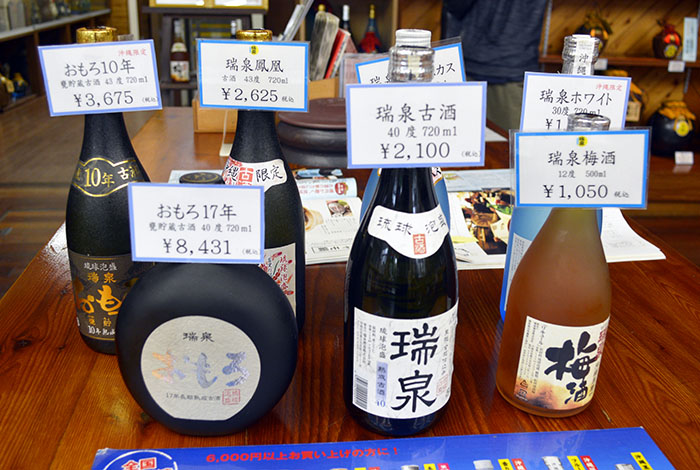 Soki Soba
Distinctly Okinawan, Soki Soba is a delicious noodle soup, which usually features thick wheat noodles, fish cake and a generous slice of pork belly or boneless pork ribs.
The meat is boiled to remove excess fat, then stewed in a mixture of awamori, soy sauce and sugar for several hours. It's a hearty dish guaranteed to warm you up on a cold day.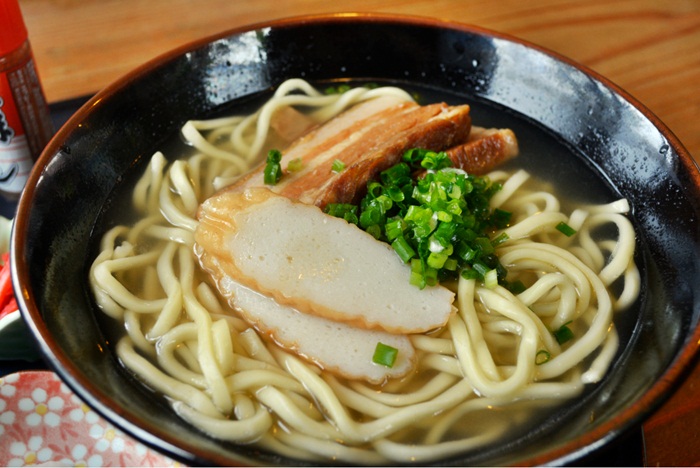 Goya Champuru
Goya is a hard thing to explain to the uninitiated. Often referred to as a bitter melon, it looks a bit like a shrivelled cucumber… yet its bitter flavour and texture are vastly different.

The most common way to eat goya is in a stir-fry or soup, although it's also available as dried crisps and even as a soft drink. Goya champuru (which means 'something mixed' in Okinawa) is a stir-fried dish featuring thinly sliced goya, tofu, egg and pork.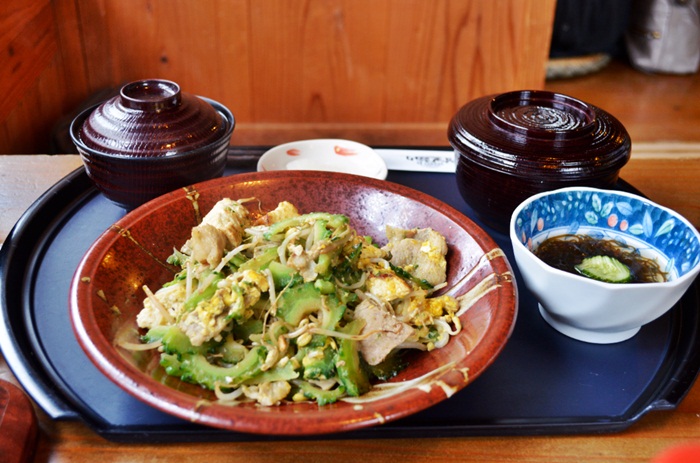 Mimiga
Commonly served as a side dish or snack, mimiga is thinly sliced cartilage from a pig's ear, which has been boiled or steamed then mixed with various flavourings. It has a slightly crunchy texture. Although it may sound a bit scary, it's surprisingly delicious – and is great served with beer!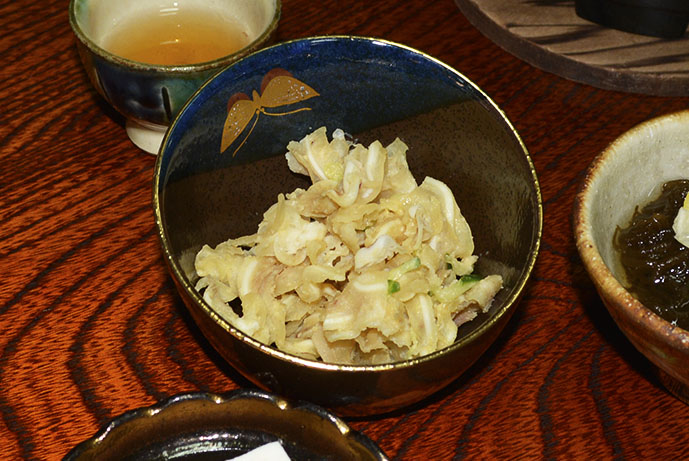 Sata Andagi
Sata andagi is a sweetc deep-friend bun made from flour, sugar and eggs. Golden brown on the outside, soft and fluffy on the inside, the texture is similar to that of a doughnut. Native to Okinawa, sata andagi is prepared using a mix of Japanese and Chinese techniques.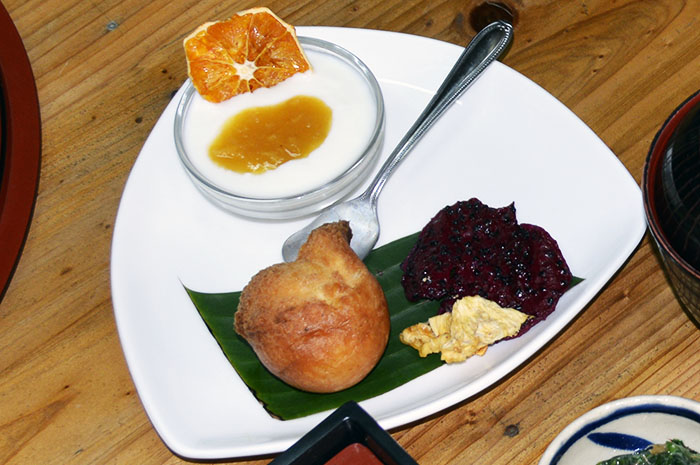 Mozuku Su
Mozuku Su doesn't look pretty, but it tastes amazing… and judging by how often it was served to me during my week in Okinawa, chances are you'll probably come across it too.

This soft and slimy seaweed is high in minerals and low in calories. It's commonly cooked in a marinade of vinegar and pickle vinegar, and served with a garnish of ginger or cucumber.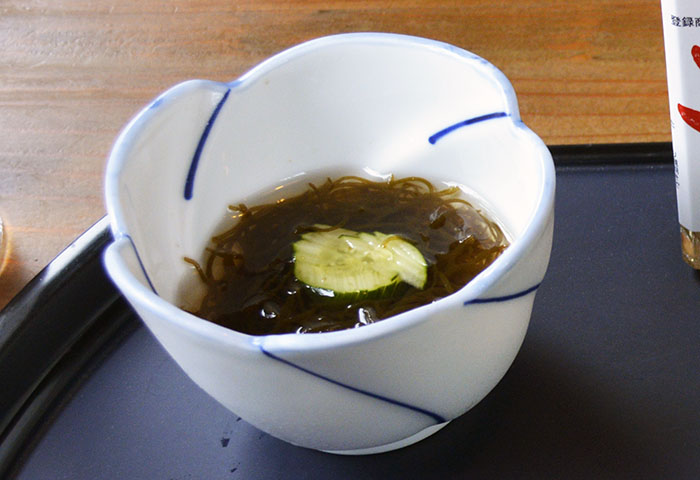 Longevity Meal at Emi no Mise
For the adventurous, a visit to 'Emi no Mise' in Ogimi Village is an absolute must. Like a crash course in Okinawan cuisine, their Longevity Meal features 14 mouth-watering dishes such as homemade golden noodles with skiikwasaa, purple sweet potato dumpling, bamboo shoots in soy broth, tempura with shrimp and fennel, and champuru (stir-fry) made with green papaya.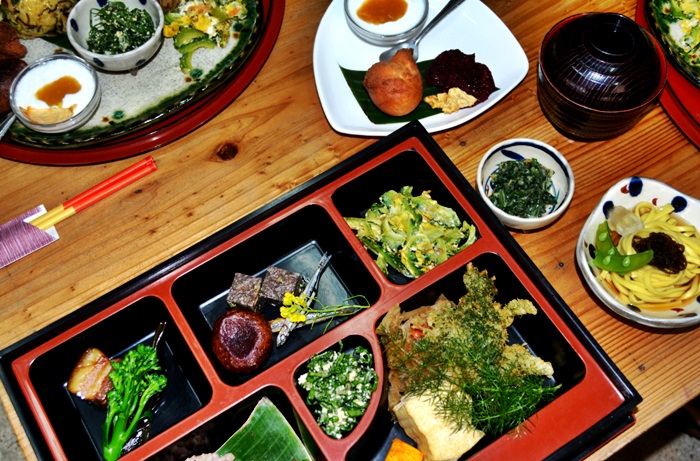 If there's one bit of advice I can give anyone thinking of going to Okinawa, or the rest of Japan for that matter, it's to be adventurous. There are so many wonderful dishes that are very, very different to what we have here in Australia, so the best thing you can do is go with an open mind and be willing to try whatever is served.