There are some experiences that will stay with you. Shark diving without a cage in Fiji's Beqa Lagoon is one such experience. It was exhilarating, surreal, and by far the best dive of my life.
Living on Australia's NSW Far North Coast, we tend to see sharks slightly differently to the Fijians. Following a number of attacks in our waters in recent years, sharks have been getting a lot of media attention, but we saw a different side to them during our two dives with Beqa Adventure Divers in Pacific Harbour.
It's been three weeks since we returned from our scuba diving trip to Fiji and I'm still pinching myself to see if a) we really did dive with bull sharks, b) it wasn't all just an elaborate dream, and c) all my limbs are in fact still attached.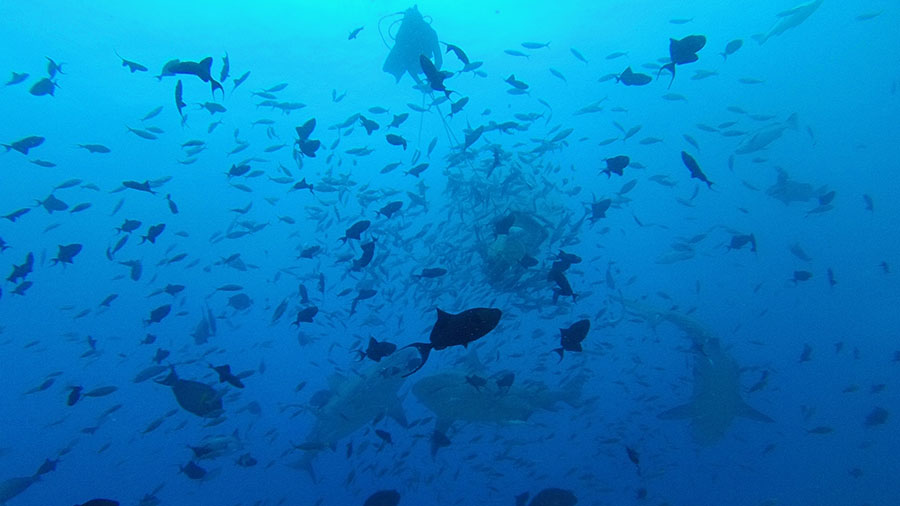 Truth be told, I was more than a little nervous before the dive. Swimming with an apex predator isn't something you ever take lightly. Simon assured me it would all be fine though. Having done the shark dive here previously, albeit many years ago, he said I honestly had nothing to worry about.
On arrival to the dive shop in Pacific Harbour, the Fijian team welcomed and ushered us into the dive shop to fill out the necessary paperwork, then organized the rental gear we'd be taking out. We had brought our own dive masks and fins along, so only had to sort out regs, weights, and BCDs.
The ride out to the dive site aboard MV Predator took around 20 minutes. It was a good boat, with ample space to move around and rear steps to get in and out of the water. A short briefing before the dive gave us an idea of what to expect during our two dives, though it wasn't overly detailed.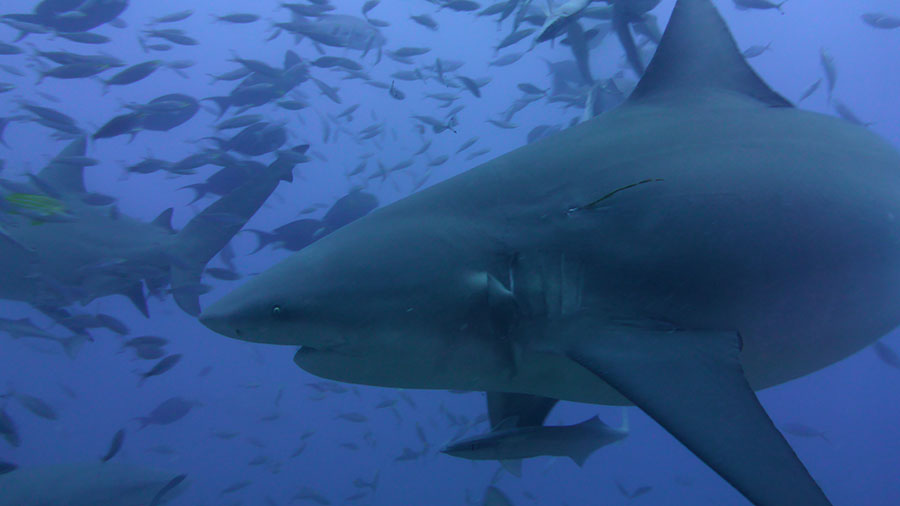 At the first dive site, we descended to 30 metres and took up our viewing position behind a small coral wall. There was no cage, no glass. The only thing to stop sharks having us for lunch was the team of dive guides… and the fact the sharks were so well fed they probably couldn't muster the effort.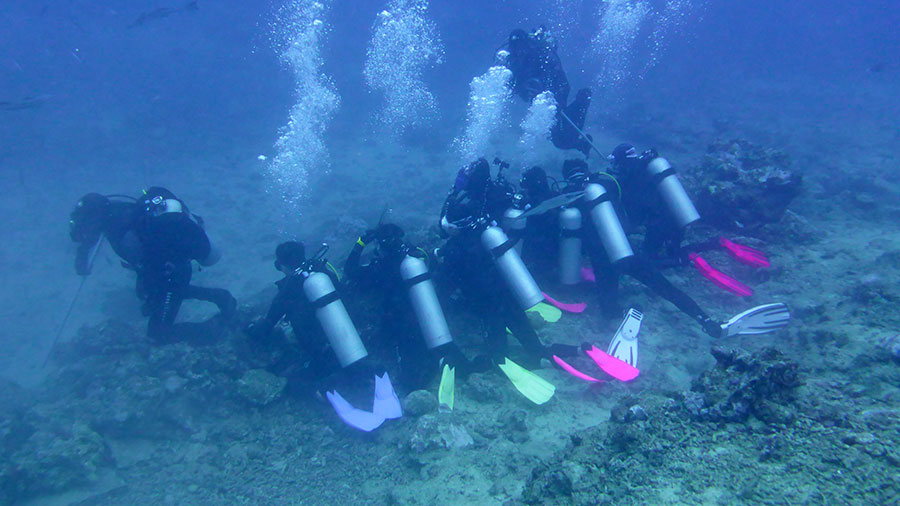 It was a surreal experience. The sharks were right in front of us, we could feel the wake from their tails as they turned, hear the snapping of the jaws… yet all they were concerned with was forming an orderly line and tucking into some fish heads (and occasionally live fish who weren't quick enough).
The shark dives have been operating in Pacific Harbour for around 10 years now, and the sharks have become accustomed to the regular feedings. That's not to say they've been tamed though, far from it. They're still wild animals, and there is always a level of danger. Bull sharks, tiger sharks, white tip reef sharks… they all frequent this spot hoping to score an effortless meal.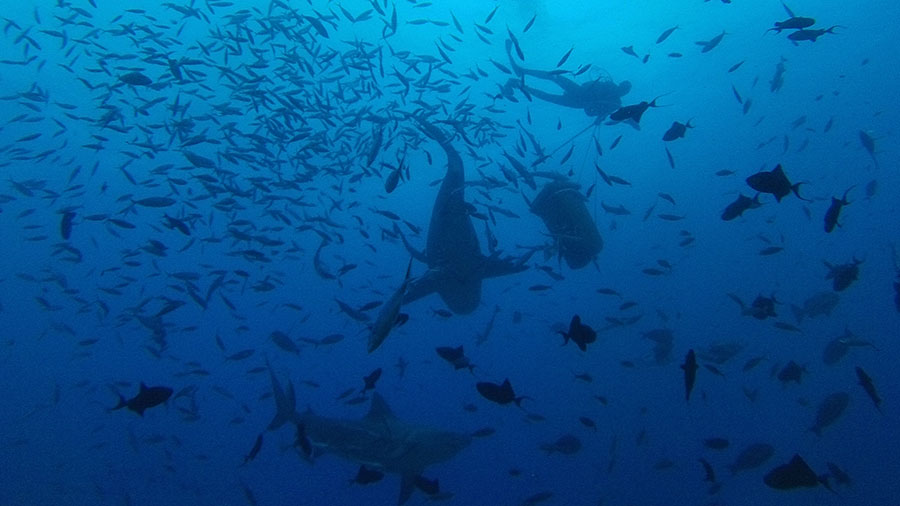 Safety was the dive guides' top priority. At all times there were team members stationed behind us watching, keeping their eyes peeled to ensure sharks didn't get too curious. They used bit special blunt rods to ward off any sharks who came too close, pushing them back to the end of the meal queue.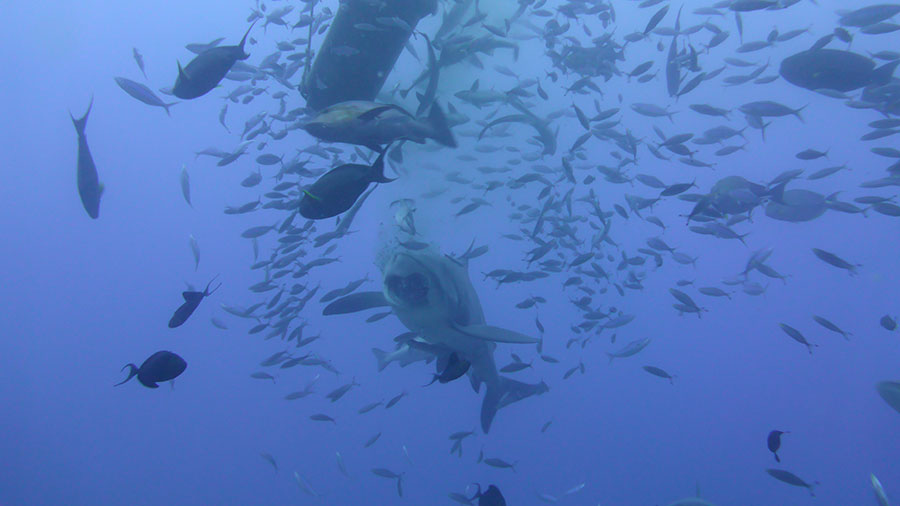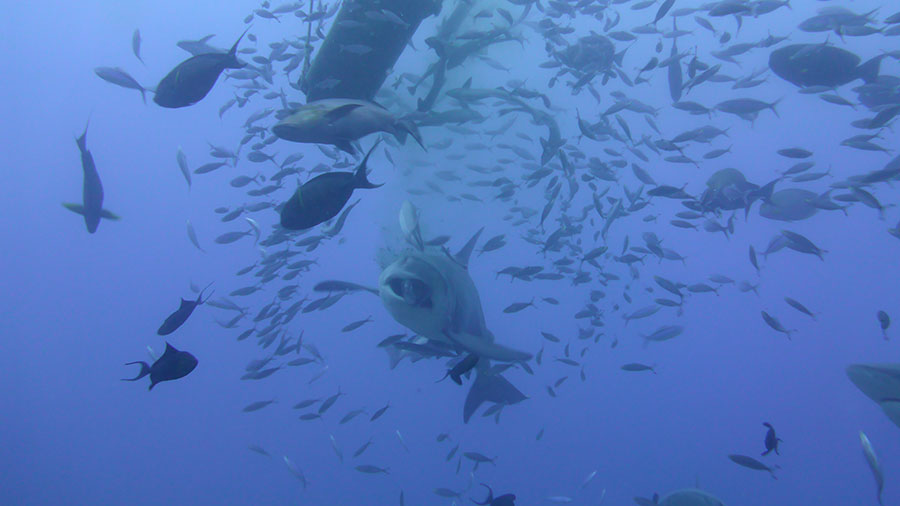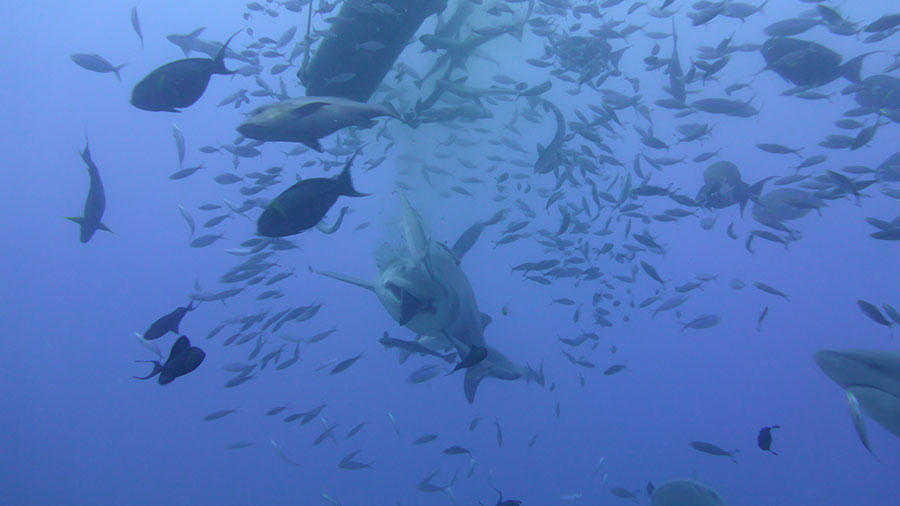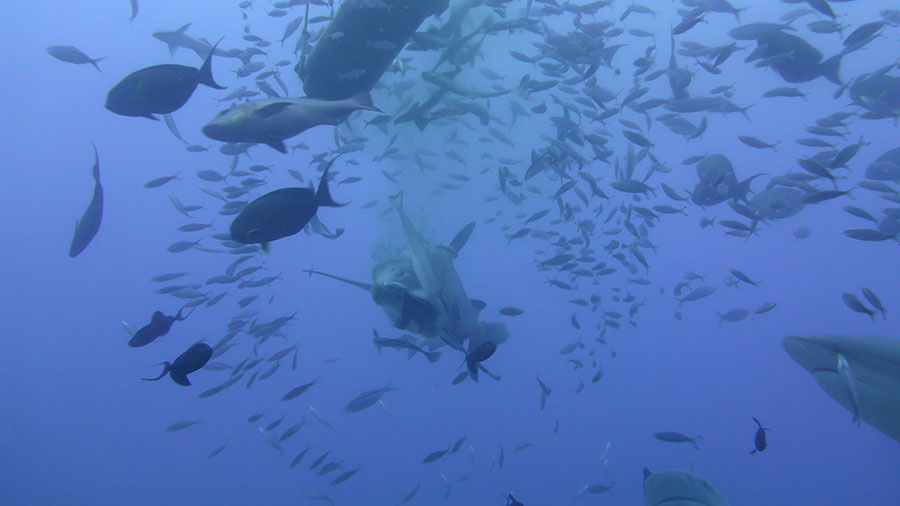 We stayed at 30m for 10 minutes, just enjoying the live show in front of us. Honestly I could have happily watched the bull sharks for longer, it was incredible, but we needed to ascend to the second viewing point at 10m for a further 10 minutes, then head up to 4m for the remaining 15 minutes.
The other viewing sites were just as impressive as the first, with several white and black tip reef sharks coming in for breakfast. The higher depth meant we could also see a lot more marine life. There were soft corals, parrot fish, clown fish, anemones and a whole host of other creatures to see.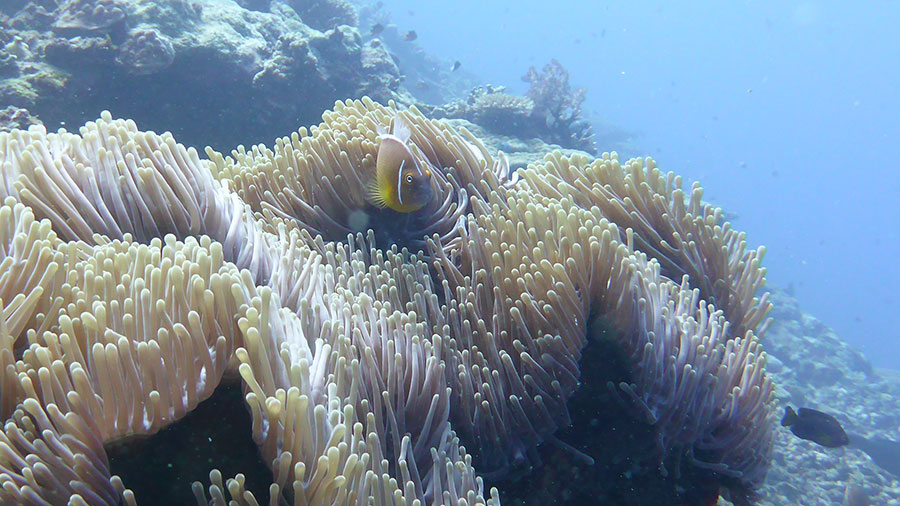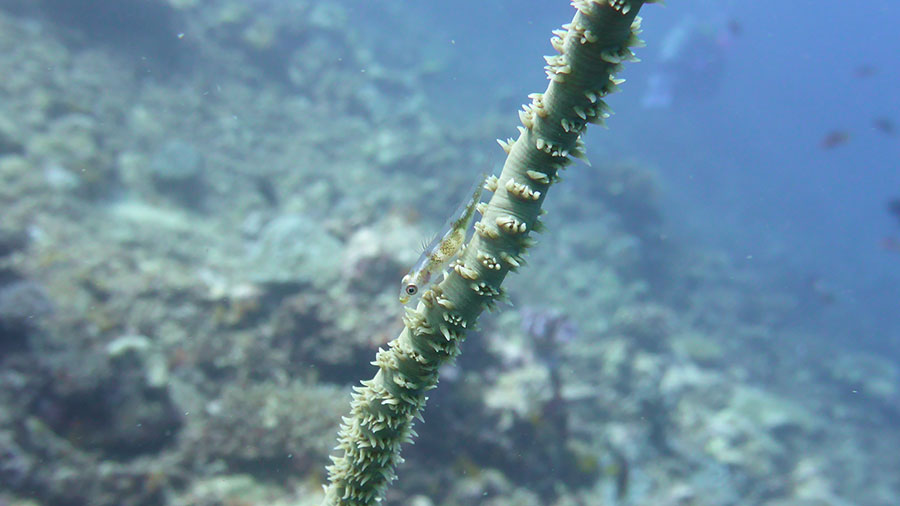 After a 45 minute surface interval, we headed down to 25m for round two.
Beqa Adventure Divers are not just a dive operator, they're the steward of the Shark Reef Marine Reserve, Fiji's first marine park completely dedicated to the conservation and research of sharks. They tag and monitor sharks so we can learn more about them, working with universities and other groups to help further our understanding of these incredible creatures.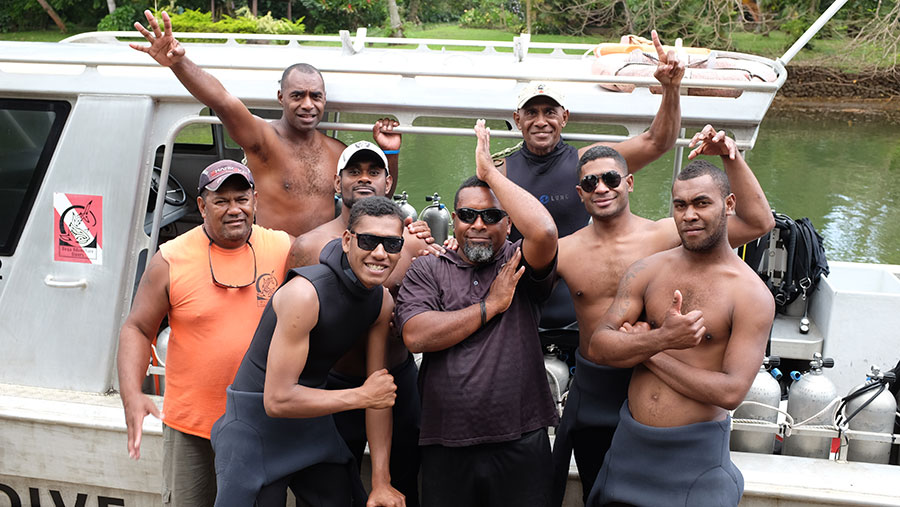 Looking back on the dives, I'm so glad I went through with it. It really was a phenomenal experience, opening my eyes to the power and grace of these creatures of the deep. Next time we return to Fiji, it's on for a repeat.
For more info on Beqa Adventure Divers, visit fijisharkdive.com
For more info on Fiji, visit fiji.travel
– We dived at our own expense. 
See footage of our dive below:
Diving with bull sharks in Fiji – Repeat TravellerSome unedited footage of our dive with bull sharks in Fiji's Beqa Lagoon over the weekend. There were no cages, just a little coral wall between us and the sharks. You could hear the snapping of their jaws and feel the wake from their fins as they turned. Such an incredible experience!

Video by Simon Ceglinski

Posted by Repeat Traveller on Monday, October 3, 2016