I've done a fair bit of airline travel in South East Asia in the last few years, but there's one national carrier I've wanted to try but never had a opportunity – THAI. Needing to remedy that, I recently climbed onboard their shiny Boeing 787 Dreamliner from Brisbane to Bangkok. Did it live up to expectations?
Carrier: THAI (aka Thai Airways International)
Flight Number: TG474
Aircraft: Boeing 787 Dreamliner
Flight time: 8 hours 45 minutes
Route: Brisbane to Bangkok non-stop
Seat Class: Economy
Luggage allowance: 30kg
Check In/Boarding:
Short wait at Brisbane Airport, managed to proceed through the queue quickly. The check in itself was super speedy, taking around a minute and a half in total. The boarding process was similarly efficient, taking considerably less than even your average domestic flight (possibly because most people checked in their bags rather than fill the overhead bins to overflowing).
Decor:
Colourful without being over the top. There were subtle hints of Thai flair, such as a silk panel at the rear of the cabin. Mood lighting during taxi briefly painted the Economy cabin every colour of the rainbow, but it was soon back to white. The colourful seat pattern transitions from orange to pink and purple (a nice change to standard blue seats). Nearby window seats featured large windows with electronic dimmer, bringing plenty of light into the cabin.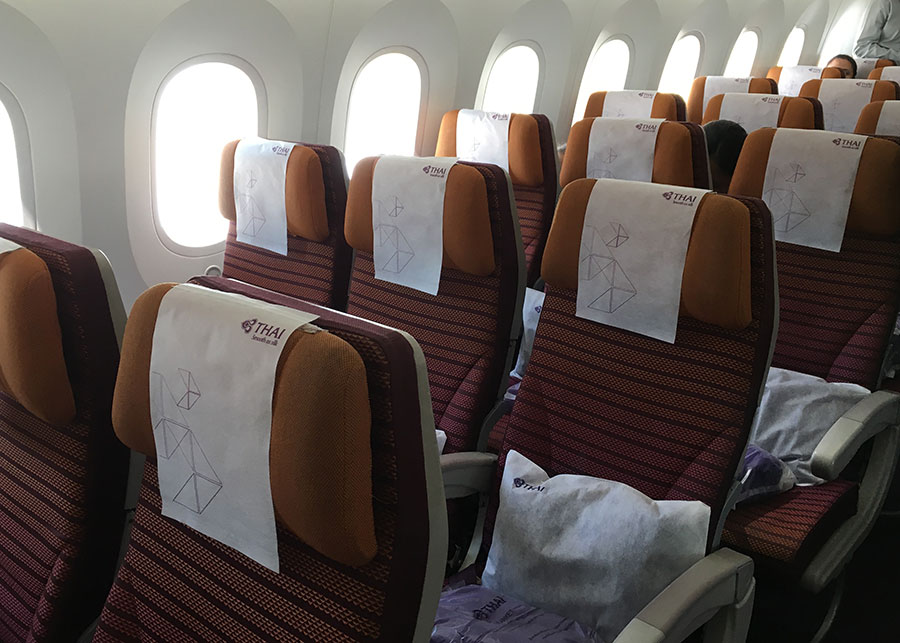 Service:
Inviting but not overly chatty. A young male attendant was rushing from one end of the cabin to the other just before taxi, he seemed a bit flustered, but everyone else was cool as a cucumber for the duration of the flight. Staff informed us just after takeoff that we may encounter turbulence during the flight, and to keep our seat belts fastened at all times. Drinks service started almost immediately after takeoff, with salted nuts handed as a snack. Not much verbal communication from younger staff, however the older lady Prakaidao was very friendly and welcoming. It was good to see they have older, more experienced staff mentoring the others.
Inflight Entertainment:
Responsive, 11-inch touch screen with tethered remote and game pad. Easy to use functionality, just touch and swipe. Huge selection of classic movies, television shows, music and games, plus around 20 new movies released within the last six months or so. 'Window on Thailand' is a handy an onscreen option which offers information on various aspects of Thai life, from travel destinations to language and customs. One big downside to the screen is it cannot be tilted, so when the person in front reclines you can choose to watch it on an angle or recline your seat too. Having just read about inflight reclining rage, I asked the woman behind before doing so.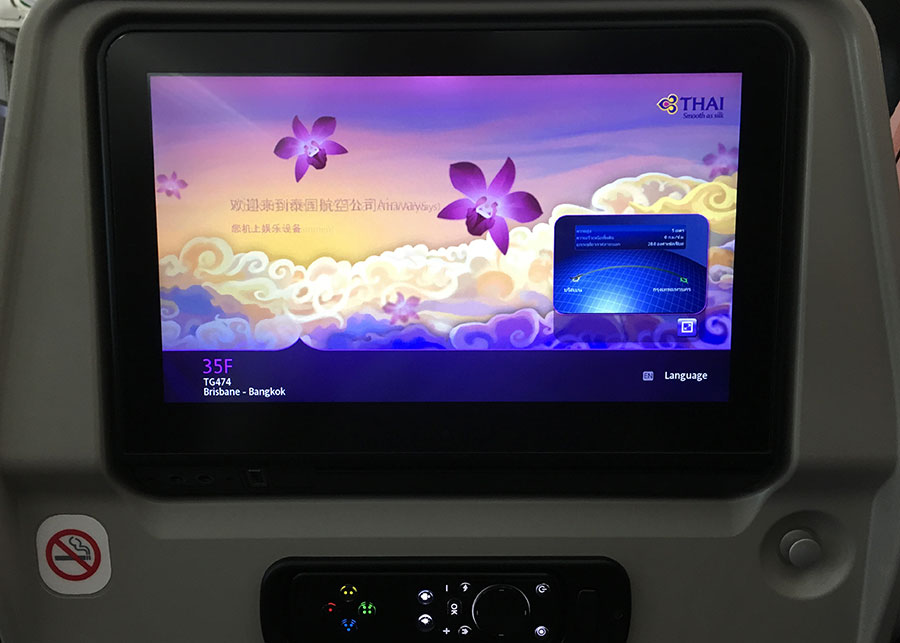 Seat:
35F aisle seat. Features a tray table with flip-out self-stabilizing drink holder, USB charging port, pouch, footrest, pillow, and blanket. The seat itself was fairly comfortable, with a 32 inch pitch and 18 inch width, but for a flight over eight hours there wasn't a lot of wiggle room. Being 185cm tall, I found myself readjusting a fair bit in search of the elusive sweet spot. Thankfully the seat beside me was vacant so I could stretch into that leg space.
Meals:
First meal service had two options, a red chicken curry with green beans and rice, and a fish pasta. Sides were a small quinoa salad with capsicum, corn and ham; a bread roll, plus crackers and cheese; and a slice of ginger cake for dessert. The red chicken curry was delicious, so flavorsome. In fact, I would go as far go say it was one of the best Economy Class meals I've ever had. The second meal service, an hour or so before landing, was chicken fried rice. Not as good as the curry, but not far off. It was all paired with a good SA red.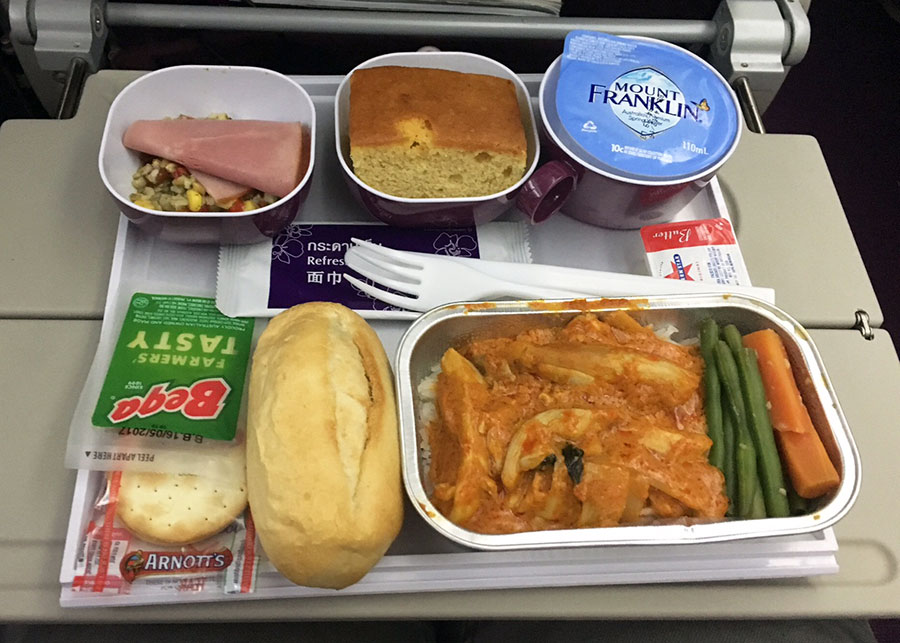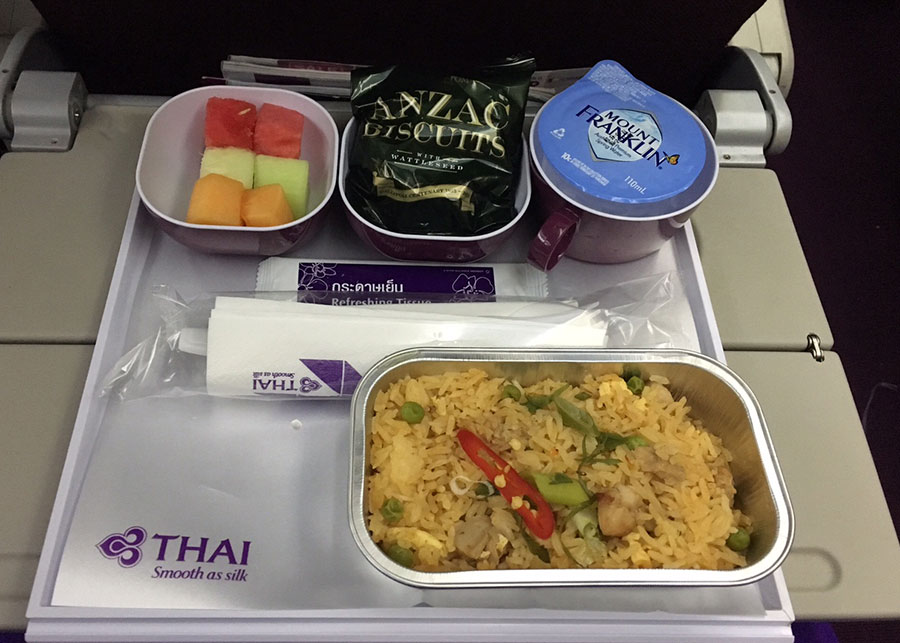 Verdict:
The aircraft was very well appointed, meals were excellent, and the service was good but did have some minor room for improvement. Inflight entertainment and meals were by far the stand out features for me, and I'd definitely consider flying them again in the near future.
For more information, visit thaiairways.com
– I travelled as a guest of Aloft Hotels