Asia is home to some of the world's most awarded airlines, from Singapore Airlines to Cathay Pacific and ANA (All Nippon Airways), to name a few. So, for our recent trip over to Europe for a white Christmas, it was a no-brainer to choose an Asian airline.
After careful consideration (i.e. poring over countless review sites), we eventually settled on Asiana Airlines, Korea's second largest major airline, after Korean Air. Though I wasn't overly familiar with Asiana before our experience, I'm so glad we picked it! Here's why.
Route: Sydney (SYD) to Seoul (ICN)
Flight number: OZ602
Aircraft: A380-800
Class: Business Smartium Class
Flight Time: 10 hours
Seat: 18F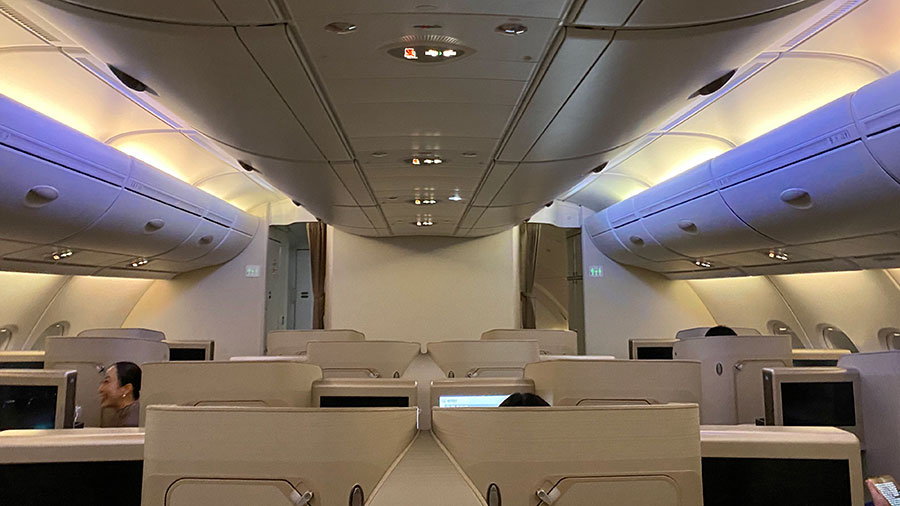 The lounge
Asiana shares the Air New Zealand Lounge in Sydney. It had a wide variety of seating options from lounges to workspaces, as well as a dining area with a mix of hot and cold dishes. The selection was a bit limited, but it was all top quality. There's also a barista on hand to make coffees to order. Free Wi-Fi internet access allowed us to do some pre-flight Netflix downloading (hello, Witcher) to supplement Asiana's onboard entertainment.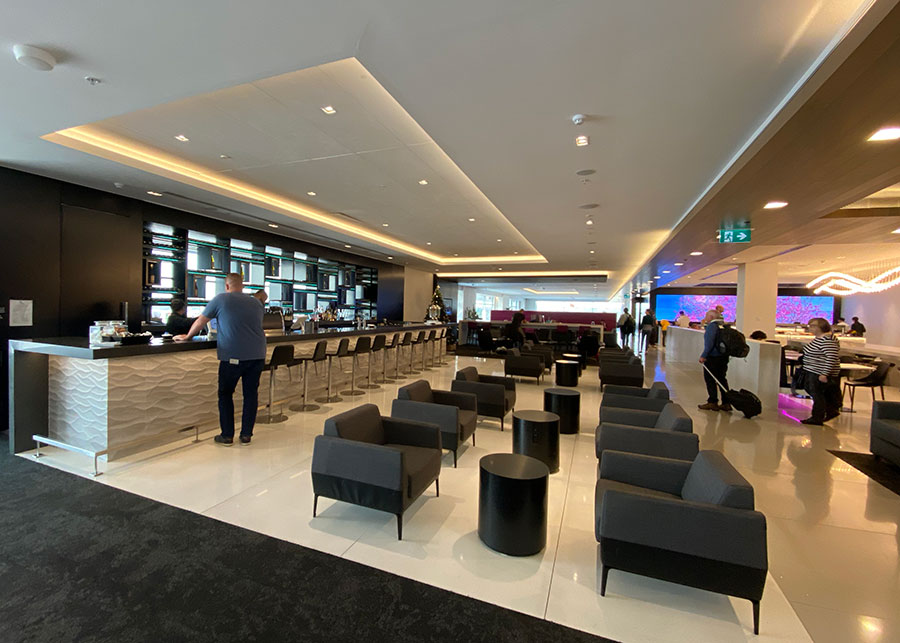 The seat
The 'Business Smartium Class' cabin has a 1-2-1 configuration with 66 seats in total. Each seat has a width of 22 inches. We chose two middle seats, which were separated by a moveable divider. With the divider in the lowered position it felt like a mini suite for two.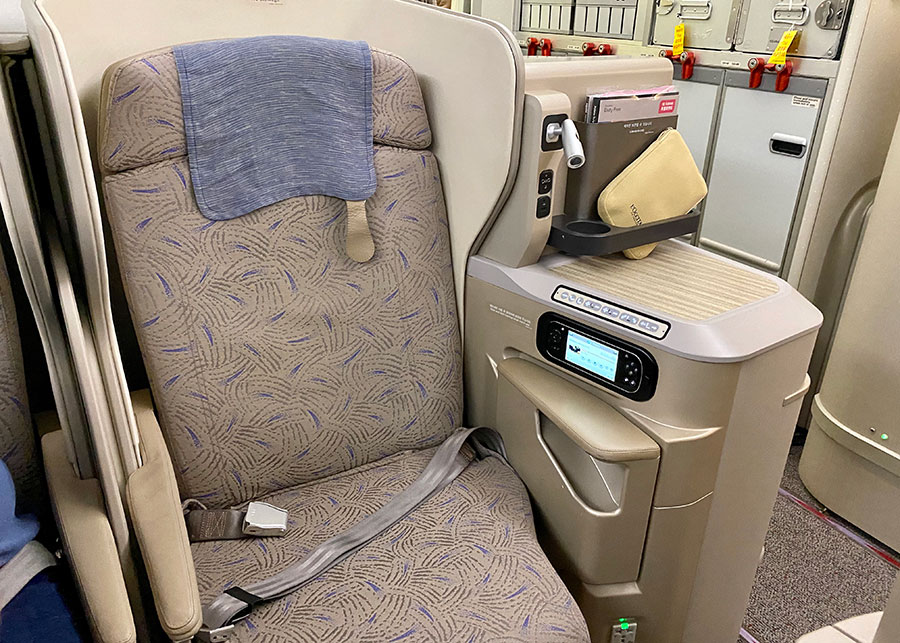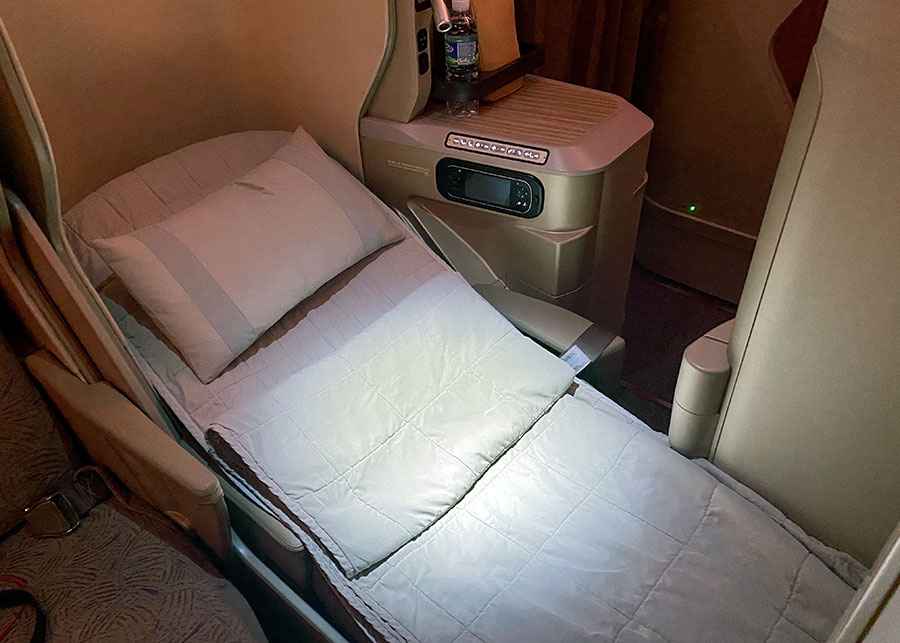 The table latches in a vertical position, maximising the available space. There was a small table to the side, as well as a small storage compartment beneath the hand rest. The seatbelt featured a waist and, a first for me, a shoulder strap too. I guess you can never be too careful. You can adjust the angle of the seat and move to a flatbed position at the touch of a button. A blanket, seat cover and pillow were provided.
The amenities
Each passenger receives a L'occitane toiletries bag containing hand and face cream, lip balm, socks and an eye mask, tissues, toothbrush and paste, ear plugs, and a comb. Slippers were supplied, though they were too small for my feet. Additional l'Occitane toiletries are provided in the lavatory, as well as mouth wash, razor blades and extra toothbrushes.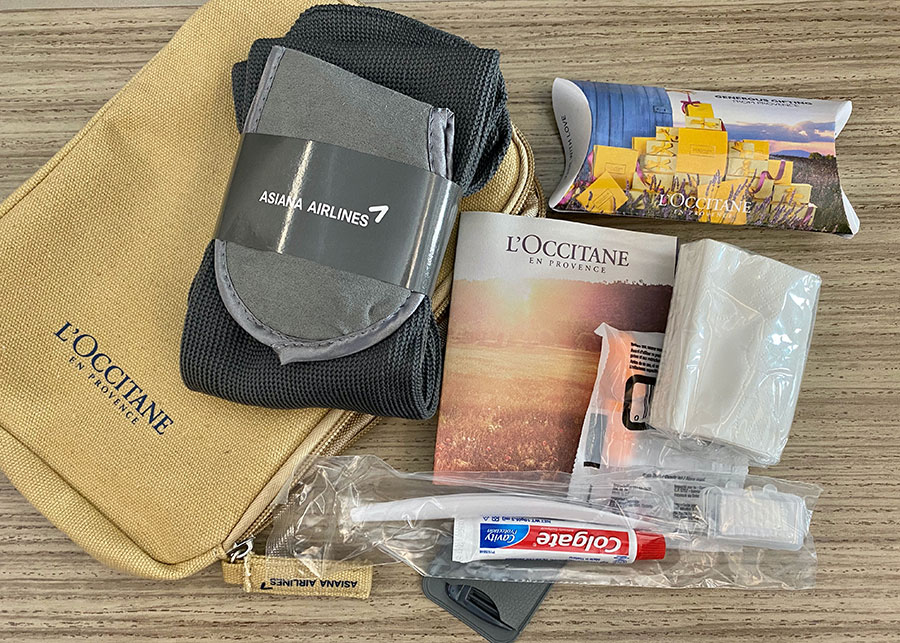 At the very front of the Business cabin you'll find a lounge seating area with space for four people to mingle during the flight. A few people made use of it just after take-off, but it soon became a nice and quiet spot to escape to. The lavatory adjacent to the lounge was double the size of the regular ones.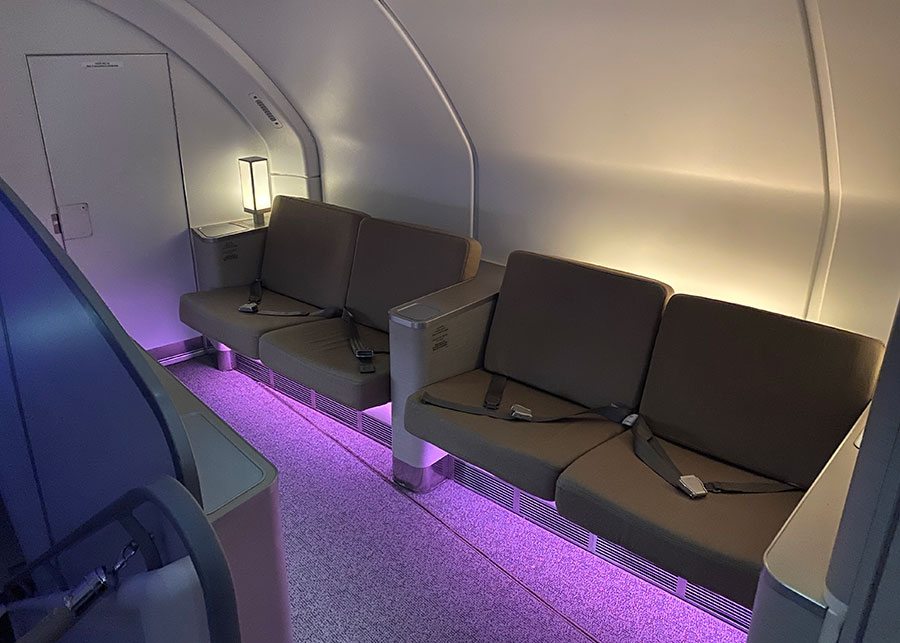 The entertainment
The screen was a responsive, 15.6 inch touchscreen. The OZ:enter operating system looks a little outdated at first glance but functions really well. Easy to use, with lots of Korean and international content. You can browse content with a swipe. A touch-screen remote control is provided. It controls lighting, music, games and movies, and even has an 'Asiana Littles' section with content tailored just for children – a great idea! Headphones were supplied. The was also a 115V AC power outlet and USB connection.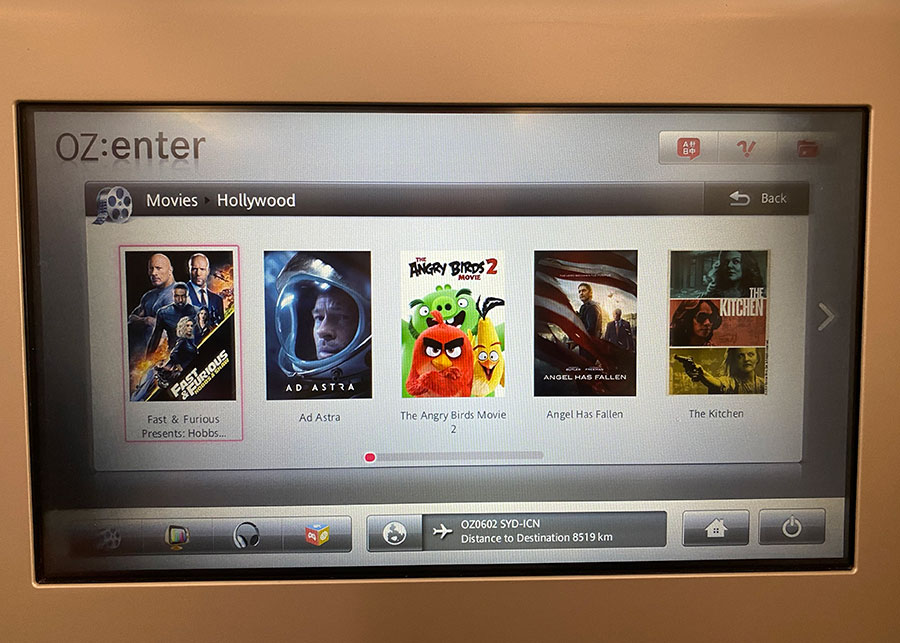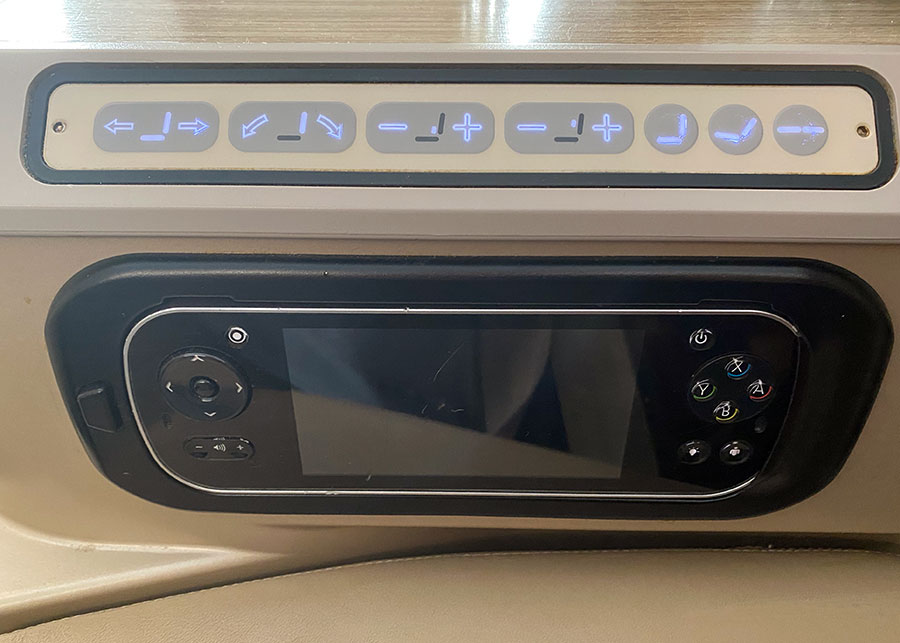 The service
Warm and friendly service with a smile, though there's wasn't a lot of small talk. We were welcomed onboard with a glass of Champagne / orange juice, with the cabin manager walking around to introduce herself to all of the guests. Meal service began around 45 minutes into the flight. The cabin crew handed out menus and returned to take our order shortly after. My wine glass was refilled as soon as it emptied. Cabin staff were readily available throughout the flight, and also returned just before landing to enquire about the experience and thank us for flying with Asiana.
The food
Western and Korean options were available. I chose the fantastically named "Mixing and Harmonising" Korean bibimbap for my main, followed by a bean jelly dessert with chestnut and deep-fried sweet rice cake. Each course was beautifully presented, delicious, and very, very satisfying. Snacks such as ramen and a sandwich were also available any time.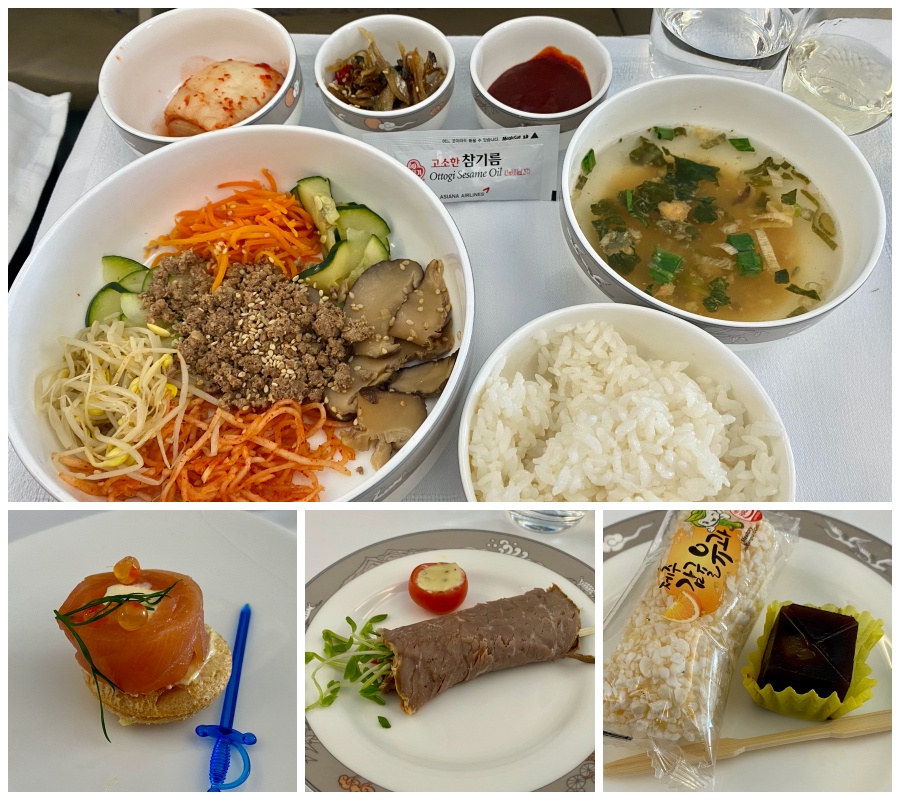 A second meal was served shortly before landing into Seoul. The first course consisted of prosciutto, lettuce leaves, a vinaigrette filled tomato, and a floret of cauliflower. The second course was stir-fried kimchi with pork and rice. The stir fry was my dish of the flight.
The wine list was fairly limited, with just one sparkling and three whites, three reds and two dessert wines. However, they did have an impressive range of aperitifs and cocktails, including a Manhattan and Whisky Sour.
The connection
Our flight arrived into Seoul in the late evening, with our connection to Frankfurt the following morning. So, Asiana put us up in a hotel for the night at no charge. We requested a property in the city and were given the Royal Hotel in Myeongdong – a great spot! There was a market just outside the hotel, giving us a chance to enjoy a brief taste of Seoul life.
Once back at the airport the following day, we made use of the Asiana Business Lounge. Asiana has three dedicated lounges at Seoul Incheon – the East near Gate 42, Central near Gate 26, and East near Gate 11. We visited the East Lounge as it was closest to our gate. If featured a range seating options including solo booths with a fantastic view of the tarmac. Food was a mixture of hot and cold dishes (try the spicy chicken drumsticks, they're delish), plus plenty of drink options. Shower facilities were also available.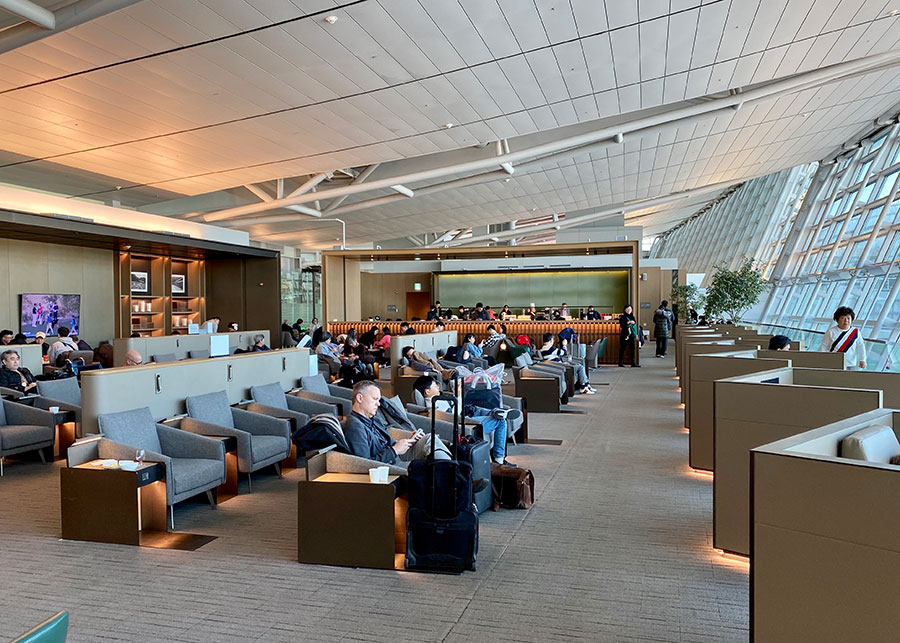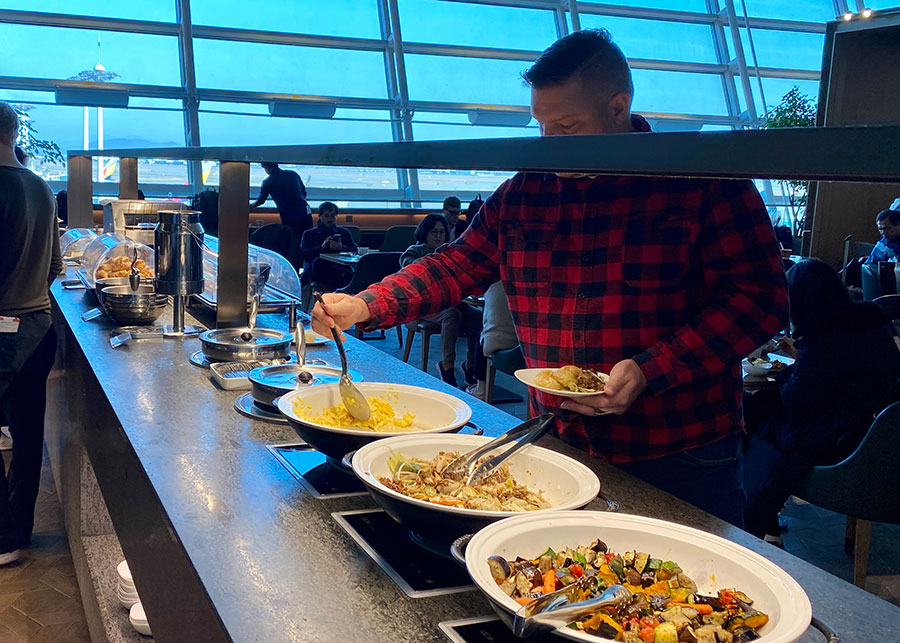 The verdict
Exceptionally good value for money. This product is easily among the best Business Class seats I've experienced, but so few Australians even know Asiana Airlines exists! The seat, the dining, the service – it was all top-notch. the large Business Class cabin meansI'd definitely recommend and fly again.
We travelled at our own expense.