… and the results are magical.
TripAdvisor is my go-to resource for researching points of interest when I travel. Reading honest reviews from the average Joe usually gives a pretty accurate picture of what you can expect to see, free of marketing hype. But, if I'm honest, the rants are often a lot more entertaining to read.
Proving nothing is sacred, a bunch of keyboard warriors have torn the world's top landmarks to shreds – and the results are hilarious.
Are these accurate reviews or just sour grapes? You decide.
The Sphinx and Great Pyramid at Giza – Cairo, Egypt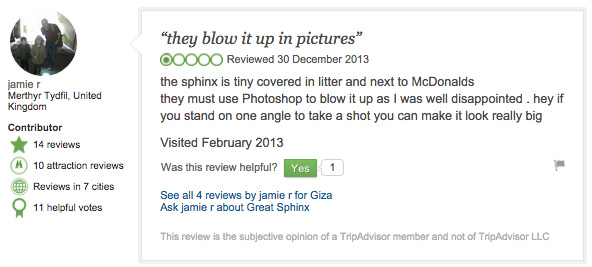 The Angel of the North – Gateshead, Tyne

Christ the Redeemer – Rio de Janeiro, Brazil

Bondi Beach – Bondi, Sydney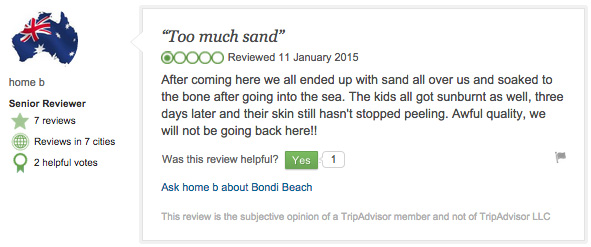 Stonehenge – Wiltshire, England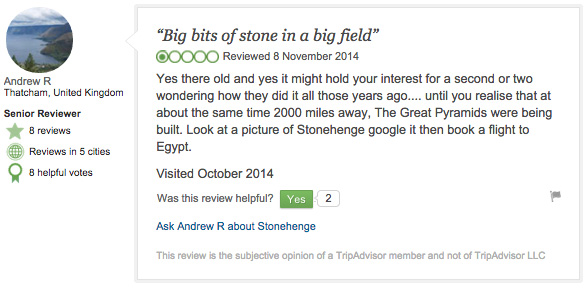 I've visited many a landmark in my travels, but never really been disappointed by them. I think it all comes down to your expectations. The only sight that didn't quite do it for me was the Sistine Chapel, but that's because I was so exhausted after shuffling through the Vatican Museum for five hours before I reached the chapel. When I arrived it was packed full of people, all talking at the top of the voices because the echo of the room was so intense. It was incredibly beautiful, but I only stayed five minutes.
Have you ever been disappointed by a top landmark?