Phuket is one of the most popular destinations for Aussie travellers, and it being our first trip to Thailand, we couldn't say no to a few days there.
First impressions on arrival though, it wasn't quite the tropical escape we'd been hoping for. Patong, the main tourist hub of Phuket, was an assault to the senses after spending several days in the quiet isolation of Chiang Mai and Chiang Rai. Honestly, it felt more American mall than Thai utopia.
There was Starbucks, Pizza Hut, even a Hard Rock Café… every big name brand you could think of was represented in the sprawling resort town.
We began to worry we'd chosen the wrong destination. Should we have visited Phuket at the start of the trip and not as the final leg? Were we expecting too much? Was all of Phuket this intense?
It wasn't until we at last reached Anantara Phuket Layan Resort, our home for the next four nights, that we found the Phuket we'd been hoping for. Though only 45 minutes north of Patong, Phuket Layan felt like another world.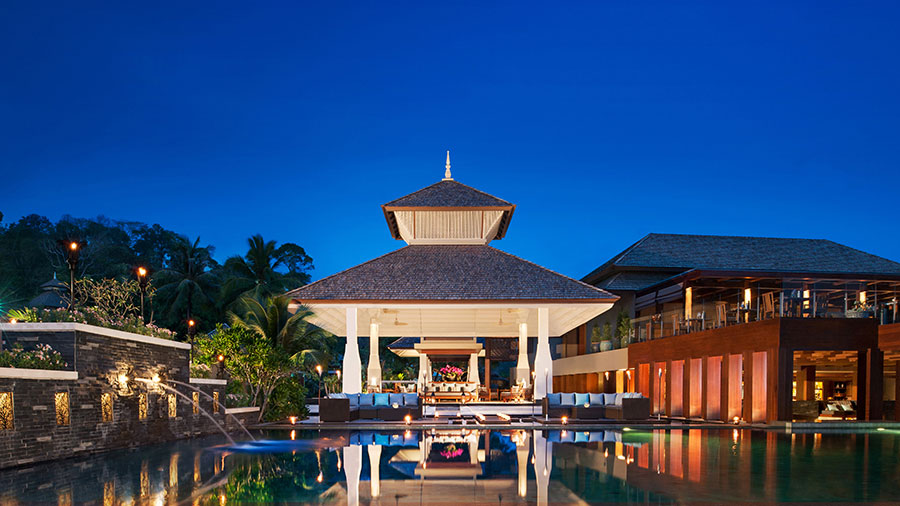 Starting life as the Bundarika Resort, Anantara Phuket Layan was completely gutted and renovated into the tranquil five-star luxury resort that stands today. Now, the property complements and even enhances its surrounding landscape, rather than merely trying to dominate it.
On check-in Simon and I were led to our Sala Pool Villa, each of which was set within its own walled garden; an oasis of palms, gingers, and heliconias.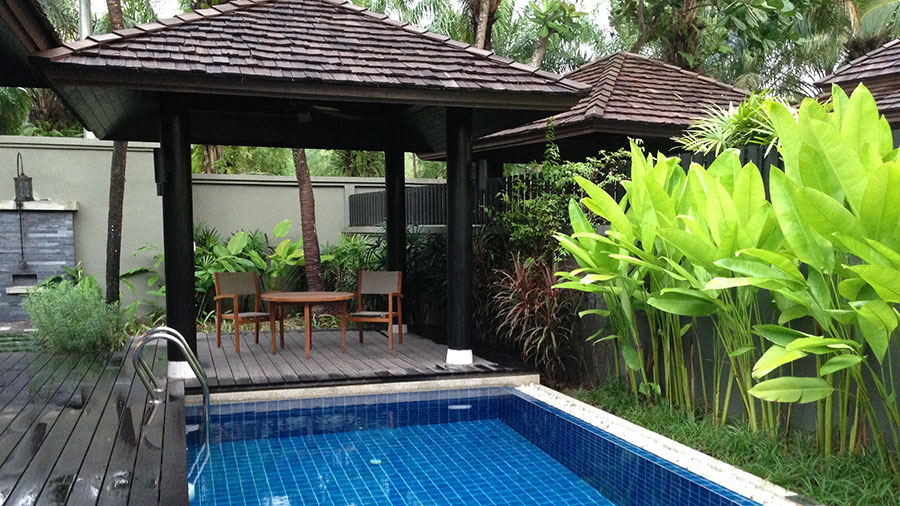 Our villa, number 21, had a floor plan of over 220 square metres, including the pool and private garden. It was bigger than some houses I've lived in.
Entering the bedroom via the main door, a king size bed occupied the centre of the room. Like a pyramid, the high panelled ceiling added a sense of grandeur. On the bed was a sign, 'Welcome Mr and Mrs Ashton'. It wasn't the first time we'd had this kind of sign, Simon is pretty used to it now.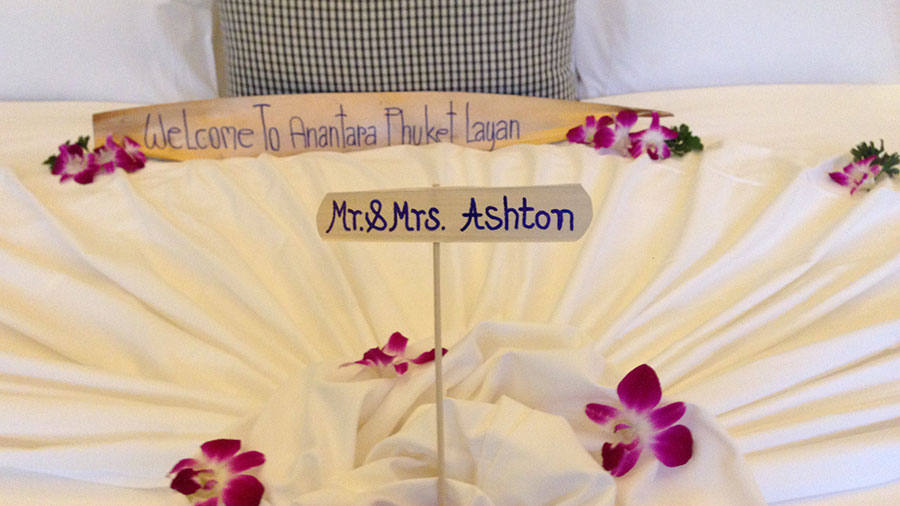 Through a doorway beside the bed was the (very) swanky bathroom, a grand marble chamber that would have been right at home in the Roman Empire. Inside were two generous robes, a full-size shower to the left, a deep bath in the centre, and a separate toilet to the right.
Through the sliding doors at the front of the bed was the deck and pool area, with a private timber cabana, outdoor shower, and recliner deck chairs. The dark blue pool tiles, the slightly weathered timber decks, and the emerald green of the gardens gave us more than a few design ideas for back home.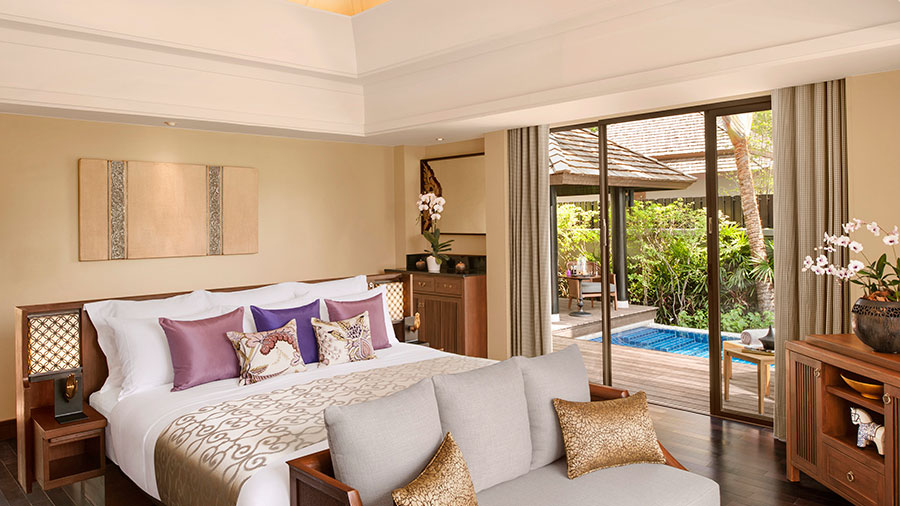 Though we could have stayed in our room for pretty much the entire stay and only ventured out for meals, outside there was so much to be enjoyed.
Being a beach resort, it was pretty much a given that snorkelling and kayaking were offered, but there were also other great activities to enjoy such as beach volleyball, Muay Thai lessons in a purpose built training ring, and 'Spice Spoon' Thai cooking classes – an Anantara staple.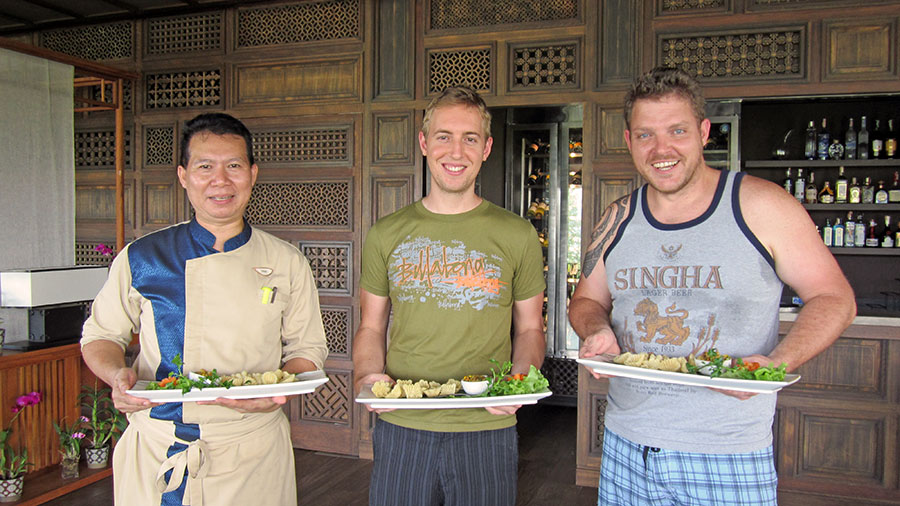 The Spice Spoon cooking class was one of the highlights of our stay. We joined Chef Pitak for an early visit to a local wet market, stocking up on items for our class later that day, before returning to the resort to learn some tips and trips to recreate quintessential Thai dishes.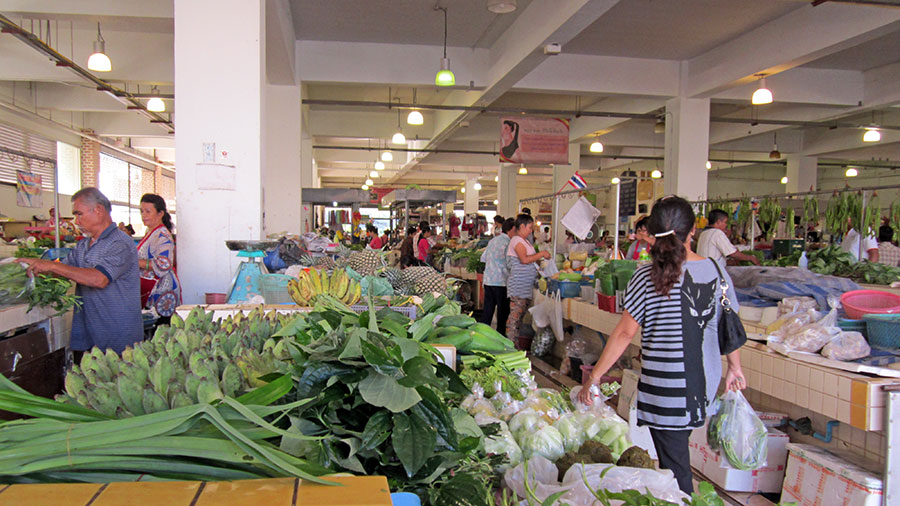 This cooking class took us beyond the usual resort experience and gave us a chance to interact with the locals, to see what day-to-day life for Phuket residents was like, and to help us connect with the local Thai culture – the kind of experience we always try to seek out when we travel.
Another highlight of the resort was the Sala Layan Restaurant breakfast buffet. It was, no exaggeration, the greatest buffet I have ever seen. There were numerous fresh pastries, delicious tropical fruits, a noodle station, a grill with three types of bacon (who knew such a miracle as turkey bacon existed!?), an eggs station, and more. They even had Vegemite!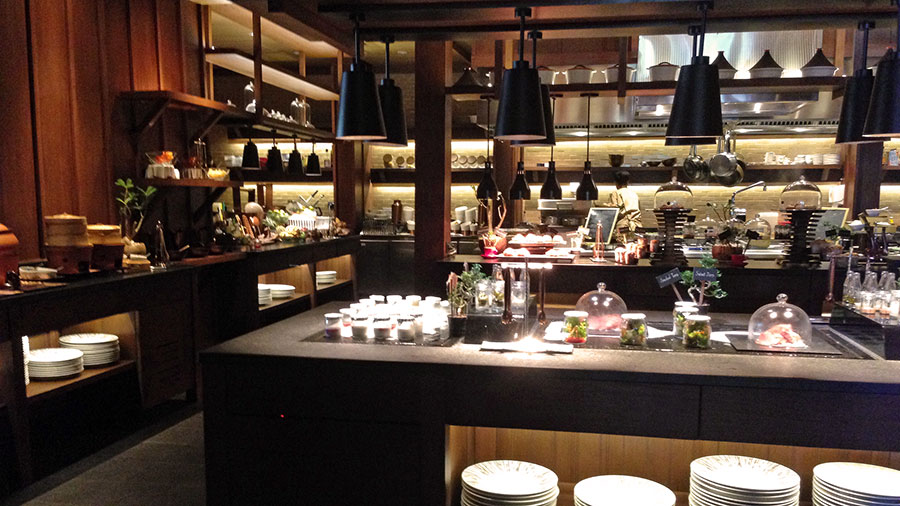 The resort itself is essentially self-sufficient, with its own private beach and several dining outlets, but if you've got time it's worth hiring a car or bike and exploring the island. There are rental companies who will come to the resort. Just remember to take photos of any vehicle damage before setting off.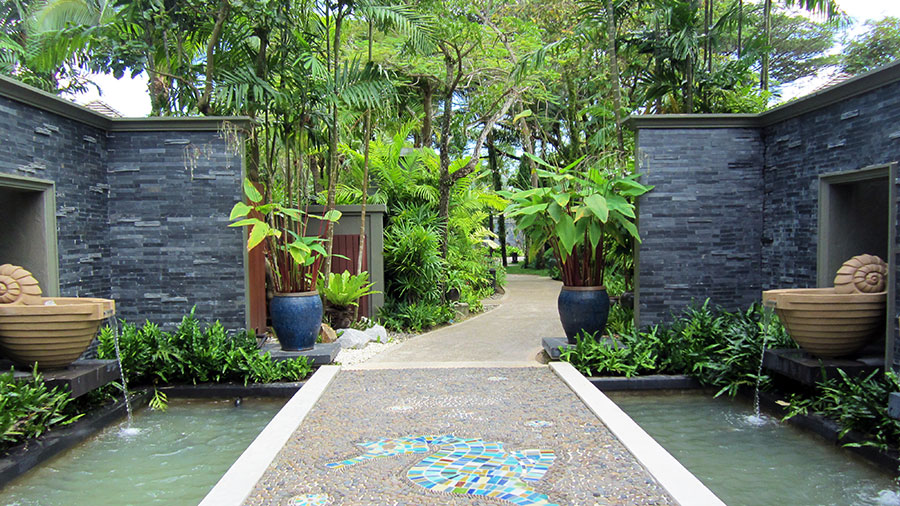 Both Phuket Town and Patong are under an hour's drive from the resort. There are also several lovely towns nearby the resort, each one offering unexpected thrills. Though Patong wasn't our cup of tea, it is well worth a look if you've come all this way (and then promptly going elsewhere).
Phuket is one of those destinations that can be whatever you want it to be. If you're looking for a bustling (read: organised chaos) resort hub with endless shopping, dining and nightlife, it offers plenty of that. If you prefer to spend days relaxing on isolated beaches, it can be that for you too.
The further you go from Patong the more peaceful it becomes.
Anantara Phuket Layan is one of the newest resorts in Phuket, meaning facilities are top notch and the service is up there with the best.
Things to do
Kayaks are provided free of charge to resort guests. Just off the beach is a small island known as Kata, the Thai word for pan. It isn't recommended for walking, but paddling around in the late afternoon is a great way to see it. Just make sure you're not paddling against an outgoing tide. Muay Thai boxing lessons are available in the resort's dedicated training ring. There's also a day spa and fitness centre. For those with kids, there is also a kid's club for 4-11 years. One night during our stay we were treated to an open-air cinema on the grass adjacent to the hotel lobby. A fun night!
Just a short walk down the beach, next door to the blindingly white Dream Beach Club, we found the locally run Layan Beach Restaurant. It wasn't flash, but they served authentic Thai food at very reasonable prices. We had six beers, two appetisers and three dishes plus rice, and it only came to about $30AUD.
When You Go
Learn more about Anantara Phuket Layan at phuket-layan.anantara.com
Check live rates at Booking.com
For more info on Thailand, visit thailand.net.au
– We stayed as guests of Minor Hotels.