Hearing it described as 'the most authentically Japanese airline in the sky', All Nippon Airways (ANA) instantly caught my interest. Did it live up to the lofty description? Find out.
Flight: NH879
Aircraft: Boeing 787-9 Dreamliner
Route: Tokyo (Haneda) to Sydney
Duration: 9 hours 5 minutes
Seat: 7A
Check-In and Lounge Access:
The check-in process was quick and efficient, with a designated lane for Business Class travellers. The ANA Business Class lounge was massive, with ample seating areas including spots for solo travellers and larger family groups. The drink selection was reasonable, but the meal offerings were rather limited. Just a couple of pastries, some deep-fried snacks, and a small selection of cold salads, meats and sushi. If you're after a hearty meal so you can go to sleep straight after takeoff, it's best to find one before entering the lounge.
The Cabin:
In keeping with Japan's famous minimalist aesthetic, the cabin interior was light, bright, and furnished in shades of white, silver and blue. The seating layout was a 1-2-1 configuration, meaning ample space and privacy for guests. Seats either side of the aisle were slightly staggered. Single seats on either side would be ideal for solo travellers, but those travelling together who like a chat would probably be better choosing the seats in the middle.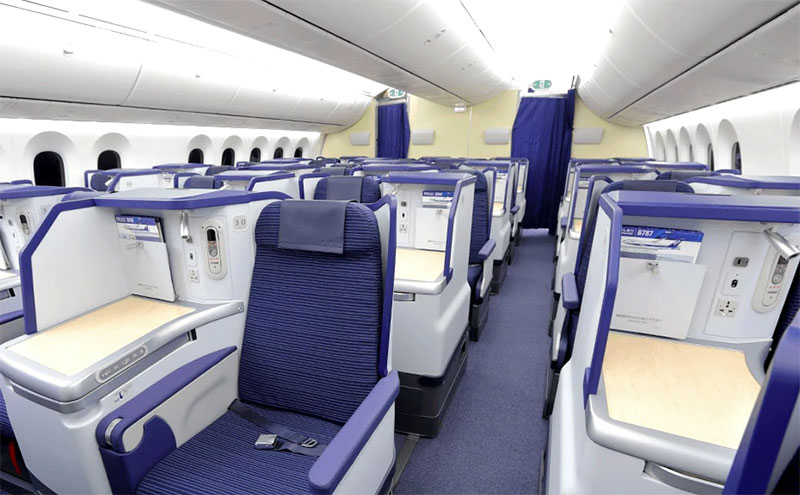 The Seat:
My seat was comfortable and spacious, though storage options were limited. I'm 6'1" and there was ample space. Features include an international power outlet with USB, noise cancelling headphones, reading light and magazine rack. There's a huge dining table which slides out from the side table, plus a storage well under the footrest. Seat controls allow you to move the position – including adjustable lower back support. When it was time to sleep, attendants converted the space into a full flat bed with large comforter, pillow and bed pad. I call it a pad because it's not a conventional mattress, but it was still comfortable.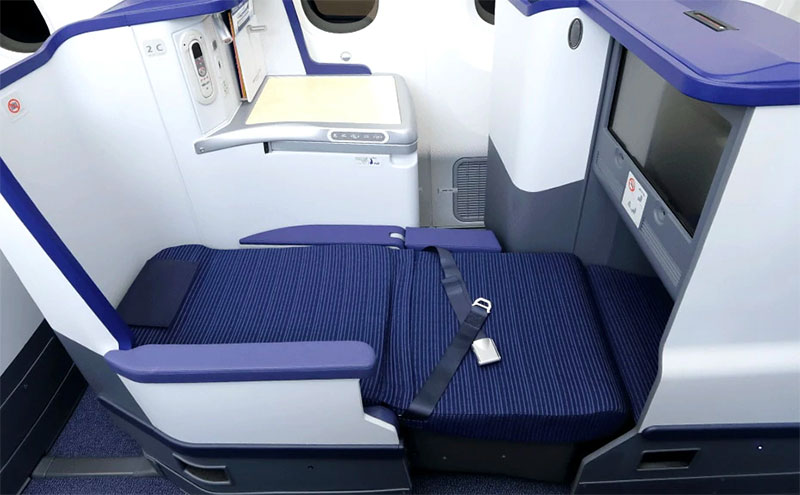 The Entertainment:
Large, touch screen television with a wide selection of recent release and classic movies, including Oceans 8, The Predator and Christopher Robin. The system was very responsive, allowing you to scroll through content quickly. The safety video featured Japanese Kabuki actors, lots of colour and personality. There was also a moment that says 'photography is prohibited during evacuation' – it's a bit sad but it does need to be said these days.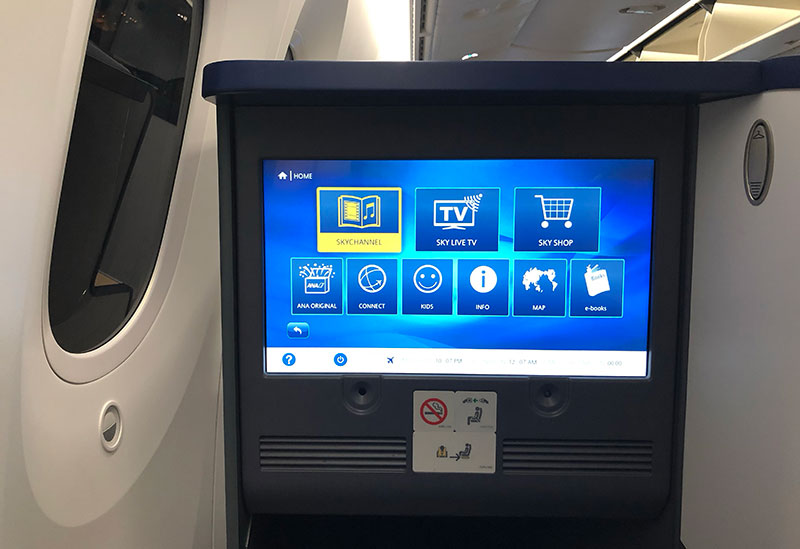 The Service:
The Japanese people are renowned for their 'omotenashi' culture of hospitality, where the hosts treat guests with the utmost respect. On this flight, we experienced that culture in practice. The service felt authentically Japanese. Refreshingly so. Suzuki our cabin attendant introduced herself prior to take off, informing us of how the inflight service would run throughout the duration of the flight. When dinner would arrive, breakfast etc. During the trip, staff were also regularly walking along the aisles to ensure all guests were happy.
The Meals & Drinks:
Designed by the '18 Connoisseurs' – a collaboration of internationally renowned chefs – the menu has something for every palate. There is an extensive menu of scheduled meals to choose from, as well as snacks available anytime throughout the flight including noodles, sandwiches and Takoyaki (deep-fried octopus balls). I chose the Japanese menu.
The Zensai selection (some tasty bite-size pieces) consisted of marinated snow crab meat served with mushrooms and chrysanthemum in a soy sauce; salmon sushi; simmered black soybeans in a delicate soy-based sauce; and a Japanese omelette.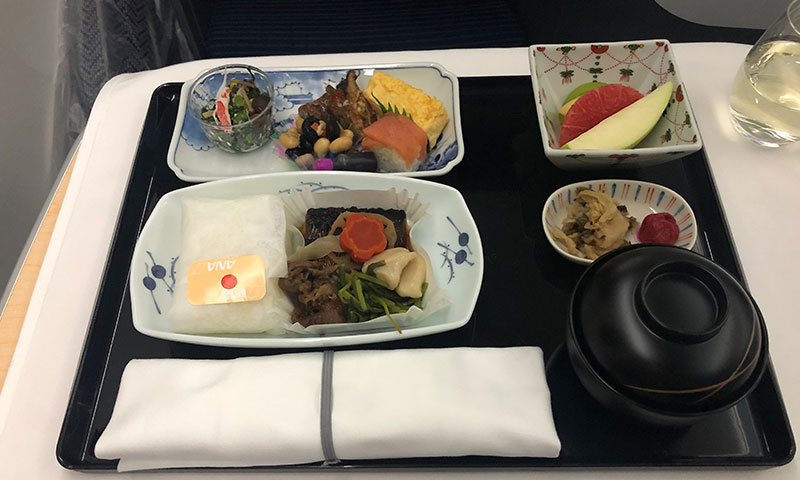 The Shusai (main course) was grilled chub mackerel cooked in mirin Japanese sweet sake and steamed rice. These were accompanied by miso soup and Japanese pickles. Suzuki recommended I pair it with the Noguchi Naohiko Sake Institute Yamahai Junmai sake – "it's a very popular choice". My glass was regularly topped up throughout the meal service.
The meal was sensational. Each element was beautifully presented, well-seasoned, and a pleasure to eat. If I was served any of the dishes in a restaurant, I'd be extremely happy.
Prior to landing, I had the IPPUDO 'rich-tasting' miso Daichi Ramen. Delicious!
The Verdict:
I'd fly ANA again in a heartbeat – it lived up to the hype and more. If I was to compare it to the likes of JAL, I'd definitely call ANA an authentic Japanese experience – it's not your typical Western airline experience. The food, service, comfort and entertainment were all top notch. The 10pm departure from Haneda allowed us to maximise our time away with a full day of sightseeing in Tokyo, arriving into Sydney early and refreshed.  
– We travelled at our own expense.