I'm a big fan of hotel groups who think outside the box – the ones who throw caution to the wind by ripping up the rule book of what a hotel is and instead focus on what a hotel can be. QT Hotels and Resorts is one I think excels in this arena. Considering the rapid growth in Australia and New Zealand, their innovative approach has a lot of other fans too.
We recently stayed at the glamorous five-star QT Gold Coast in Surfers Paradise, giving one of their newly refurbished Suites a try. At the risk of sounding corny, it was pretty sweet!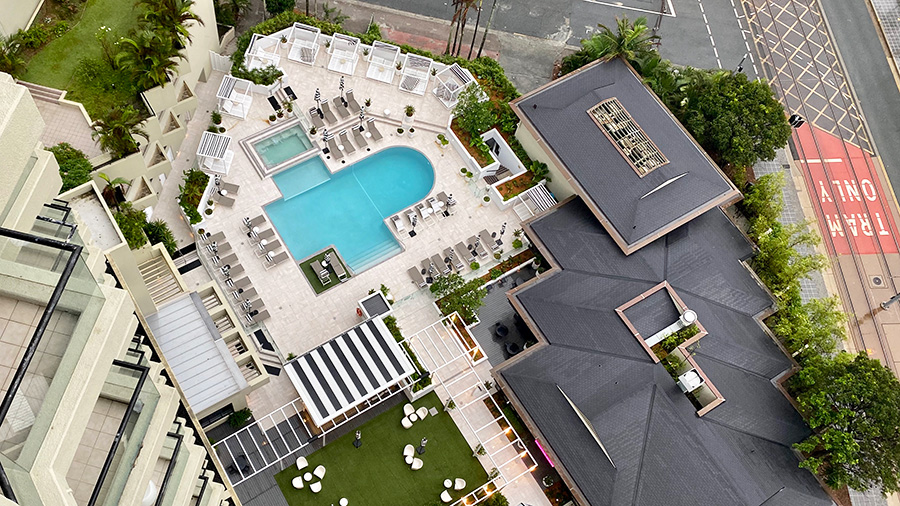 If you've ever stayed at the QT Sydney or Melbourne, with their sleek, sexy decor and 'Alice in Wonderland' approach to scale, you're in for bit of a shock. This property is nothing like them, instead opting for a bright and breezy beach-chic style. That's a good thing.
QT Gold Coast is very much a product of its location – dark timbers and velvet cushions just wouldn't cut it here. A vintage kombi with surfboards on the roof instantly sets the tone when you pull up to the entrance, followed by a light-filled lobby with colourful coffee shop in the corner, a plastic-fantastic astro-turfed seating area, and staff in retro jumpsuits.
The hotel is undergoing its first major refurbishment since opening in 2011.
First cab off the ranks was Yamagen restaurant on the ground floor, a local icon on the Gold Coast, followed by the revamped swimming pool area opened earlier this year. The hotel's 300 rooms are in the process of a major overhaul, with the Suites the first to be completed.
The Suite
Room Type: QT King Suite Ocean View
Room number: 1815
I've stayed at my fair share of hotels over the years, but no room has ever had me snapping as many photos as this one. It was bright and colourful, with pretty much every angle looking like it could go in a magazine. I must have spent a good 15 minutes taking photos. My husband Simon patiently waited for me to finish.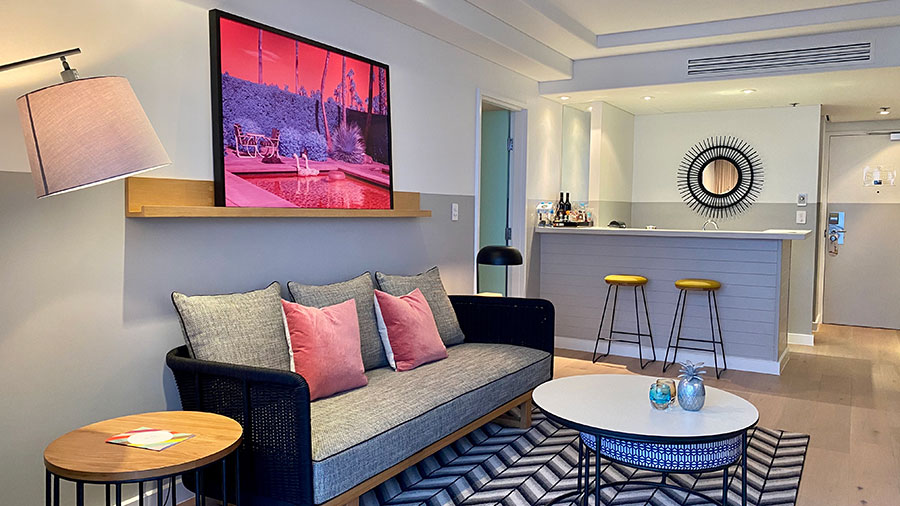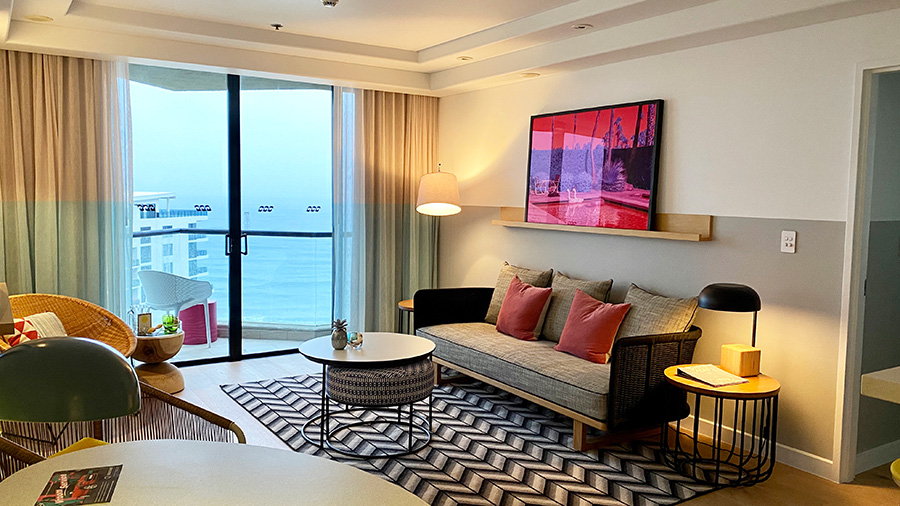 As you'd expect, the suite is like a private sanctuary. It occupies the corner of the building with three separate rooms – the lounge, bar and balcony, the bedroom, and the bathroom.
The lounge and balcony areas are bright and colourful, with a dining table for two, as well as a very comfortable two-seater lounge with coffee table in front of the television. Free Wi-Fi access and the ability to use Chromecast on the TV are big pluses.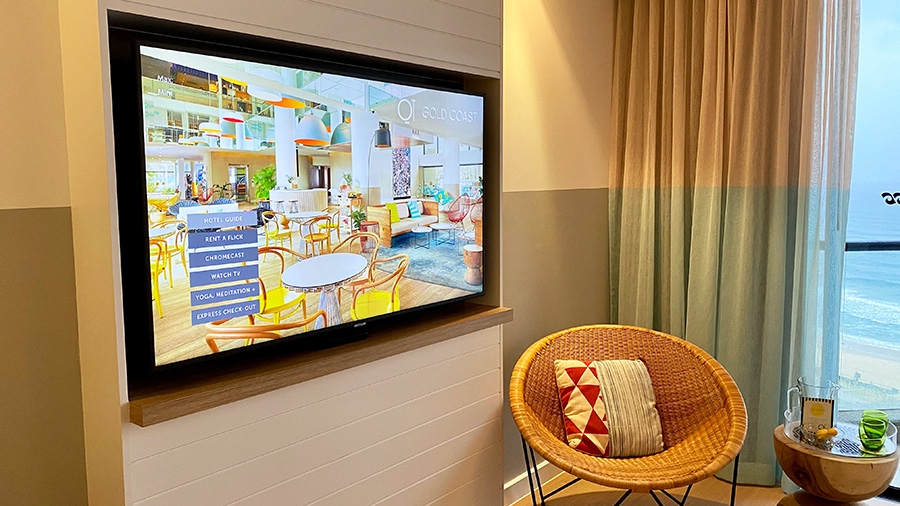 The bar area features a wine fridge and a well-stocked mini bar which included wine, beer, champagne, spirits and soft drinks. Snacks included nuts, crisps, chocolate and gummi sharks. A free make-it-yourself lemonade kit is also supplied – just call room service to have lemons, ice and sugar syrup brought up and start squeezing away.
In the bedroom there's a queen-size bed with vintage beach prints behind it, a colourful wardrobe which doubles as an artwork, and television, as well as a cosy window seat to sit and take in the view. It's a very tactile room with lots of different textures and materials.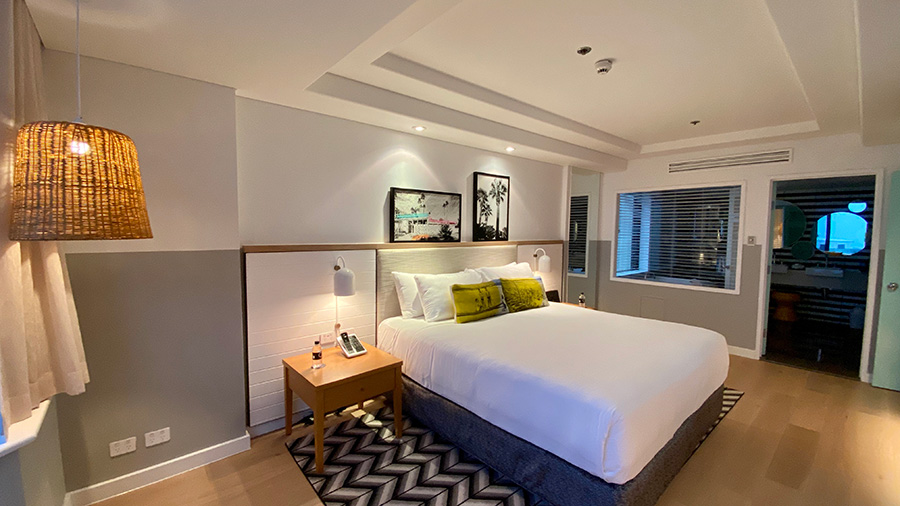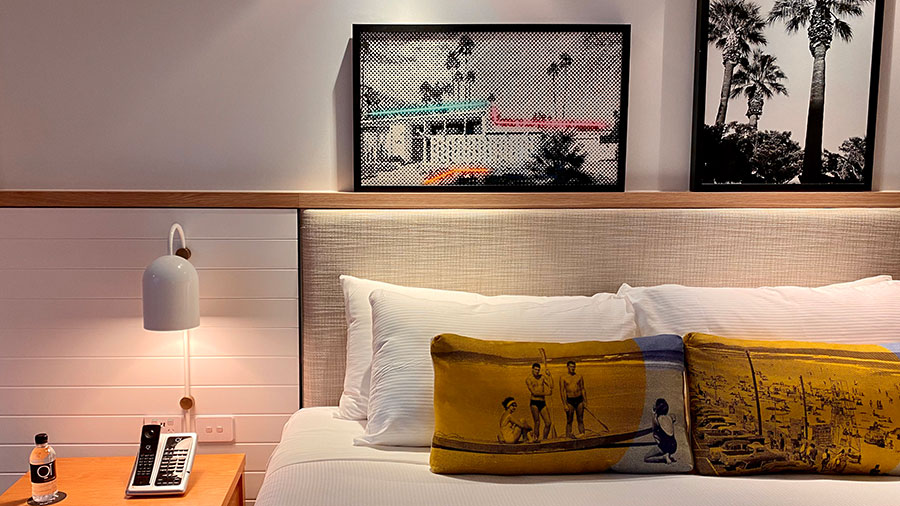 There's also plenty of space and storage options for luggage, giving you freedom to stretch out and not feel like you're living from a suitcase.
The ensuite bathroom has a stand-up shower and separate bath, as well as a separate toilet (there's also a power room near the suite entrance).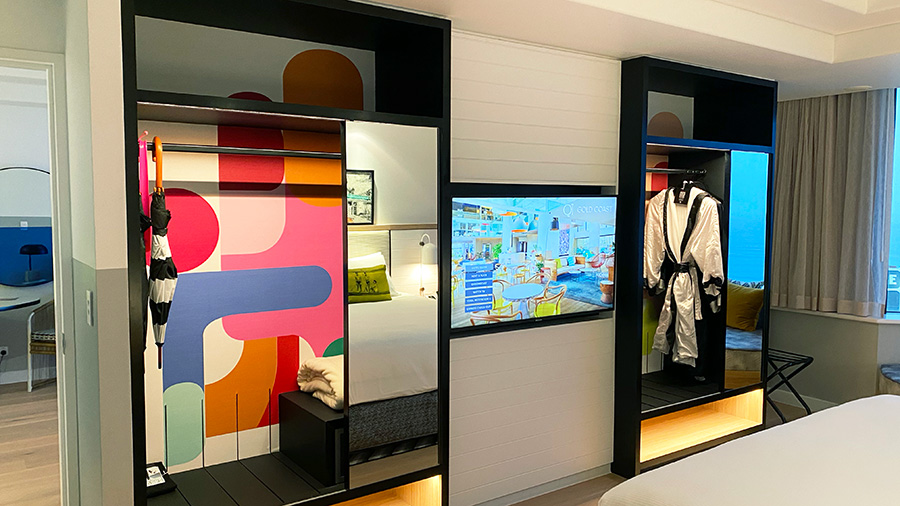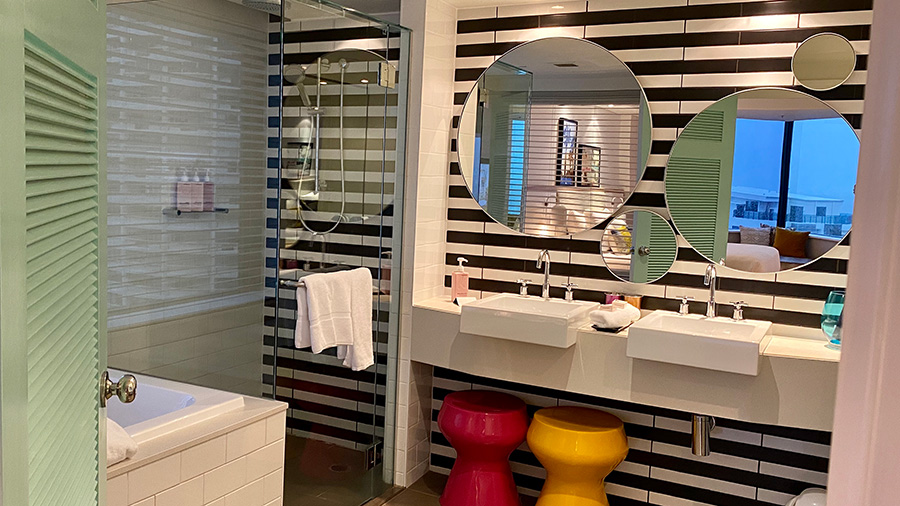 The Amenities
When hunger (or thirst) strikes, there are plenty of options to satisfy.
Bazaar on level one is hands-down the best buffet restaurant on the Gold Coast. The selections are exceptional, with multiple cuisine stations offering everything from steak to yum cha. Prices are pretty reasonable, and the breakfast buffet is seriously amazing too.
Yamagen is the hotel's izakaya-style restaurant, led by the talented chef Adam Lane. You can read my interview with Lane at The Upsider. Select from a la carte and set menu dining, together with a huge range of Japanese sakes, whiskeys and cocktails. The deliciously smoky scent from the robata grill setup instantly took me back to Tokyo. Try the sashimi tacos.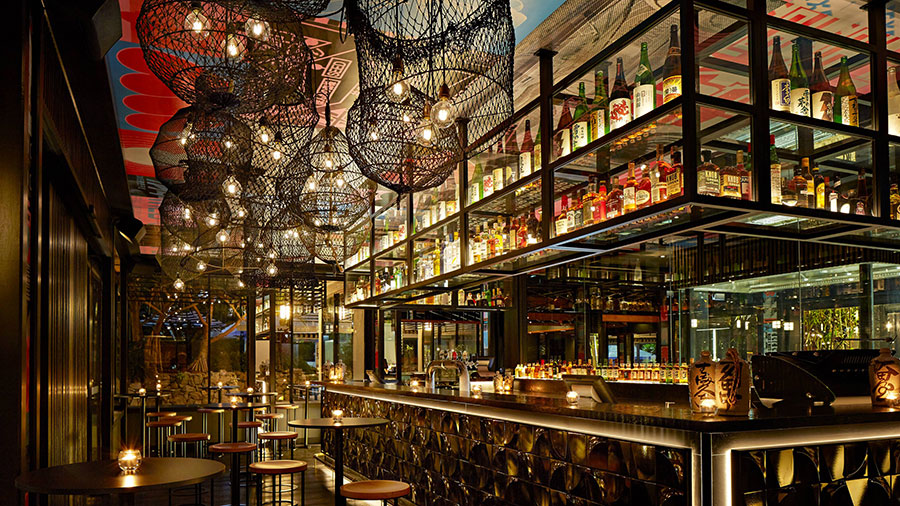 FIXX Café in the lobby is where you'll be able to get your morning coffee (or muffin) fix. There's a good selection of takeaway meals available too if you're in a hurry. Stingray Bar, also on the ground floor, is a great spot for cocktails and bar food such as pizzas. They also have Taco Tuesdays!
The Location
QT Gold Coast is located at 7 Staghorn Avenue on the northern end of Surfers Paradise, around five to 10 minutes walk from Cavill Avenue. There are two tram stops accessible nearby, Surfers Paradise North and Cypress Avenue, which are both about three minutes walk. It's a great location with easy access to the Gold Coast Highway, the beach around 100m away, and the hub of downtown Surfers Paradise.
The Verdict
Book. It. Now. The QT Gold Coast is a great option when you're looking to soak up the sun on the Gold Coast, ideal for business or leisure.
If you're a member of the Discovery / Priority Guest Rewards loyalty program, which also covers Rydges, Oaks and Anantara Hotels, you can quickly unlock Silver and Black tier status and enjoy discounts on dining (hello, 50 per cent off food and beverage) and free nights. It's worth it!
– We stayed at our own expense