It's dusk on Moreton Island. The sky above us is fading to delicate shades of pink and purple. The lights of Brisbane are slowly twinkling to life in the distance. And I'm about to experience something I never thought would be possible: hand feeding a wild dolphin.
I'm at Tangalooma Island Resort, a 75-minute ferry ride off the coast of Brisbane. It's one of a just a handful of places in the world where visitors can experience this rare thrill. The resort has been operating dolphin feeds since 1992, after its owners established a unique and enduring bond with the wild dolphins who fished in the waters near their jetty.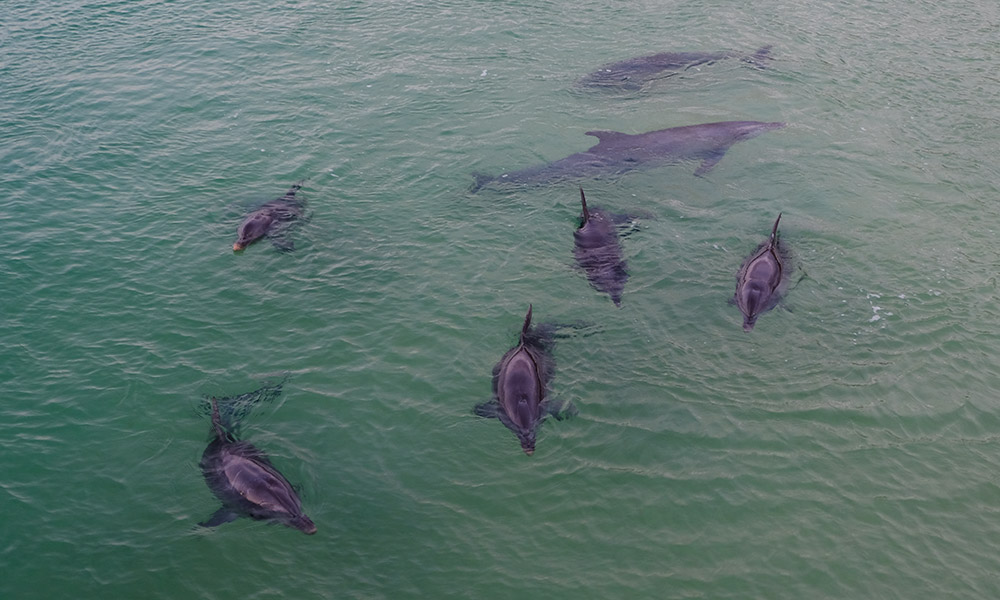 Josh Halloran, supervisor at the resort's Eco Centre and my guide for the session tonight, has worked at Tangalooma for two years and says it still doesn't feel like a job.
"My job is incredible – I get to take people from all around the world out to meet dolphins in the wild," says Josh. "We get people visiting who have never even seen one before. It's pretty incredible for them. Some break down in tears in the line because they're so emotional."
Right on queue, the dolphins have started to arrive. They're playing in the shallows by the jetty, with onlookers who aren't taking part tonight still getting to enjoy the spectacle.
Asked what we can expect tonight, Josh explains how the resort guests are split into lanes on the beach, with two dolphins assigned to each (depending on how many visit). Guests disinfect their hands then wade into the water two at a time, each taking a small, fresh fish from buckets on the shore. The dolphins then swim up and gently take the fish from their waiting hands.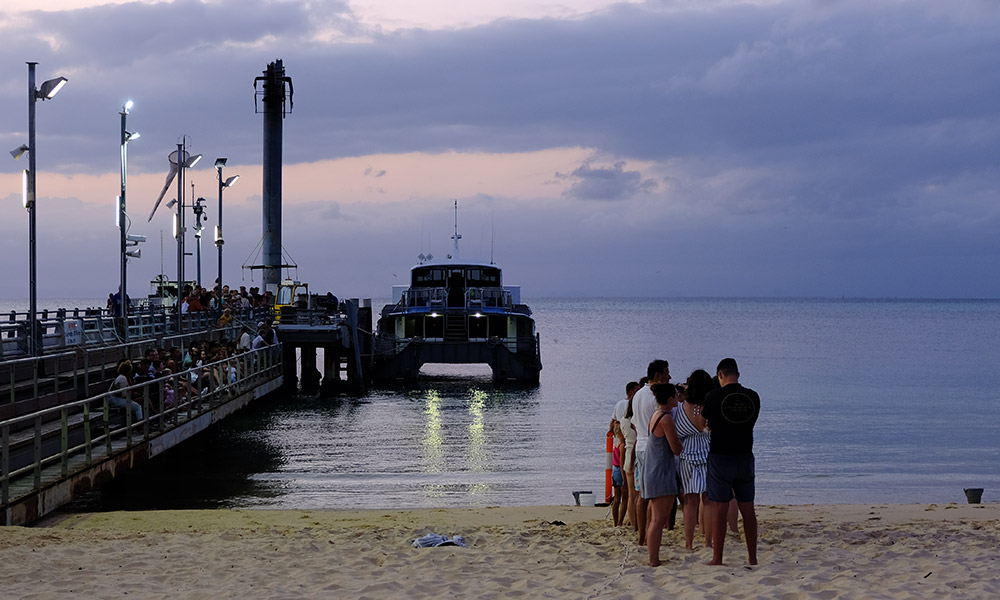 As with everything in nature, nothing is 100% guaranteed. Some nights there may be four or five dolphins who come in at feeding time, while others (like tonight) could see as many as 12. However, the same recognisable faces often return again and again.
"We're regarded as the best dolphin feeding program in the world because we get to witness the dolphins do what they do in the wild right here in the bay," says Josh.
"We only feed them a small percentage of their diet [approx. 10%]. I personally believe after being here for two years that they come here to socialise with us; I don't think they're coming just for the food."
"They're extremely efficient hunters, so they don't need us to give them fish. Nearly every night we'll see them hunting, playing, and using their echolocation skills. The mothers and calves play together. The mothers often teach the calves to hunt right in front of the resort."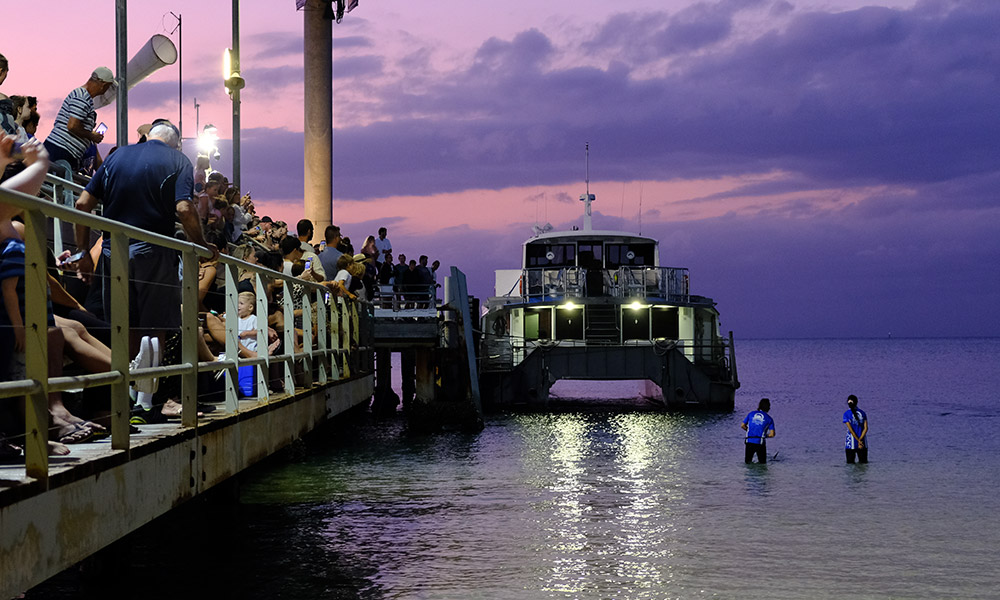 The dolphin assigned to my lane is Echo, a cheeky 27-year-old male who enjoys hunting for fish and stopping by the resort for a social call. The dolphins are incredibly intelligent animals, they know how this process works. If one swims into the wrong lane, they shoo each other away.
There's a big crowd pre-booked to take part tonight, so the team has intentionally reduced the size of fish handed out to guests so that the dolphins aren't overfed. It's all about balance. It's also advised guests hold the fish by the tail, as the dolphins prefer to eat the fish head first.
After rolling up my shorts a little, we begin to wade into the water just above our knees. I was keenly aware of the eyes of spectators on me just a moment ago, but now all I see is Echo. He swims by our side as we wade a bit further, taking his usual position on the bay side of guests.
Placing my small fish just beneath the surface of the water, Echo swims up and in one quick, efficient motion he takes the fish from my hand and swallows it. I stand in awe for a moment, processing what has just happened. The power and grace of his movements is remarkable. My instincts will me to reach out and touch him but that's strictly not allowed. He is wild, after all.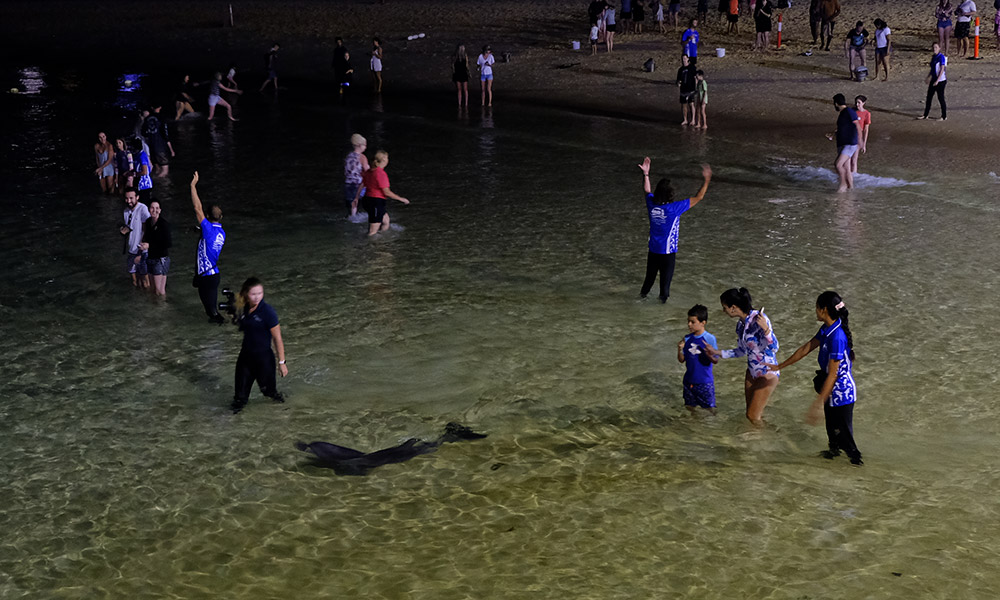 I'm grinning ear to ear as I slowly walk back towards the beach. My shorts are wet, my hands now smell like a fishmongers, but it's a once-in-a-lifetime experience I'm never going to forget!
Josh says the one thing that he wants all visitors to get out of this opportunity is a deeper understanding and respect for our oceans, for the impacts we have on the environment.
"I don't think people realise how much of an impact we as individuals have on the world around us. My role, and I think Tangalooma's role with the Eco Centre, is to educate everyone about the fact these are wild animals, that we need to respect them and the ocean they live in. Reducing single use plastics, reusing, and recycling as much as we can. That's what I try to convey."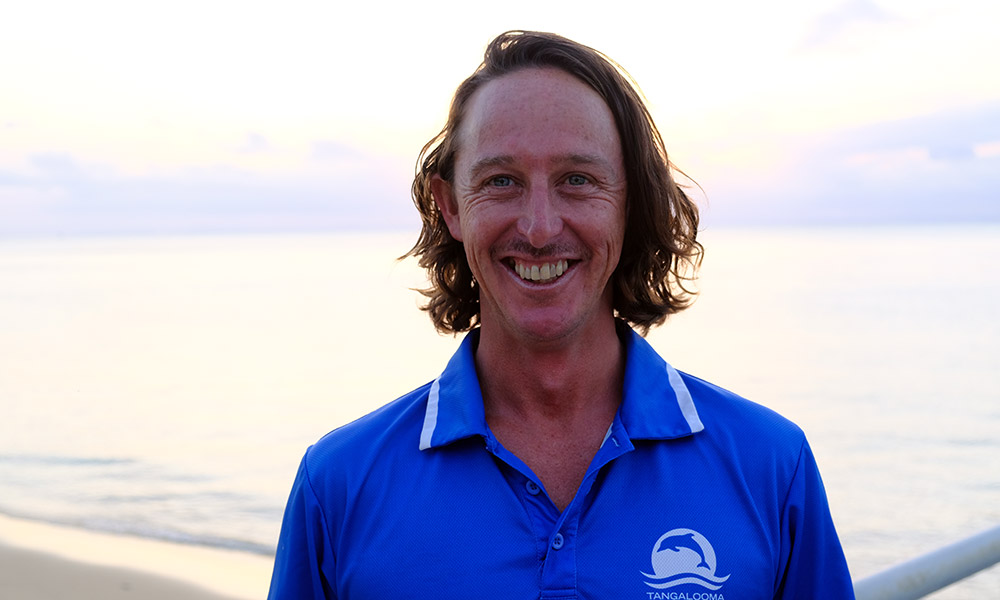 Walking off the beach, I join the spectators along the jetty to view this choreographed dance unfold. Unlike Josh and his team, this is a sight I won't view too often, so I'm going to relish it.
The dolphin feeding experience is included in the package for all guests staying two or more nights – it's not available on its own, for one night stays or those staying outside the resort.