Jervis Bay is one of NSW's great natural treasures. Located in the Shoalhaven region, less than three hours' drive from Sydney and Canberra, it's a marine wonderland home to the whitest sand in the world at Hyams Beach, beautiful national parks, and cruisey beach towns where barefoot strolls and building sandcastles aren't possible, they're essential.
It's also one of the top whale watching locations on the East Coast of Australia.
With whale cruises set to reopen this month, just in time for the peak migration season, we caught up with manager Jet Jones from Dolphin Watch Cruises to find out just what it is about the Bay that brings visitors and humpback whales back year after year.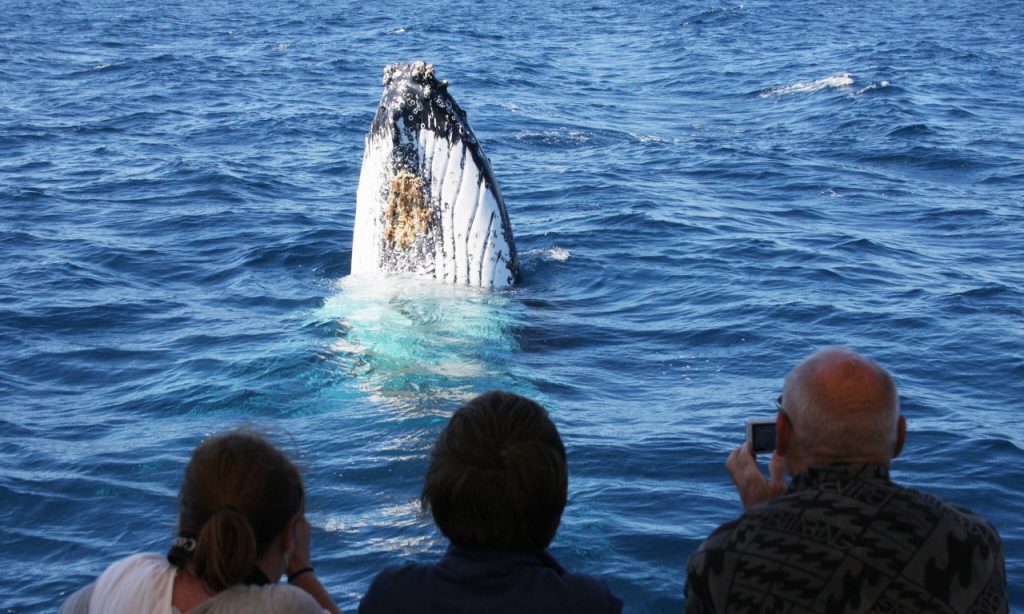 Born and raised on the NSW South Coast, Jet is a passionate advocate for the region. He also reckons Jervis Bay is the best whale watching location in Australia, with its sheltered waters and long viewing season from May to November two pretty good reasons.
"Being the midpoint of this East Coast migration means we have the whales around for seven months of the year," Jones says. "This position also means that whale mothers and their new babies use us as a bit of a rest-stop, which makes for some really special interactions every year."
"Probably the best part of whale watching in Jervis Bay is that it's so sheltered from the open ocean. We have about 120 square kms of deep, beautiful bay here, which means we whale watch in calmer, sheltered waters rather than open ocean most of the time."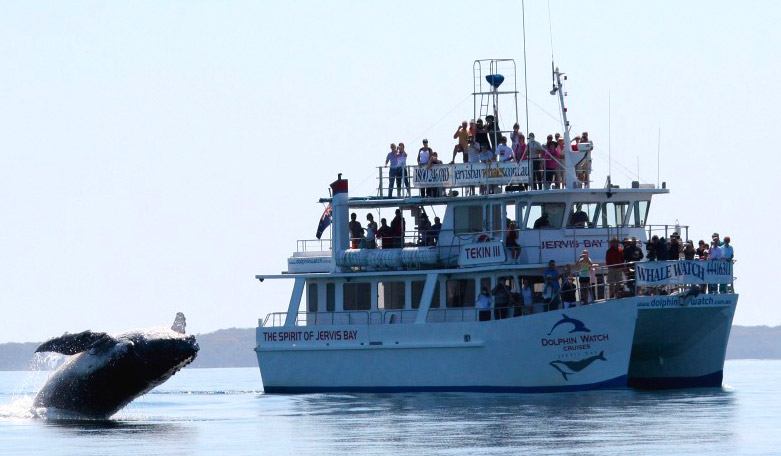 Dolphin Watch Cruises have been helping people witness these gentle giants up close for 30 years, yet Jet says he and the team are still in awe every single time they go out.
"It's a real-life wildlife documentary every day at work!"
What is it about dolphins and whales you think people find so captivating?
"We ask ourselves that every day because, honestly, even though we see them every day we still find them absolutely mesmerising! The more we learn about cetaceans the more wondrous they become! I think it's some combination of a mutual recognition of intelligence, their size, speed, the magical way they move and interact and play… the fact that they sometimes seem just as curious about us as we are about them… it's a mysterious connection that humans and cetaceans have always had. I've seen passengers' responses to encountering whales and dolphins in their natural habit that range from tears, to whoops of joy, to laughter and always just plain awe."
What are some of the most memorable encounters you've had?
"There's a cool type of encounter called a "mugging", which is probably the most spine-tingling. A whale "mugging" is a lot more pleasurable than the human variety. It is where the whales choose to approach us (as we keep legal distance away from them) and interact directly with us in very close proximity. They do not steal your wallet, but they take your breath away!
"I remember my favourite encounter of this nature was with a new-born baby and its mum inside Jervis Bay, and the baby, just like human babies, was insatiably curious. It approached the boat and rolled around peeking up at the humans, as its gigantic 30-tonne mother sat quietly beside the rambunctious, curious kid, keeping a close eye, and periodically rising up to spray our passengers with rainbow "blows".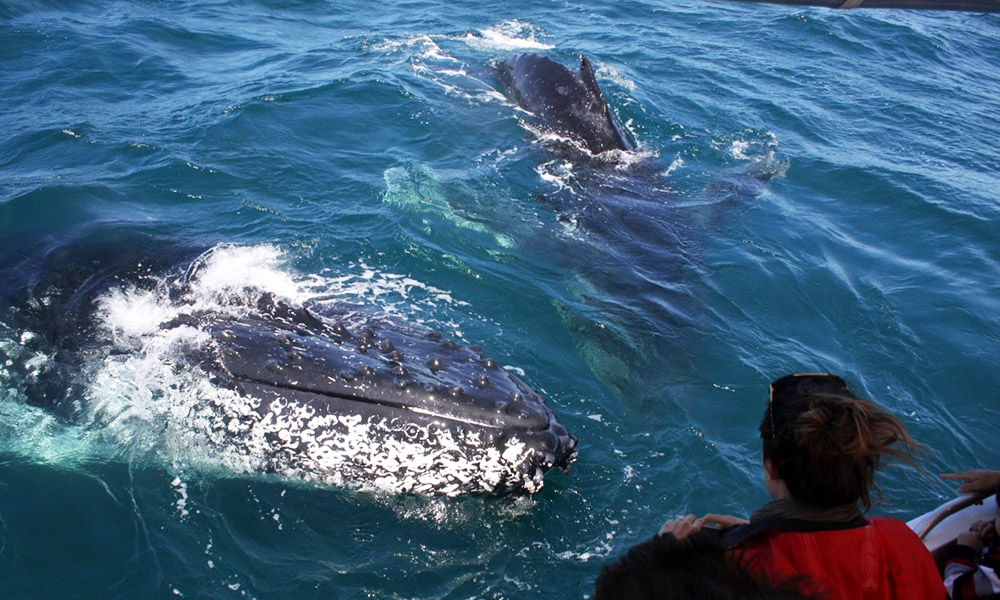 "We also had a mass feeding event here last year which saw 100-200 huge humpbacks working together to take massive open-mouthed gulps of tons of krill. Apart from their terrible breath, it was incredible to look around and have feeling, happy, wild humpbacks as far as the eye could see.
"Our resident Jervis Bay dolphins also give us some amazing encounters literally every day of the year. They have grown up with us here for 31 years now, so we know each other well, and they love to come and ride the waves our boats make and show off for the passengers. Every day you see them doing something different, from 10-foot jumps in the air, to playing catch with an octopus, to wearing seaweed as wigs, or even making baby dolphins!"
What are the most underrated experiences in Jervis and why?
"An underrated experience in Jervis Bay would be diving. Most people think of the Great Barrier Reef for Aussie diving experiences, but down here under the water is just as amazing as above it! Sea caves, unparalleled visibility, a mix of incredible marine life, awesome sheltered spots for beginners and epic spots for experts; we've got it all. Also the two dive operators down here, Woebegone Freedive and Dive Jervis Bay, are accredited to dive with humpback whales, which traditionally you've had to fly to Tonga to do!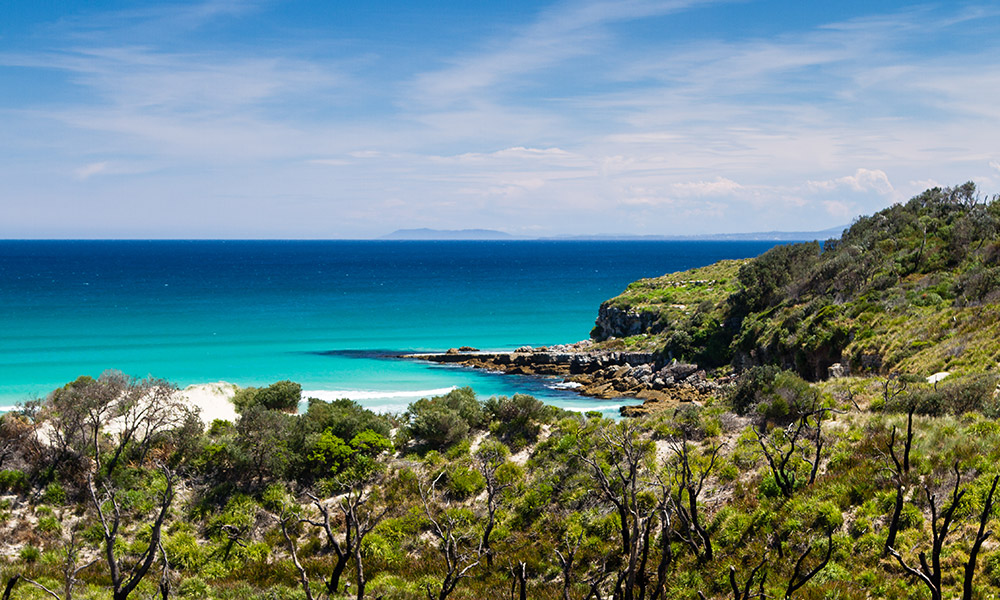 "A lot of people don't realise this region contains some of the most incredible outdoor rock climbing in the country! The 98m high sea cliffs of Point Perpendicular on the North headland of Jervis Bay is hope to world-famous routes. Local company Outdoor Raw even offers "Cliffnics", which are picnics of local produce on a platform over the edge of local clifftops, as well as guided rock climbing.
"Many people also probably don't know that the Jervis Bay region is home to world class wineries, and more recently, breweries. There are now two breweries in our tiny town of Huskisson. We even stock Jervis Bay Brewing Co. beers on two of our boats called the "Cow and Calf Pale Ale" named after the whale mothers and babies that visit us here!"
What would your perfect day in Jervis Bay entail?
"It's hard to have a bad day here really! Wake up and walk outside and you've had one of the best days of your life, automatically. Go for a walk on a pristine white sandy beach at sunrise to really blow your mind, then grab a coffee from a local cafe, and book a whale cruise for the morning. Kick back with a wine or a beer on the deck as you take in the local scenery and wildlife and learn history of the area.
"Come back to dry land for lunch at a Huskisson restaurant, then go hang out at a beach down in the Aboriginal owned and managed Booderee National Park, where you'll find some of the most incredible beaches and bushwalks anywhere in the world. At night the locals head to Jervis Bay Brewing Co. for live comedy or music or community benefit events. Then, if we're talking about the perfect day, we'd be lucky enough to ride a bike home by the beaches that, a few times every year, are lit up by bioluminescent plankton, making them glow electric blue!"
For more info on Dolphin Watch Cruises, visit dolphinwatch.com.au