Food and travel are two of my favourite things. And when the two of them are combined, that's when the real magic happens. Nothing takes you the heart and soul of a destination quicker than pushing beyond your comfort zone and sampling some local delicacies.
Award-winning celebrity chef Anna Polyviou, known as the 'punk princess of pastry' for her unique culinary creations, recently returned from a trip to Singapore – a destination which is practically tailor made for foodie adventures. Needless to say, she was a wee bit smitten.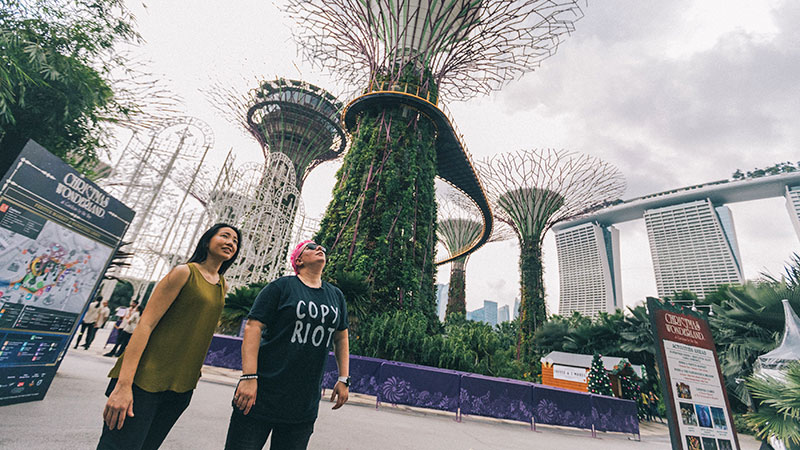 Here are Polyviou's top five tips for a Singapore foodie adventure you won't forget:
1. Visit a local market
"Check out the wet markets to give you a sense of the local flavours and ingredients, locals head here to buy their produce most days. We went to the markets located downstairs in the Chinatown Complex, opposite the Buddha Tooth Relic Temple, where you'll find everything from fresh spices, fruits, vegetables and meats."
2. Tempt your tastebuds at a hawker centre
"Singapore is famous for hawker centres for one reason… they're amazing! Singapore has over one hundred hawker centres and in each particular centre you can find up to fifty different stalls, so you're certainly spoilt for choice. It's crazy! I absolutely love them. There's a lot of variety, from sweet to savoury and everything in between. I loved visiting Old Airport Road in particular, as the variety of cuisine on offer is incredible! I was sitting in amongst the locals so I knew I was onto a good thing. It's hard to recommend just one dish but the Toa Payoh Rojak was really fresh and tasty! It's essentially a salad with cucumber, pineapple, jicama, bean sprouts, deep-fried tofu puffs topped with ground peanuts and a zingy dressing."
3. Treat yourself to a dinner in a fine dining restaurant
"Singapore is home to incredible Michelin-starred fine dining offerings, so make sure you see what the fuss is all about. Try and snag a booking at Odette, it's French fine dining at its best!"
4. Enjoy a nightcap at Janice Wong's 2am:dessertbar
"This Singapore institution is a unique concept, being a bar coupled beautifully with Instagram-worthy desserts."
5. Give Durian a try!
"Referred to as the king of fruits, Durian is like nothing I have ever tasted or smelled. You'll either love it or hate it! I personally found it quite bitter but you have to try it for yourself. Plenty of street fruit vendors sell them on the side of the road so look out for its spiky exterior."
For more info on Singapore, head to visitsingapore.com