Flying was once one of the most opulent ways to travel – it was an experience, not just a flight. Somewhere along the line though, the glitz and glamour of aviation was replaced with subtle shades of beige and grey. But, if Virgin Australia's appropriately titled 'The Business' class is anything to go by, the glory days of air travel could be making a bit of a comeback.
Sit back, relax, and read on to discover why we think The Business is the business.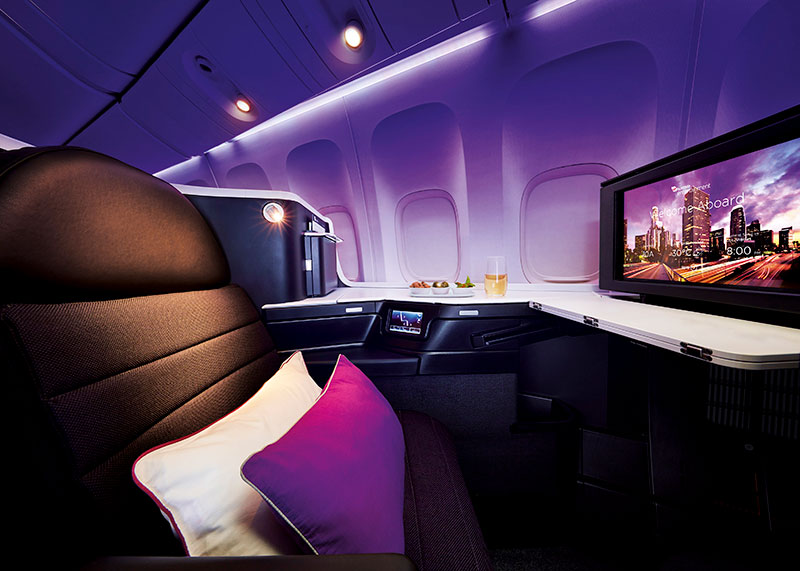 Flight Number: VA 7
Route: Brisbane – Los Angeles
Flight time: 12 hrs 31 mins
Seat Class: The Business
Seat: 10G
The Lounge:
Since Virgin Australia do not have their own business lounge at Brisbane International Airport, we were given access to the Singapore Airlines SilverKris Lounge. It was an inviting space looking down over the main departures hall, giving plenty of opportunity for a spot of pre-flight people watching. The lounge had lots of seating, plenty of natural light, and a good selection of hot and cold meal options, along with a well-stocked self-serve bar.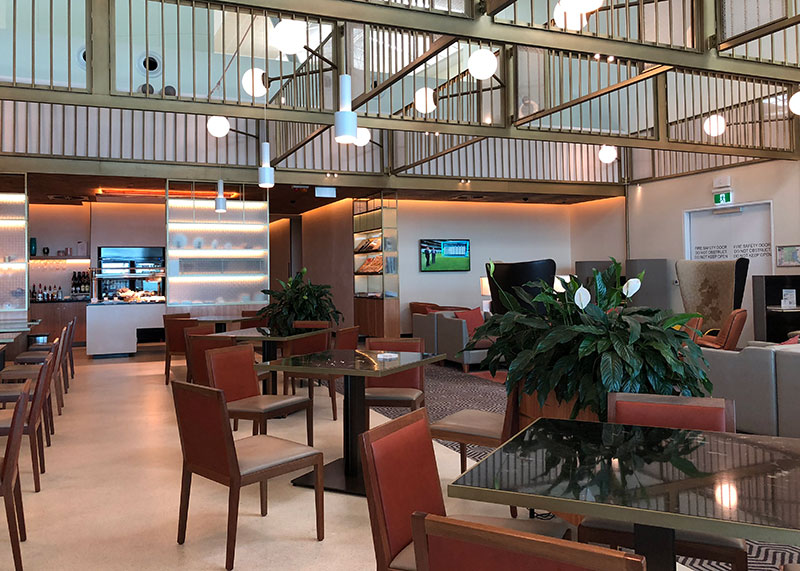 The Seat:
The Business should be renamed The Swiss Army Business; there were more features than a Swiss Army Knife. The standout element was an adjustable, fully-flat bed which is 28 inches (71cm) wide and 80 inches (203cm) long, and controlled via a small touch-screen. There was a storage space for shoes, one for your iPad or tablet, one for personal belongings you want easy access to in-flight, and a cushioned foot rest. For gadgets, there was a USB port and wall socket, plus noise cancelling headphones in a height adjustable compartment to my right. After lunch service the cabin lights were dimmed and star-like LEDs transformed the roof into a starry night sky – the next best thing to a see-through fuselage. When I was ready, the attendant converted the seat into a fully flat bed with the addition of a mattress pad and a duvet. Try as I might though, I just couldn't catch any shut-eye. I closed my eyes, counted sheep, listened to meditation music, and willed sleep to take me – but, alas, it refused. I used the time to get better acquainted with the features of the seat.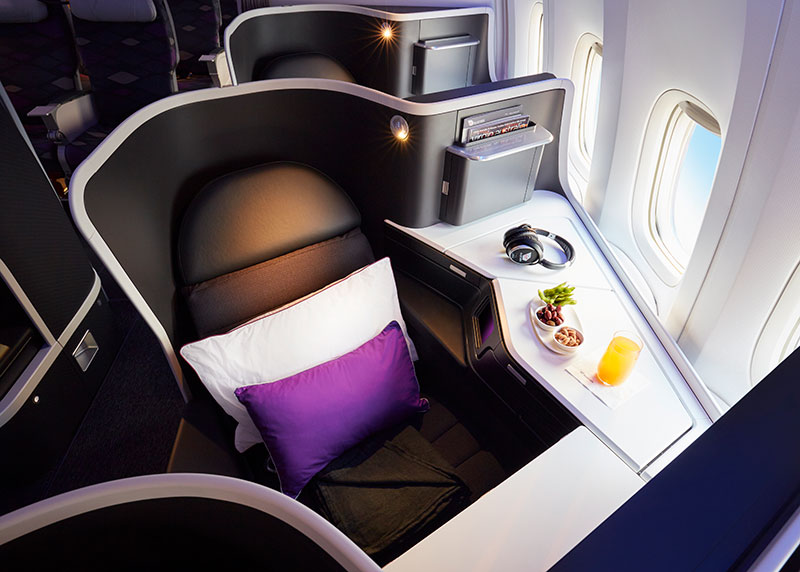 The Entertainment:
One area where the seat particularly shone is entertainment. The large, responsive touch screen featured an easy to navigate operating system and impressive selected of movies, TV shows and music. There were 175 recent release and classic films in total, including newbies such as Wonder Woman and Logan, so there was plenty to keep me entertained.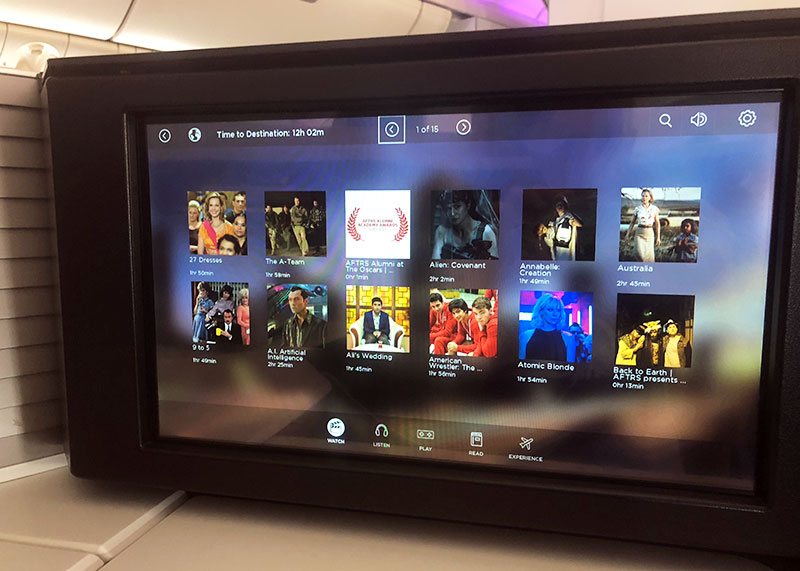 The Amenities:
I love a good airline amenity kit. Open the drawer of my bathroom at home and you'll find a not-too-shabby selection from around the world, plus a few dozen sets of hotel toiletries (aka hotel giveaways) I've picked up along the way. Yes, I have a problem, but I've given up trying to change. I'm happy to say the PJs and amenities kit from this flight have taken things up a notch. The black case looks great and features a bevy of essentials including socks with grip spots, a toothbrush, black eye mask and ear plugs, as well as a 57g jar Burt's Bees almond and milk hand cream, moist towels, and wild cherry lip balm. A pair of large, black draw-string pyjamas was supplied for me to change into. Even with the shirt sleeves rolled up it felt a bit like I was walking around inside a duvet cover. They were very comfortable though. [Note: I was given a pair of medium size PJs on the return leg of the journey, which fit like a glove and have now been added to my wardrobe].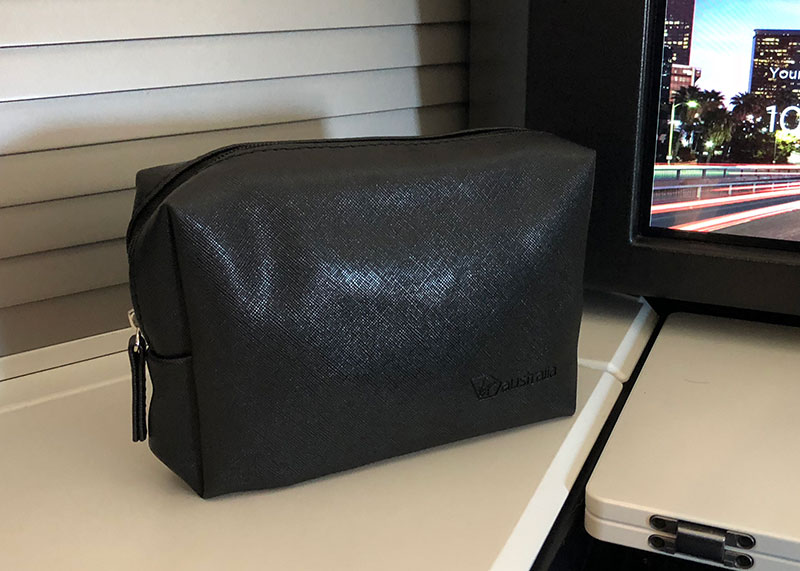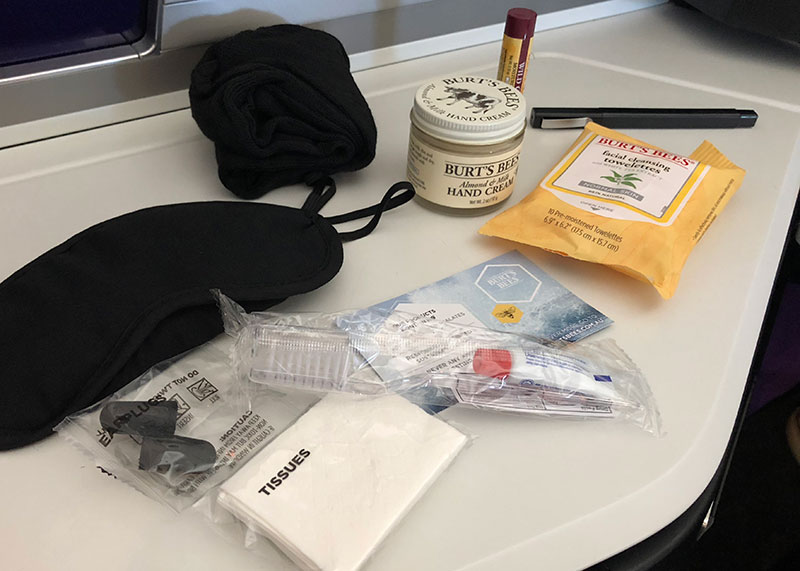 The Food & Beverage:
Prior to take-off, we were given a menu detailing the food and beverage options available during our flight, along with a wake-up card of what we'd like for breakfast. The Luke Mangan-designed lunch menu featured a variety of Asian-inspired dishes, plus a wine list with around 10 reds, whites, and dessert wines. Lighting wasn't the best to take photos, giving everything a purple hue, but below are the meals that I chose for lunch.
#1 – Aperitif. Glass of Riesling served with a small plate of olives and sun-dried tomato and Parmesan savoury biscuits.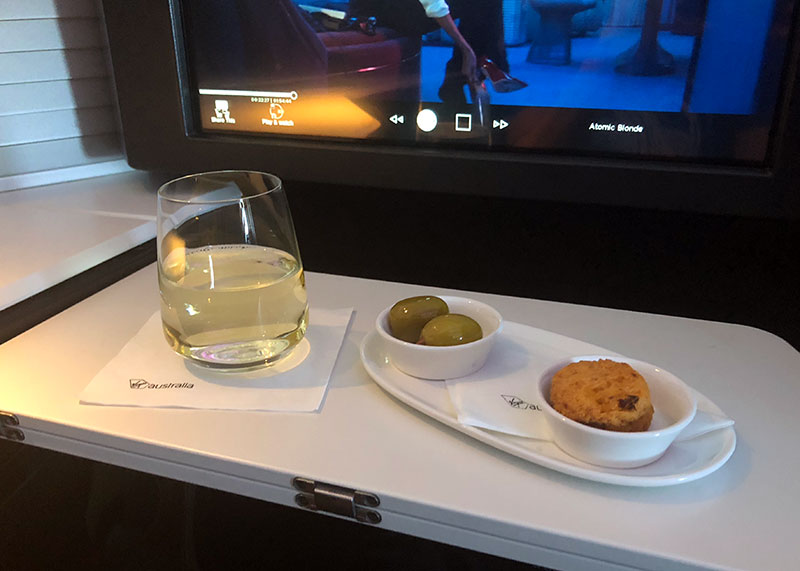 #2 – Entree. Poached prawns with cashew purée, coconut and nam jim. Tasty prawns with just the right amount of purée to accompany it.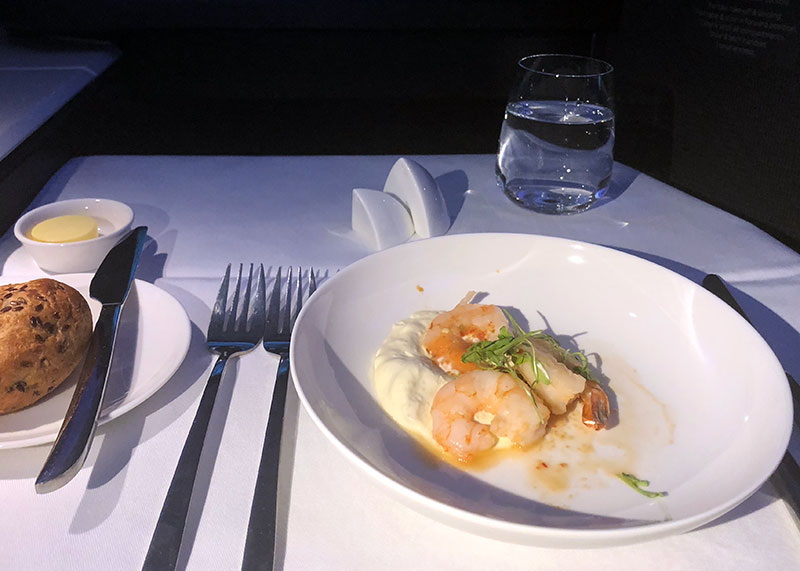 #3 – Main. Steamed barramundi with noodles, bok choy, shiitake mushrooms and ginger. A tasty dish.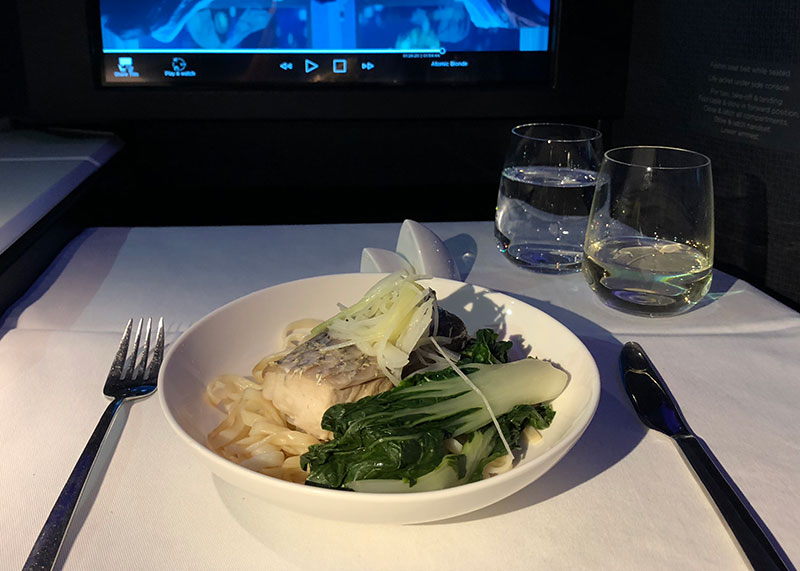 #4 – Dessert. The menu offered a chocolate tart with poached berries. The attendant apologized though, saying they were given a passionfruit roulade with poached berries and mascarpone instead. A good substitute!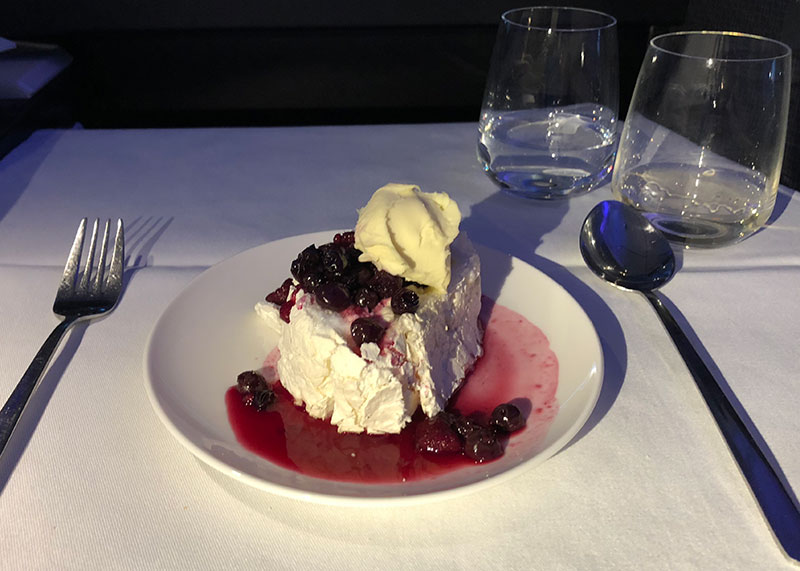 The Bar:
I've never been on a plane with its own bar before – but I dig it! It was surprisingly well stocked and a fun addition that allowed passengers to relax and socialize during the flight. Following the main meal service, things did get a bit rowdy around the bar, but it soon died down and mostly became a chill-out space for people (like me) who were unable to sleep.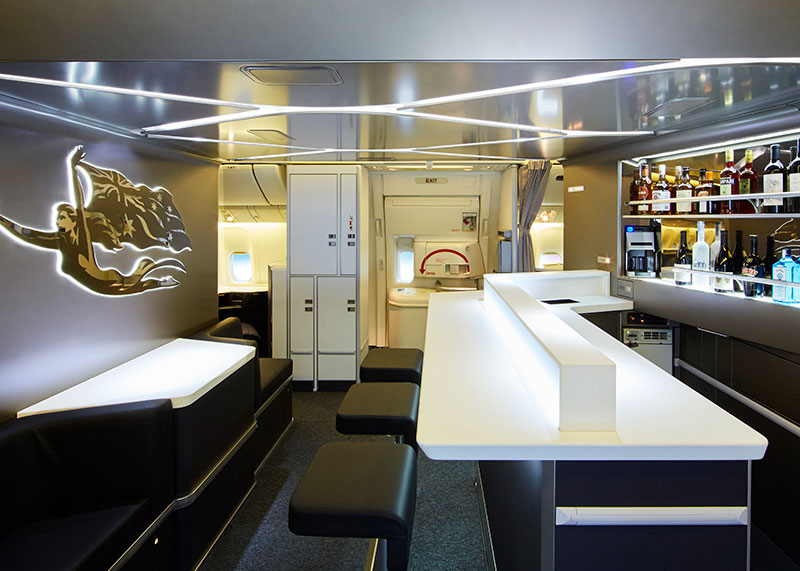 The Service:
Absolutely fabulous, with friendly and attentive staff who were only too happy to share some destination tips and thoughts on the flight, the bar, and the seat design. They refilled my wine and water glasses whenever they dipped below half full, and nothing seemed too much trouble. You're probably thinking 'well, that is their job' and you'd be right, but I have had other experiences when even those simple elements were just too much trouble. To help make our arrival into LAX a smoother experience, the arrival cards were pre-filled with the date in the correct U.S. date format (mm/dd/yyyy). This may have only been a small thing, but it took service beyond what we've experienced on other flights in the past.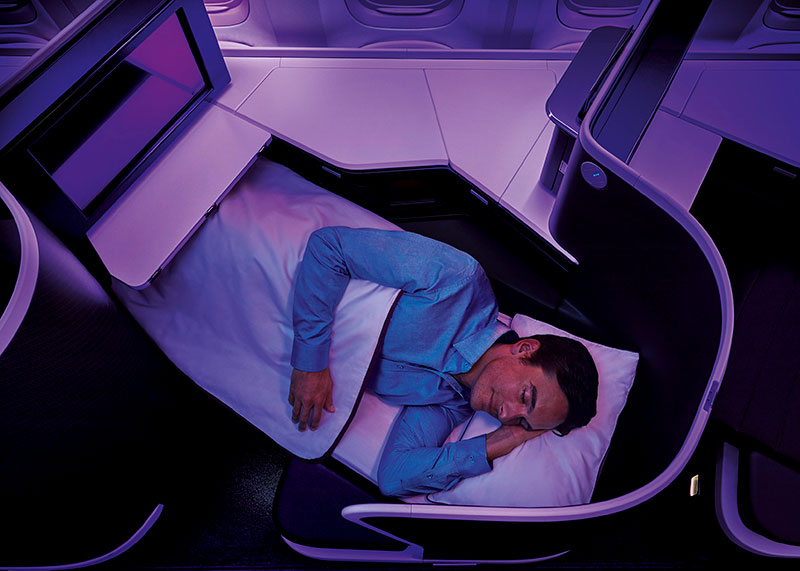 The Verdict:
Competition on the Trans-Pacific route between Australia and the United States is heating up this year, and we think Virgin Australia is well placed to come out in front. The airline has already started announcing more cost-competitive fares, has one of the best frequent flyer programs in the market, and recently dived head-first into the digital age with in-flight Wi-Fi access (currently being rolled out on their Boeing 737 and 777 aircraft. Our flight delivered in all the right places, and has us counting down the days to the next Business adventure.
We travelled at our own expense.