Singaporeans don't just eat to live, they live to eat. We discovered this on our first trip to the Lion City back in 2012. Since then, we've been back several times and never miss an opportunity to try follow the Singaporean example and eat til we can eat no more.
And where do we always return to? Hawker Centres, of course. Essentially local food courts, hawker centres off inexpensive and delicious cuisine from all corners of Asia.
In no particular order, we think these are the best places to enjoy street food in Singapore.
Maxwell Road Hawker Centre
The most well-known of Singapore's hawker centres, Maxwell Road is situated right in downtown Chinatown. There are two sides to this vast undercover, outdoor eating area – both packed full of stalls selling top notch cuisine. The best thing about it, you can have a delicious meal – Chinese, Malay, Indian, Western – at genuine 1960s bowling club prices.
Lau Pa Sat
Located in the heart of the financial district, La Pa Sat is quite possibly the most beautiful food court you'll find in Singapore. Soaring arches, fretted eaves… it's stunning. Built in the 19th century and restored multiple times, it combines the best of Singapore's flavoursome cuisine in one elegant package. Come for the Hainanese chicken rice, stay for atmosphere.
Boon Tat Street
Singapore's "satay street", conveniently situated right next to Lau Pa Sat. Boon Tat Street is closed to cars between 7pm – 2am each night, transforming the regular street into a foodie haven with stalls selling mouth-watering satay and other Malay delights including mee goreng and barbecued chicken wings.
Makansutra Gluttons Bay
Situated on glorious Marina Bay, this open-air food centre is a must when you want to enjoy delicious food with a sensational view. You can see the bay, Marina Bay Sands, the famous Merlion, and Financial District from your table. This particular food court does feel a little more touristy than others, but the food on offer is just as good, albeit a little more expensive.
A helpful tip – Singapore is very serious about food quality and health safety. Keep an eye out for lettered posters in the stalls displaying an A, B, C or D health rating. A and B ratings are the best, C and D are a little low. There is great incentive for stalls to keep health standards up, as without them they risk losing their much-needed right to trade.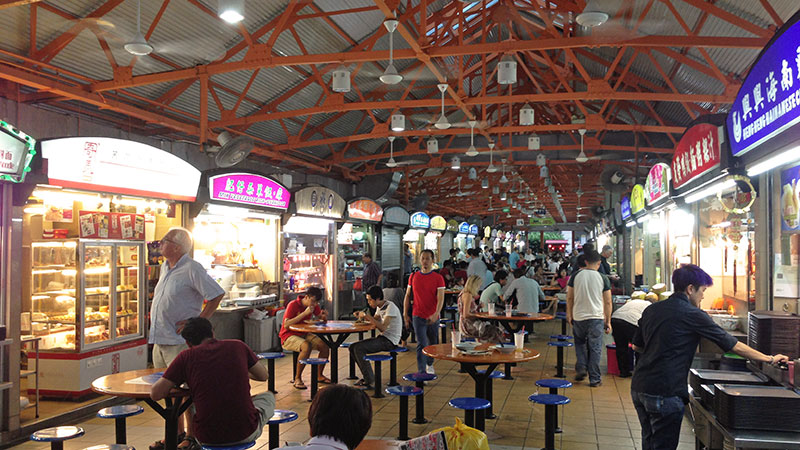 Find out more at: visitsingapore.com