The United States is a destination which requires a lot of time and effort to explore. You can't possibly see it in one trip. You couldn't even see it in a hundred. It's multi-faceted; it's a cultural extravaganza, a natural wonderland and a history buff's dream rolled into one.
Though flitting from one side of the country to the other by plane is a perfectly good way of exploring, you're missing out on so much when you do. Road trips that take you off the tourist trail and showcase the real heart and soul of America are the only way to go.
Ready to hit the open road? Here are some of the essential American road trips:
1. Pacific Coast Highway
Winding its way along the coast from San Francisco to San Diego, State Route 1 (aka the Pacific Coast Highway) has been described as one of the most spectacular driving routes in the world. You could easily tackle it in a day, but it's better to give yourself a few days to really soak it all up.
Cruising through Malibu (listening to Miley Cyrus, of course), crossing famous Bixby Creek Bridge in Big Sur, stopping to view McWay Falls cascading directly onto the beach, visiting the laid-back town of Carmel-by-the-Sea, and watching sea lions or unleashing your inner child at Santa Cruz Boardwalk are a handful of the essentials.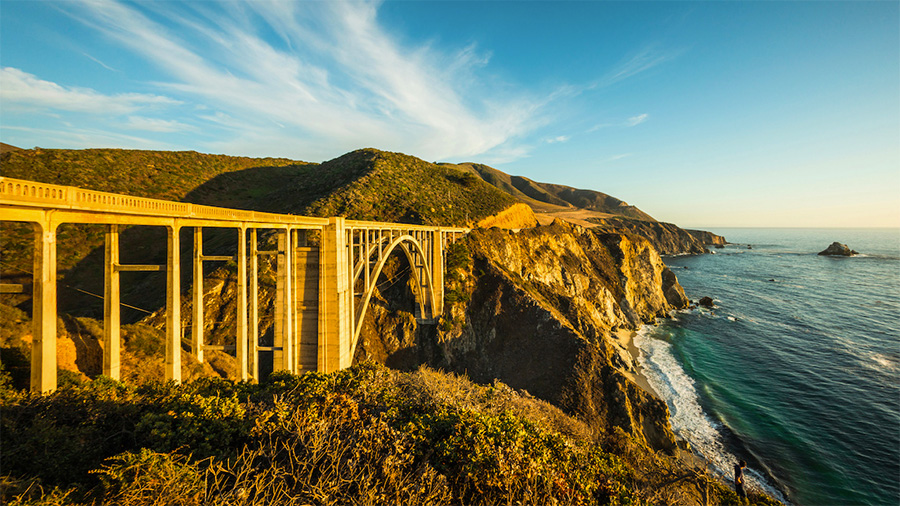 2. Route 66
Few drives are more iconic than Route 66, which spans eight states and almost 4,000kms from Chicago to Santa Monica. It's like those classic road trip movies brought to life. There are a lot of highlights along the way, too many to mention, but some of the essentials stops include the National Route 66 Museum in Elk City, quirky Cadillac Ranch in Amarillo, the iconic Grand Canyon National Park, and the Painted Desert of Arizona. Two weeks is the recommended timeframe, giving ample opportunity to relax and enjoy the sights.
3. Walking Driving in Memphis
While not a driving route per se, the southern city of Memphis is bursting with fascinating places to see – by car, of course. There's the National Civil Rights Museum; the Rock 'n Soul Museum; Graceland, the former home of Elvis Presley; Beale Street Entertainment District; and the historic Pinch District in the downtown area, a foodie mecca home to institutions like Alcenia's (soul food at its best) and Westy's, as well as the newer Comeback Coffee. If nature is your thing, nearby Meeman-Shelby Forest State Park is well worth exploring.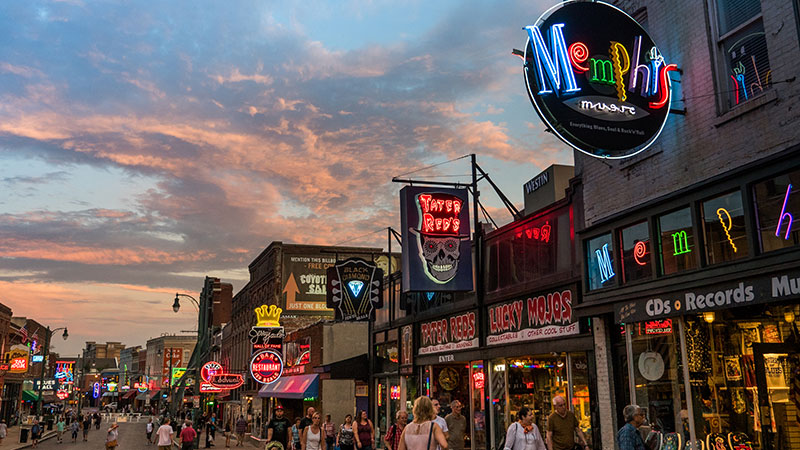 4. The Vegas Loop
Viva, Las Vegas… and Monument Valley, and Arches National Park. This route offers much more than just glitzy hotels and gambling dens. After taking in all the dizzying delights of the Las Vegas Strip, this route shifts gear as its heads straight into Arizona's spectacular Grand Canyon National Park. The layered bands of red rock that you see within the mighty canyon reveal the story of millions of years of geological history, not to mention offer some truly impressive photo backdrops.
From there, it's Monument Valley on the border with Utah that'll take your breath away, followed by the magical Arches and Bryce Canyon National Parks. Before looping back into Vegas, the Zion National Park is another essential stop.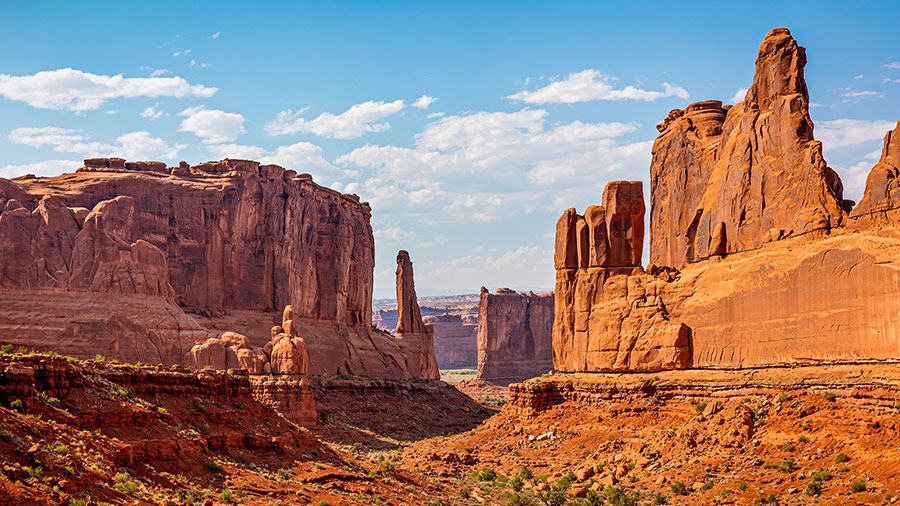 5. The Loneliest Road in America: US-50
Don't let the nickname turn you off, US-50 is anything but lonely. Crossing the heart of the America from Sacramento, California to Ocean City, Maryland, this 4,800km driving route takes in hundreds of small towns and boasts genuinely incredible views. It's a great introduction to middle America – and the people who live there.
Though Life magazine's 1986 description of the Nevada stretch as 'the loneliest road in America' was intended as a negative, it's become a selling point. There are stretches where other travellers are few and far between, but that just gives you a chance to appreciate the unspoiled beauty that unfurls before you.
Though there are a lot of unforgettable driving routes missing from this list, you've got to start somewhere. Whether a week, a month or a year-long epic, nothing compares to the feeling and freedom of exploring the wide open road.
Got a favourite road trip we should add? Let us know in the comments.