Gin, whisky, rum, limoncello; Australia's craft distilling scene is getting more crowded (and delicious) by the day. But there is one distillery carving a refreshingly different path: Feels Botanical, makers of a uniquely-Aussie take on the classic European spirit eau de vie.
Launched by Blake Vanderfield-Kramer and Steve Pillemer at the beginning of 2021, Feels Botanical is looking to change the way that Australians perceive spirits, taking inspiration from the past to create a modern and a versatile product that plays to specific moods.
What is eau de vie?
Eau de vie – or 'water of life' – is the traditional French name for a colourless brandy made across Europe from orchard fruit such as apples and pears. The process varies but typically involves fermentation and double distillation. You've probably heard its more regional-specific names such as Grappa in Italy, schnapps in Austria, or raki in Greece.
Unlike vodka, which goes through a higher degree of distillation to strip out flavours and create a neutral spirit, eau de vie retains the flavour of the base fruit. It's a very different to spirit to what most Australians are used to – both in flavour and texture. And that's a big part of why founders Vanderfield-Kramer and Pillemer were drawn to the spirit.
How it started
"We've known each other a long time," says Vanderfield-Kramer, who has worked in distribution and marketing with some of the world's top beverage brands including Suntory, Vok Beverages, and Coca Cola-Amatil. Business partner Steve is the founder of Australia's largest DJ competition, Your Shot, with a background in music and entertainment.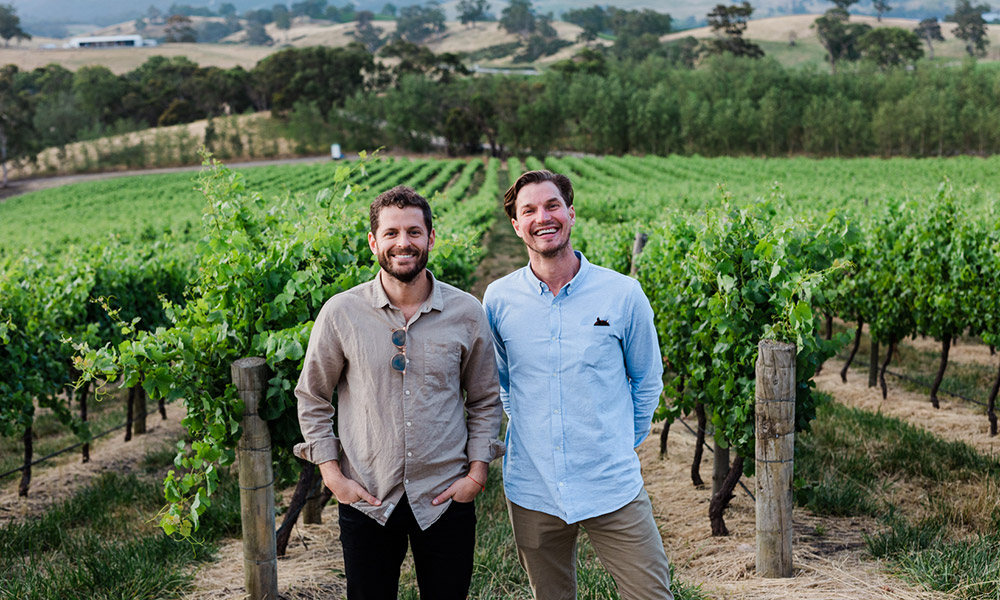 "One day we were sitting around chatting about what was next in our personal lives and career opportunities, and we started brainstorming ideas. We wanted to create a brand and a business that represented our ethos, both from a personal perspective, but also that we thought brought something unique to the Australian and international market."
The result is Feels Botanical: a small batch product which switches up the traditional eau de vie recipe and takes inspiration from the apothecary days of old, with ingredients chosen for their therapeutic, flavour and mood benefits.
It's Australian owned, and free from grains, gluten, preservatives and added sugars.
What is Feels Botanical
Instead of apples or pear, Feels Botanical is an alcoholic eau de vie spirit made using grapes that have been fermented and turned into wine. It's distilled and infused with ingredients like turmeric, Davidson plum, and rose. The result is four playful, versatile products – each created for a specific mood – that can be sipped straight, enjoyed with soda or tonic, or mixed in cocktails.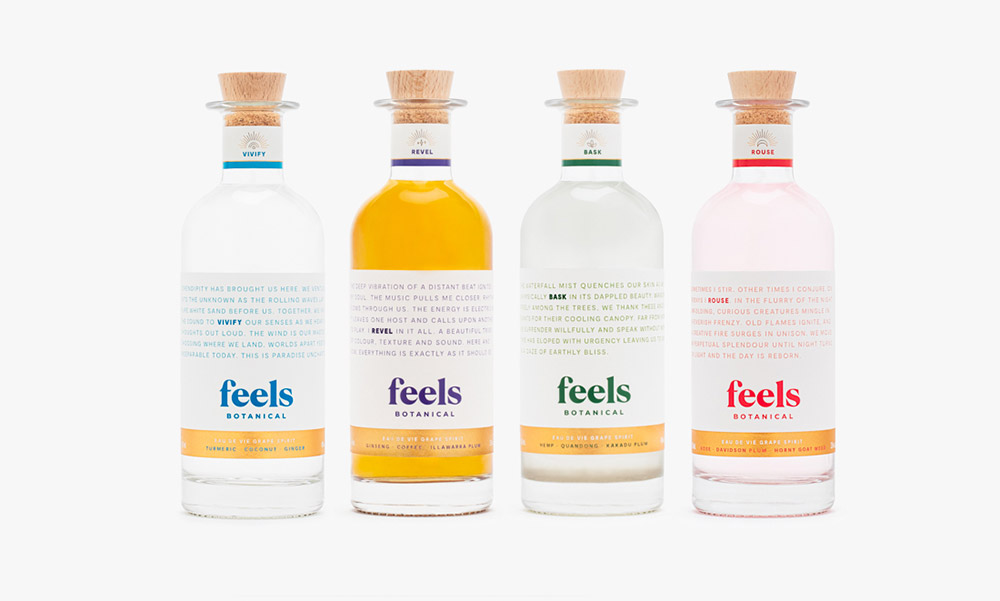 There's Bask, which is infused with hemp, quandong and Kakadu plum; Vivify, made with turmeric, coconut, and ginger; Rouse, which features rose, Davidson plum, and horny goat weed; and, finally, Revel, which includes ginseng, coffee, and Illawarra plum.
"The idea was really in creating a product that took inspiration from the old apothecary days. There had to be consistency across the range, but also differentiation in flavour and personality. We did a lot of work on deciding which botanicals added flavour, but also had known benefits and played to different moods and occasions. We also spent a lot of time on perfecting our botanical ratios, blending, and getting that shape of flavour right."
"For example, Rouse, which is eau de vie with rose, Davidson plum and horny goat weed plays to the notion of passion and intimacy. Horny goat weed is a known aphrodisiac, as is rose. Whereas something like our Vivify, which has coconut, turmeric, and ginger, those are known for detoxification and clarification – taking you on a tropical island holiday."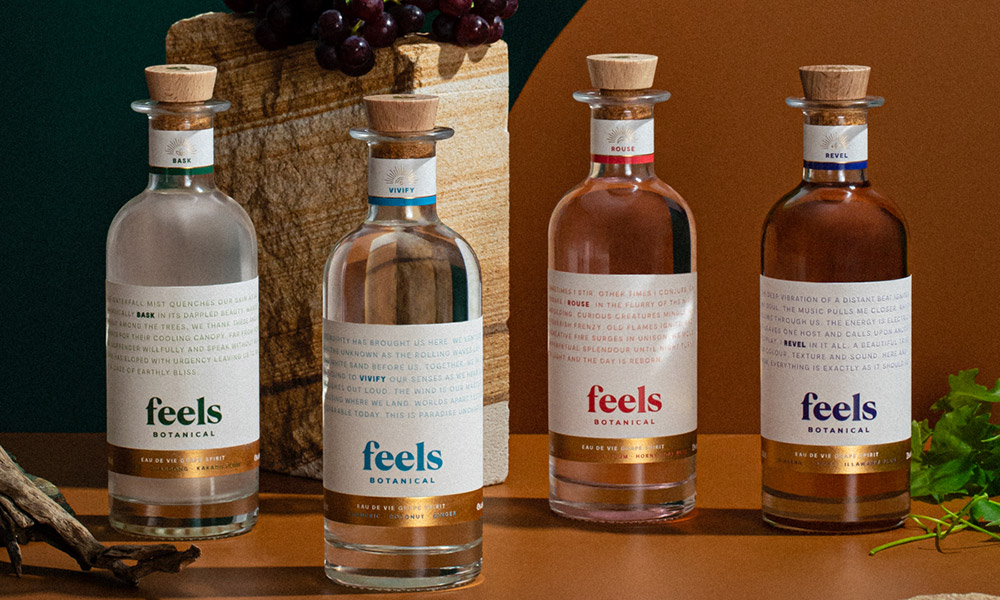 How to drink it
Eau de vie has a creamy, velvety texture and mouth feel. It's very different to a neutral grain spirit like vodka. You can drink it neat in a small, fluted glass, with a mixer like tonic or soda water, or added into cocktails. For example, you could make a classic Tommy's Margarita with the Bask, a coconut daiquiri with Vivify, or an old-fashioned with Revel.
Where is Feels Botanical made?
Though currently based in Byron Bay, location isn't a big part of the brand. They don't want to be pigeonholed or tied down to a particular place or region. Instead, they simply want to be 'Australian', with the freedom to source their ingredients from around the country.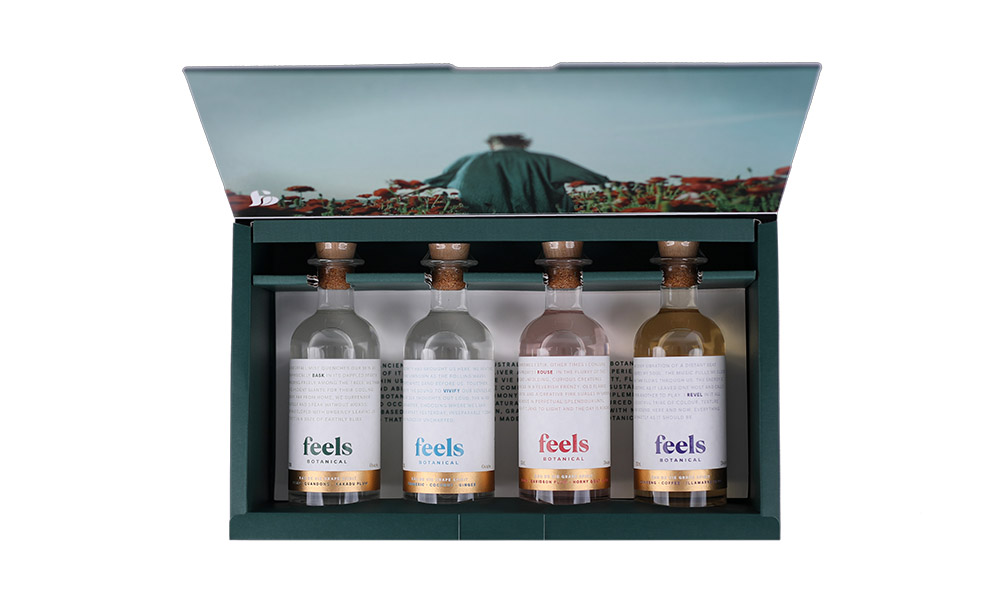 Feels is currently distilled in the Adelaide Hills by a B Corp certified partner distillery, which must adhere to the highest standards of transparency and environmental sustainability.
"For us, we wanted to be, first and foremost, an emotive brand that pushed the boundaries, that played to different occasions, that utilised a unique product. We then wanted to be an Australian brand. By that, we could be produced anywhere. We could source Australian grapes from any region, utilise botanicals from any region."
Where to buy
Feels Botanical is available for purchase online, and cellars including P&V Merchants, Palm Beach Wine Co. Native Drop, Winona Wines and Porters. It's also at cocktail bars such as The Herring Room, Bert's by Merivale, Bar Elvina, Dulcie's Kings Cross, Hotel Palisade, Roxy's, Rocker bar Bondi, Harvest, and Maybe Mae, to name a handful.
Find out more at feelsbotanical.com.au