We've flown Scoot a couple of times over the years, both in Economy and ScootPlus (formerly known as ScootBiz) but not since their much-hyped switch to the Boeing 787 Dreamliner – until now.
Was it worth the wait?
Flight Route: Gold Coast to Singapore
Flight Time: 7 hours 20 minutes
Aircraft Type: 787-9
Seat: 3E
Baggage Allowance: 30kg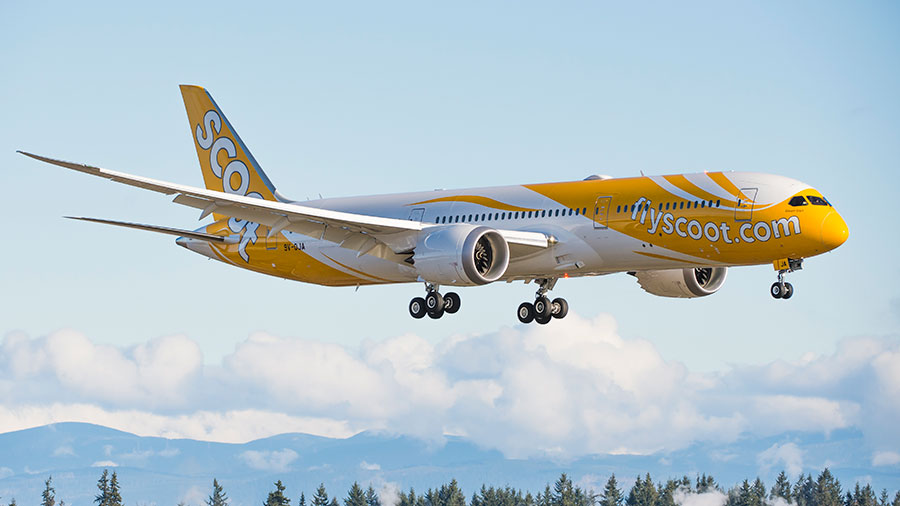 Check-In
Coolangatta Airport is a reasonably small airport, so check-in is usually a breeze, and this trip was no exception. The Premium check-in lane meant we only had to wait a minute or so to check our bags. As we were transiting beyond Singapore, our bags were automatically tagged to go through to our final destination in Koh Lanta, Thailand. Thankfully the check-in staff member alerted us to this, and we were able to change to collect them at Singapore for our overnight stopover (and avoid an unexpected shopping spree in the process).
Boarding
The queue was a bit of a free for all when ScootPlus boarding was first announced, with several Economy passengers rushing to the front of the line only to be told to wait their turn. But, once we made it to the front of the queue, it was smooth sailing from then in.
We were welcomed with a glass of water prior to boarding, with attendants also using the pre-flight time to take our hot/cold drinks order for our pre-ordered meal.
The Cabin
ScootPlus occupies a small cabin with five rows of seven seats at the pointy end of the plane. Seat configuration is 2-3-2. Main cabin lighting and windows were all dimmed just after takeoff, with ambient lighting replacing to create a more relaxed atmosphere (and also help those who need to catch up on sleep). Curtains separate the Plus cabin from Economy.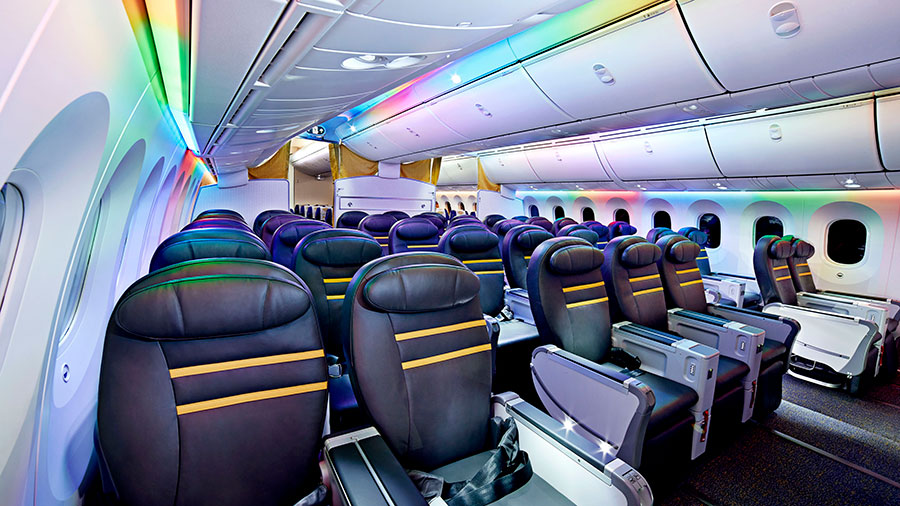 The Seat
Comfortable leather recliner seat with a 22-inch width and 38-inch pitch and an adjustable leg rest. The fold out tray table in the armrest can be opened full or half. Adequate space is provided to place a drink at the end of the armrest, meaning you don't have to keep the tray table open for a drink. The reading light switch and attendant call buttons are poorly placed if you have the tray table open though – you have to lean forward and look down. In-seat power is provided free of charge for ScootPlus passengers.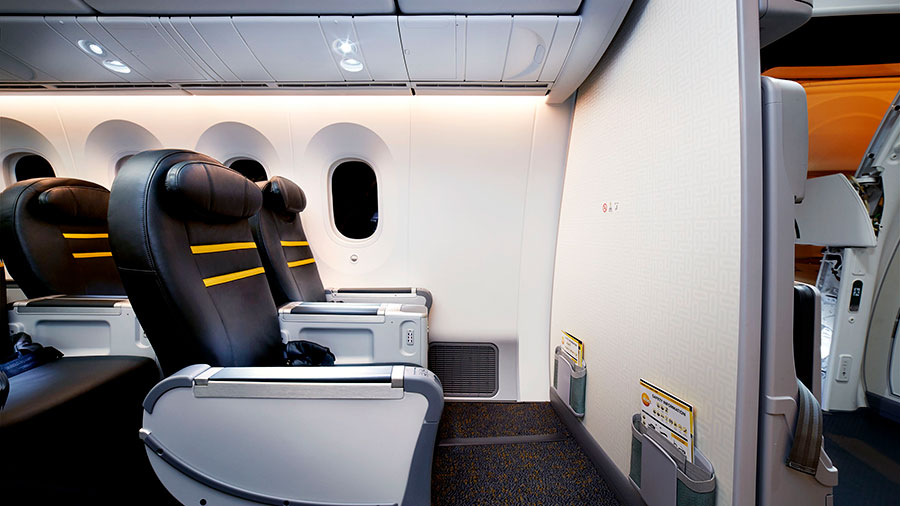 The Food
Breakfast meal service served around two hours into the flight. I don't actually remember ordering my meal, so it was a pleasant surprise to receive a nasi lemak with a pretty generously portioned 'Ritter Sport' cornflake bar on the side. Hot drinks were unable to be served during the meal service due to turbulent conditions, but they were brought soon after. Polystyrene cups and plastic lids – disappointing. Single use plastic cutlery is also wrapped in plastic; I know this is standard for the industry but as an increasing number of people now try to avoid single-use where possible, it would be good to see a change.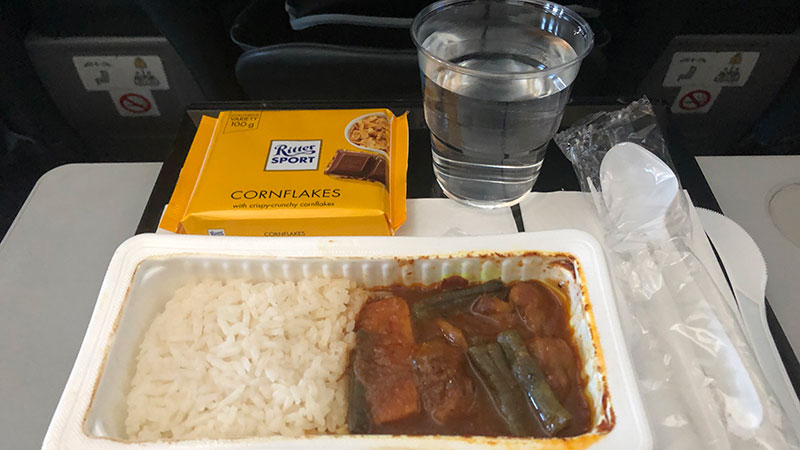 The Entertainment
Passengers are able to stream content via the ScootTV app, which needs to be downloaded prior to take-off. Streaming is complimentary in ScootPlus, with a login code provided by the attendants. For Economy, access is available purchase onboard for USD$11. There is lots of choice on the app including recent release, classics and TV shows.
The system itself was easy to use, however, it was a frustrating experience. Whenever a PA announcement was made, instead of pausing the content as other airlines do, the app would default back to the home screen and you'd have to scroll back through the nav menu to first find the movie and then scroll back to the point you left off – each and every time. Once landing preparations had been announced, we pretty much had to give up on it. Hopefully it was just our flight affected and not a normal experience!
Inflight Wi-Fi access was also available to purchase, but at at a price of USD$5.99 for 20MB, USD$16.99 for 80MB, or USD$32.99 for 200MB, it's a rather costly way of scrolling through Instagram or watching cat videos. Needless to say we skipped it.
The Service
As expected, staff remained consistently friendly, polite and attentive through the duration of the flight, regularly walking the aisles to see if anyone required assistance. The staff weren't overly chatty, but we did manage to share a few laughs with one of them.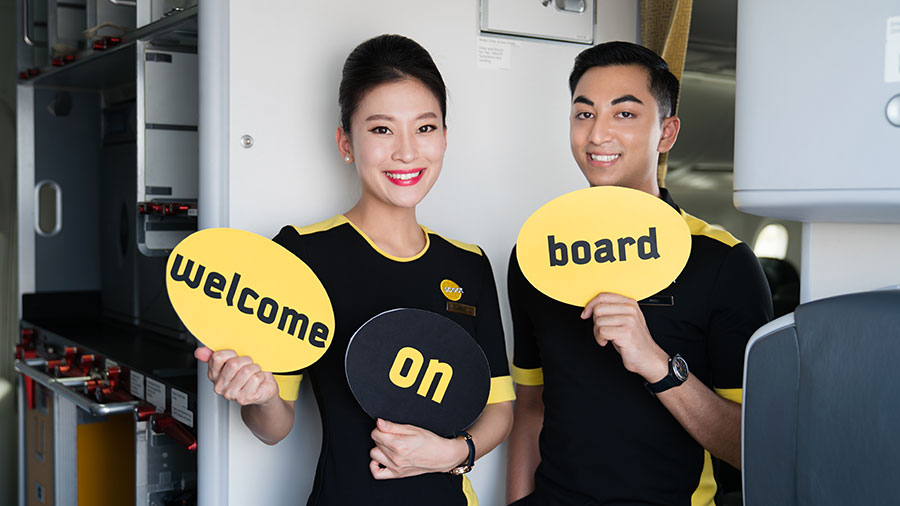 The Verdict
This wasn't our first rodeo with Scoot, so we had a fair idea what to expect. Still, we were impressed by just how far the airline has grown and improved in terms of in-flight service and aircraft – from three Boeing 777 to more than 40 Boeing 787 and Airbus A320 aircraft – in only a short time. Hopefully the ScooTV experience is the next area to be improved.
We'd definitely fly with Scoot again.
– We travelled at our own expense.