Hoping to build on the success of last year's record-breaking crowd, LA Pride Festival is bringing a wig-snatching line-up of music, movies, dance, and more to the streets of West Hollywood for a week from June 7 – and, by all predictions, it's going to be amazing!!
But, did you know the City of Angels' LGBTQI celebrations continue much longer than the LA Pride Festival week alone? To help you find out when and where, Los Angeles Tourism has spilled the tea on some of the amazing experiences across the city in June and beyond:
Events: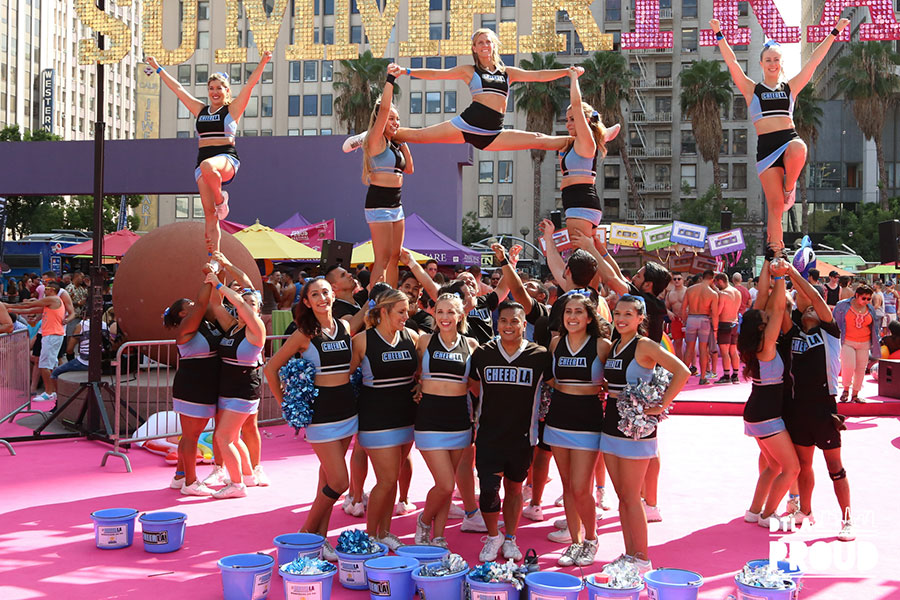 Los Angeles LGBT Center Anniversary
The Los Angeles LGBT Center celebrates their "50 years of Queer" campaign in 2019, commemorating the 50th Anniversary of the center. Running six centers throughout greater Los Angeles which provide support and services of all kinds, the anniversary will be celebrated with a series of events throughout the year available on their site.
Outfest Los Angeles
Considered the preeminent LGBTQ film festival in the world, as well as the oldest film festival in L.A., Outfest Los Angeles LGBTQ Film Festival will return with bells on from July 18 to July 28 for 11 world-class days of films, panels, and parties. Each summer, Outfest Los Angeles screens more than 150 feature and short films to an audience more than 40,000 people at venues across the city like The Orpheum, and Ford Theatres.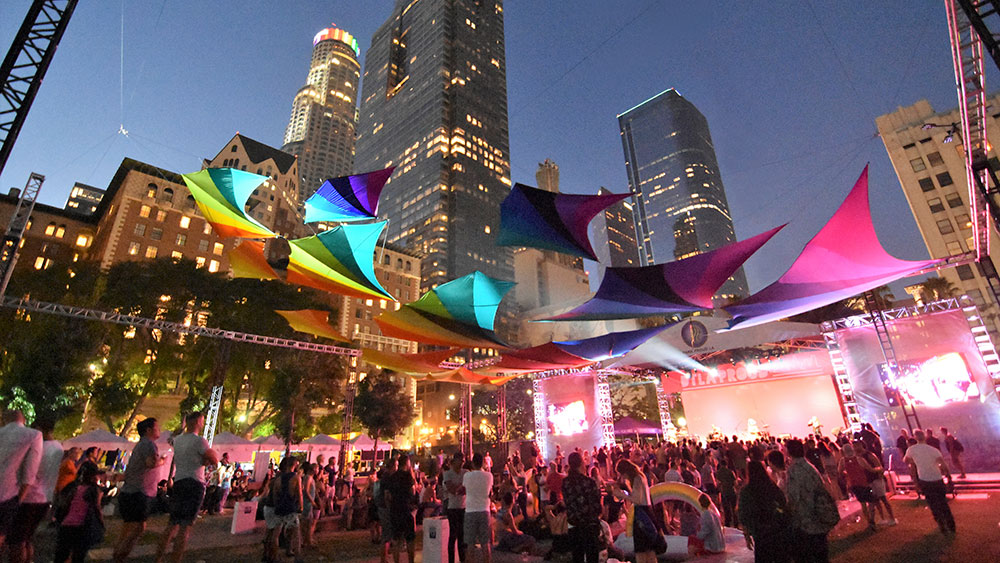 DTLA Proud
Now in its fourth year, DTLA Proud Festival returns to the heart of Downtown L.A. from August 23-25 in Pershing Square. A perfect itinerary addition to a late summer visit, the three-day festival includes a diverse lineup of local stage talent, community booths, art installations, retail vendors, interactive exhibits, food trucks and a pop-up water park.
OUT Under the Stars
Love cult-classic films? Silly question. Of course, you do. So, make sure you check out OUT Under the Stars , which kicks off at the iconic Hollywood Forever cemetery on Friday, June 21 with a showing of the cult-classic film Hairspray. Moviegoers will be able to picnic on the lawn prior to the film screening, with live DJ entertainment, free amenities and plenty of photo opportunities also part of the fun. The second event will be on Friday, August 16 with a screening of Dreamgirls starring Beyoncé and Jennifer Hudson.
Exhibitions: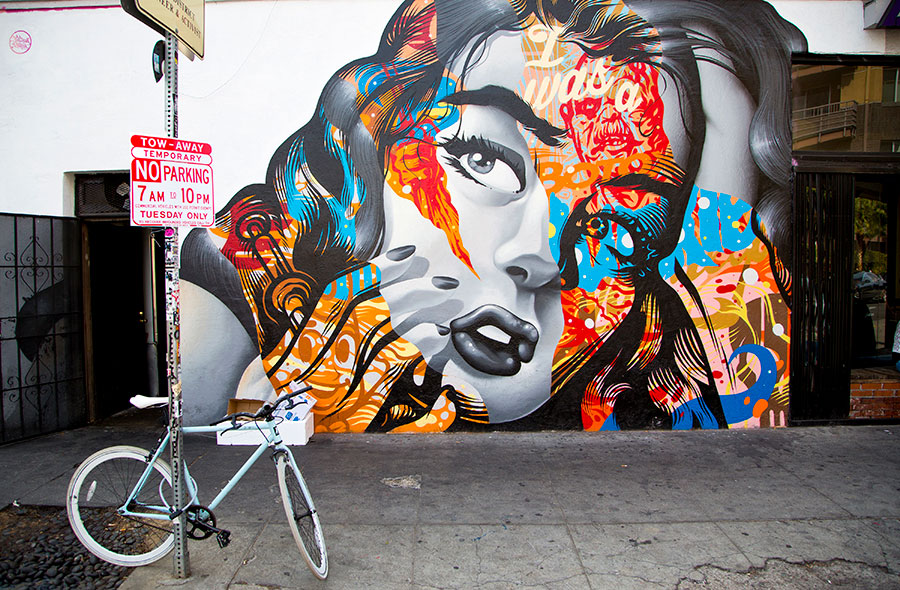 Skirball Cultural Center
A must-see, the Fearless Fashion: Rudi Gernreich exhibit at Skirball Cultural Center will present an in depth look at the ways in which the famed designer impacted fashion through his beliefs on gender identity, utilitarianism and body positivity. On view from May 9 through September 1, 2019, Fearless Fashion: Rudi Gernreich will feature more than eighty ensembles as the first exhibition to focus on the social and cultural impact of Gernreich's vision. His vision of the future was brought to life in his Unisex Collection of 1970, in which he stripped away gender markers altogether. The section Unisex Solidarity will showcase garments that could be worn interchangeably by anyone, a revolutionary notion in gender fluidity and fashion at the time.
Autry Museum of the American West
From May 19, 2019 – January 5, 2020, Coyote Leaves the Res: The Art of Harry Fonseca will run at the Autry Museum of the American West in Griffith Park. Featuring paintings, sketches, and lithographs, Coyote Leaves the Res: The Art of Harry Fonseca focuses on the recurring figure of Coyote, a trickster, shape shifter, and storyteller capable of moving undetected between different worlds. The exhibition explores the complexity of Fonseca, who had roots to Nisenan Maidu, Hawaiian and Portuguese cultures, art within the context of a contemporary world. As both a gay man and a person of mixed heritage, Fonseca used his work as a vehicle for self-ediscovery during a time when ideas about Native peoples were often driven by outside forces, like commercialism and stereotypical clichés.
Must-Visit Locations: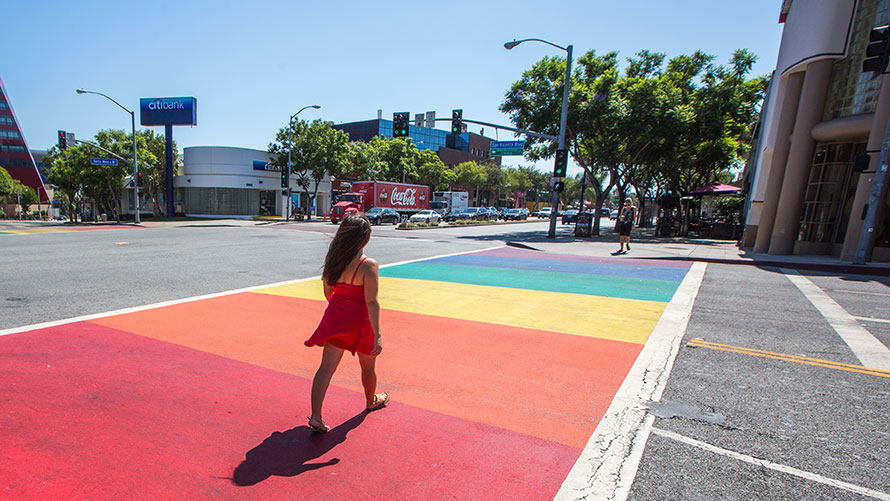 The Black Cat
The Black Cat in Silver Lake is relaxed and inviting, with attentive staff, handsome design, good food and cocktails, and a fascinating LGBTQ History. Stonewall Inn in New York is widely regarded as the flashpoint that gave rise to the pride movement. However, the original Black Cat was the site of a peaceful demonstration that took place on Feb. 11, 1967 – two and a half years before the 1969 Stonewall riots. In 2008, the City of Los Angeles recognised The Black Cat as Historic Cultural Monument No. 939. LGBTQ visitors can't come to L.A. without seeing this stunning location in person.
Bar Hopping in DTLA
LGBTQ focused bars aren't just reserved to West Hollywood: Downtown Los Angeles is home to three notable locations. Visitors looking for fun nightlife should check out Redline, a lively 2,000-square-foot venue with a full bar and a gastropub menu, New Jalisco Bar for kitschy, Latino-centric drag shows, and Precinct which is a "rock n roll gay bar" spanning 10,000 square feet that often hosts themed nights like Ru Paul's Drag Race viewing parties.