Just six months after my first visit to Penang, the travel gods smiled on me once more and delivered a second chance to experience the historic streets and street art of George Town – and this time I wasn't alone!
Simon and I had originally planned to visit Nusa Lembongan, a small Indonesian island often described as 'Bali the way it used to be', but a pesky volcano interrupted our plans. Rather than miss out on our much-needed week of relaxation, we threw darts at the map to find an alternative.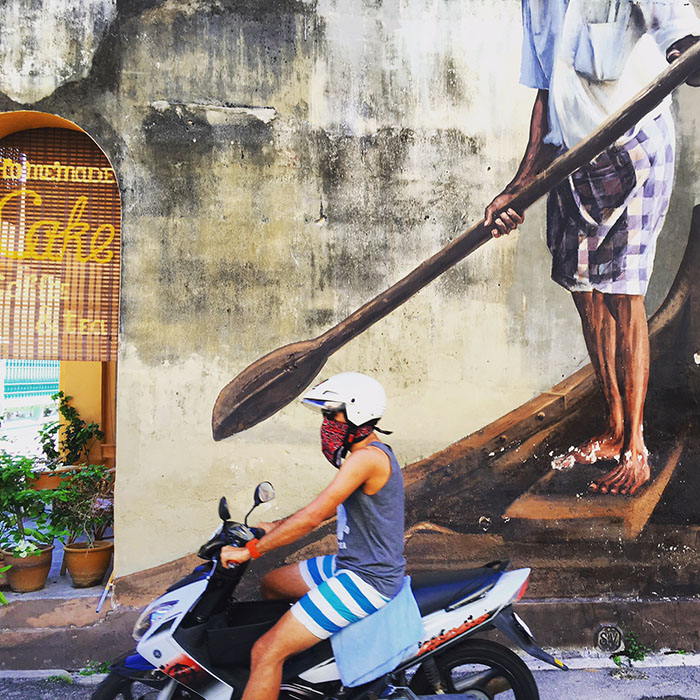 Ash from the Mount Rinjani volcano on Lombok started interfering with flights in and out of Bali's Denpasar Airport around four days before we were scheduled to depart, leaving us no choice but to reschedule. Thankfully Garada Indonesia allowed us to change flights with minimum fuss.
After flying in to Jakarta, a city I'm not particularly keen to return to, we caught a Malaysian Airlines flight to Kuala Lumpur and on to Penang. We spent a total of five nights in the city, soaking up all of the delights this quirky city had to offer. And, of course, eating our fill of Nonya cuisine.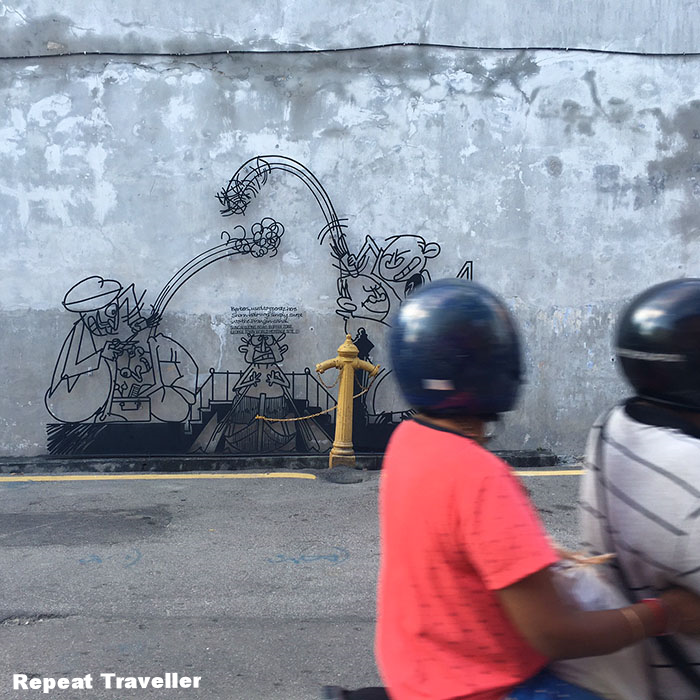 Personally, I always find it much more enjoyable to travel with someone. As good as solo travel and the freedom it provides can be, it's always more fun when you can share a destination with someone, bouncing thoughts and ideas off each other. People-watching is my favourite sport after all.
Penang had just entered it's rainy season, so the mornings were always quite hot and steamy. But by mid to late afternoon the heavens had parted, forcing people to retreat under cover for 20 minutes, and then returned to sunshine. The rain was always welcome; Malaysia's humidity can be quite tough.
Having to create our holiday at the last minute, we settled on the Muntri Grove boutique hotel, located just within the George Town World Heritage Buffer Zone. The hotel started life as 10 shophouses, but was recently reborn into 16 boutique guest suites. It also now features a rooftop swimming pool and cafe, as well as the always important free wifi internet access.
The room itself was absolutely stunning, a mixture of white walls, timber furnishings, vibrant throw pillows and colourful artworks. Polished concrete-tiles gave the space a warehouse chic look. It was an amazing find, especially considering we found and booked it within about five minutes flat.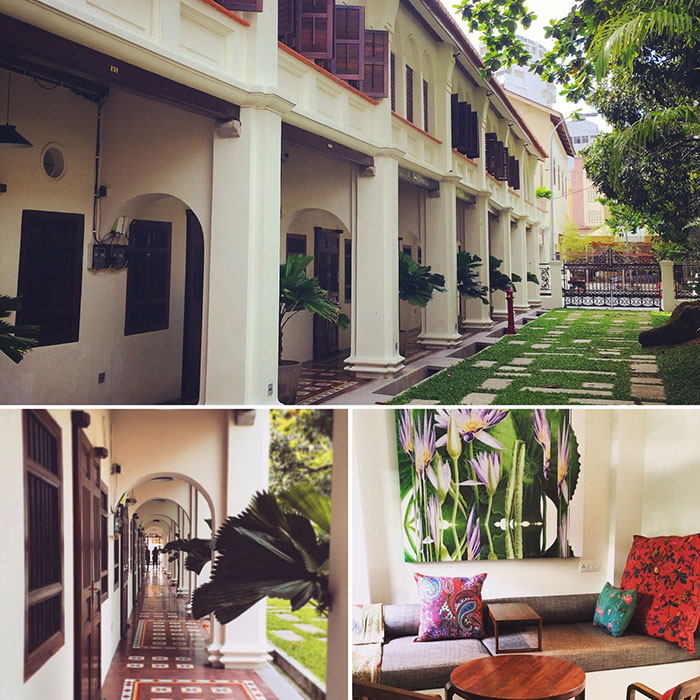 Our days were pretty relaxed with late starts and lazy breakfasts followed by a few hours of walking and exploration. A brief siesta at the hotel during the afternoon rain storms gave us a chance to recharge the batteries, then it was back out for a late arvo snack and more photos of the local street art.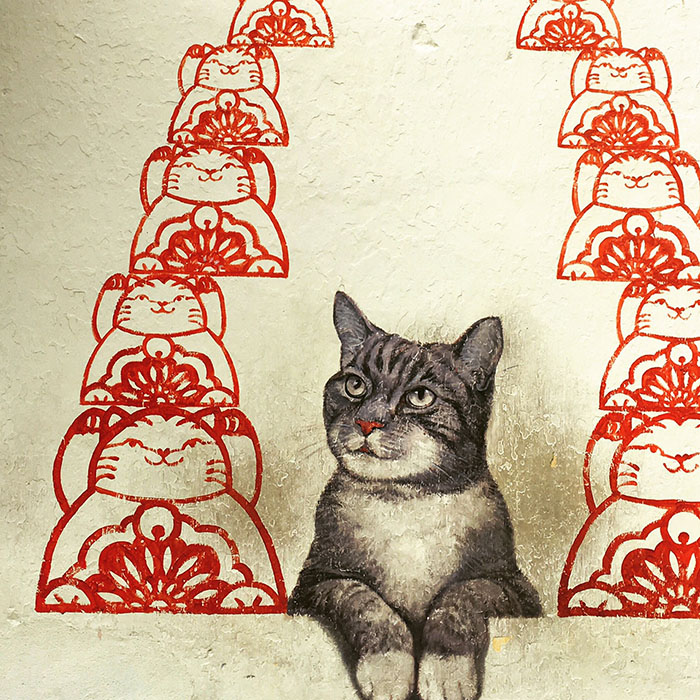 Back alleys tended to hide the best pieces.
On one of the days we did a cooking class with local identity Pearly Kee, brushing up on our knife skills and learning the secrets of Nonya cuisine from a local master. We cooked three dishes; assam mea (tamarind prawns), view hu char (stir fried vegetables with cuttlefish), and a green mango salad (using mangos harvested from the trees outside Muntri Grove).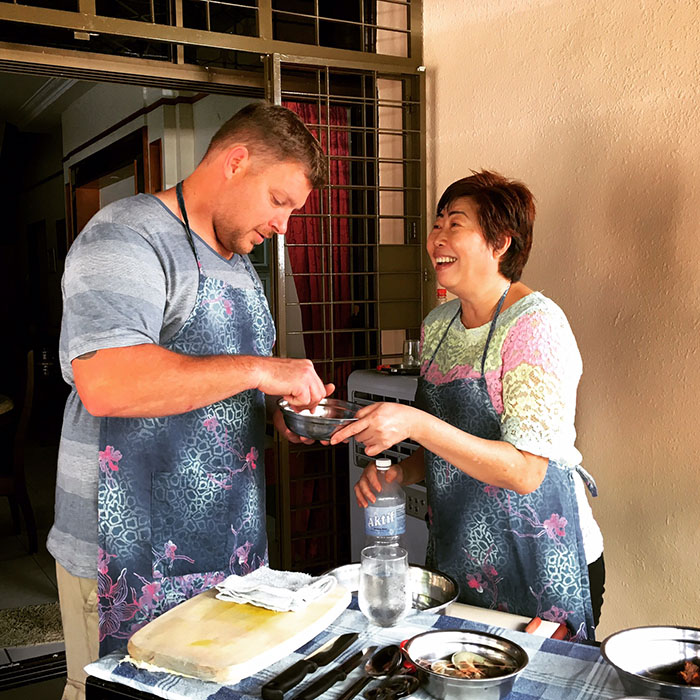 The other standouts of Penang are its street art and Colonial heritage, with buildings seemingly held together by wallpaper. Numerous internationally renowned artists have painted murals throughout the city, meaning you always have to look up, down and around as you explore the streets.
Now that George Town is UNESCO World Heritage Listed, many of the old buildings and shophouses are being slowly restored back to their former glory, but in a sympathetic way that doesn't lose the unique character the buildings possess.
Though this wasn't the holiday we had originally intended, it reminded us that sometimes the best experiences are the ones that are unplanned.
Learn more about Penang: tourismpenang.net.my