Cooking classes have become a bit of a tradition for us when we travel overseas. More than simply about the food (although it certainly holds a high level of appeal) it's the people that drives us. It's an opportunity to engage with locals and have a glimpse into their culture and way of life, while picking up a few skills as souvenirs at the same time.
Our recent trip to Ao Nang in Thailand – a laidback beachside holiday town close to Krabi – gave us another opportunity to do just that, joining a class at Krabi Ya's Cookery School.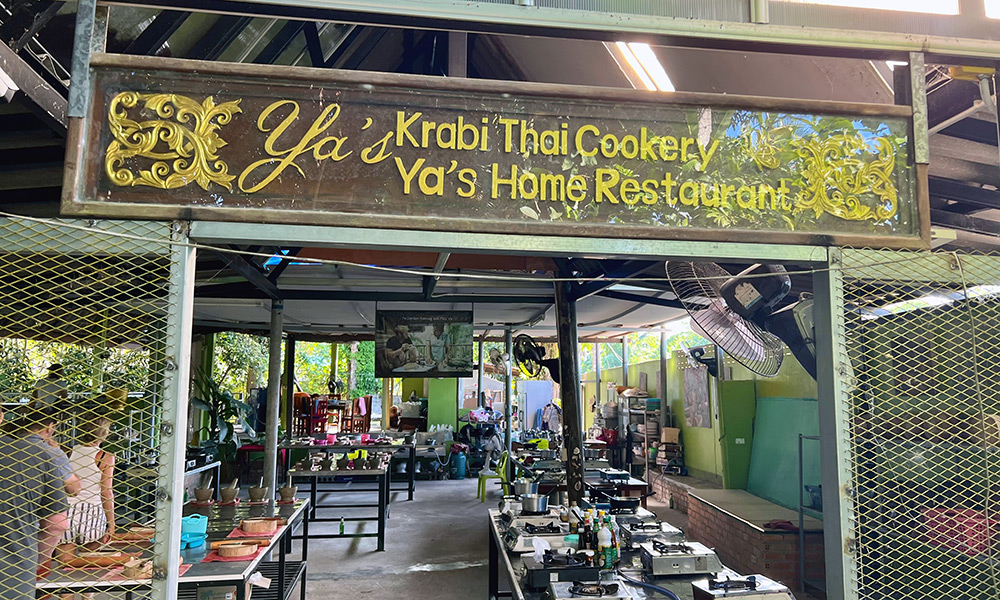 Why did we settle on this one in particular? Because not only is it rated as one of the best Thai cooking schools in Krabi, but Chef Gordon Ramsay himself learned to prepare a classic Som Tum with owner Ya during an episode of his Gordon's Great Escapes TV show. The segment is available on on Youtube here.
If it's good enough for Ramsay, it's certainly good enough for us. We weren't disappointed.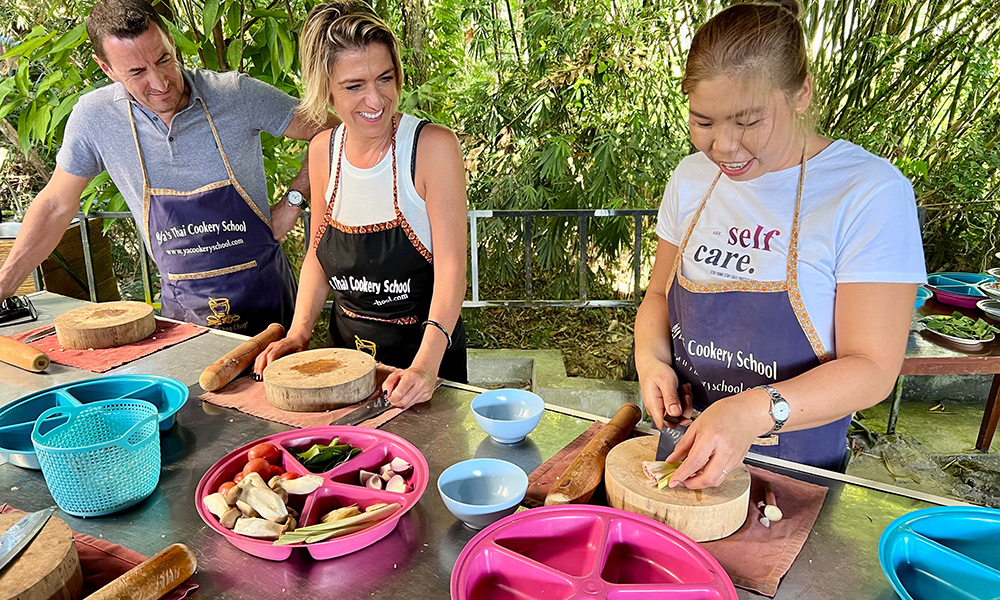 After browsing the website beforehand, carefully perusing the class options and dishes available, we settled on 'Program A' for 1,500 ฿ per person (approx. AUD $65). On the list were massaman curry, yellow curry, stir fried chicken and cashew, and spicy tom yum goong soup. Basically, everything we love about Thai cuisine in one menu.
The day begins with a transfer from our hotel to the cookery school, with a couple of quick stops to pick up other attendees, and then we dive right into the culinary action.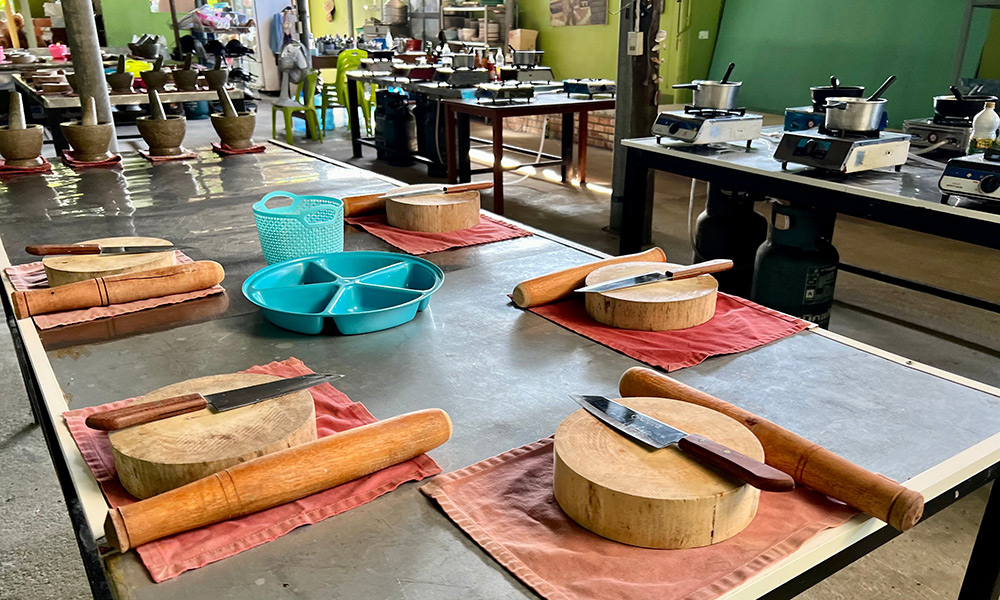 Perfectly designed for the Thai climate, the cooking school is housed within an open-air building, set overlooking a small meandering creek and surrounded by tropical gardens.
Inside are five separate workstations already set up with various equipment needed for the class (chopping boards, pestle and mortars, and portable gas burners), plus an upstairs dining area where the feasting takes place after the cooking is completed.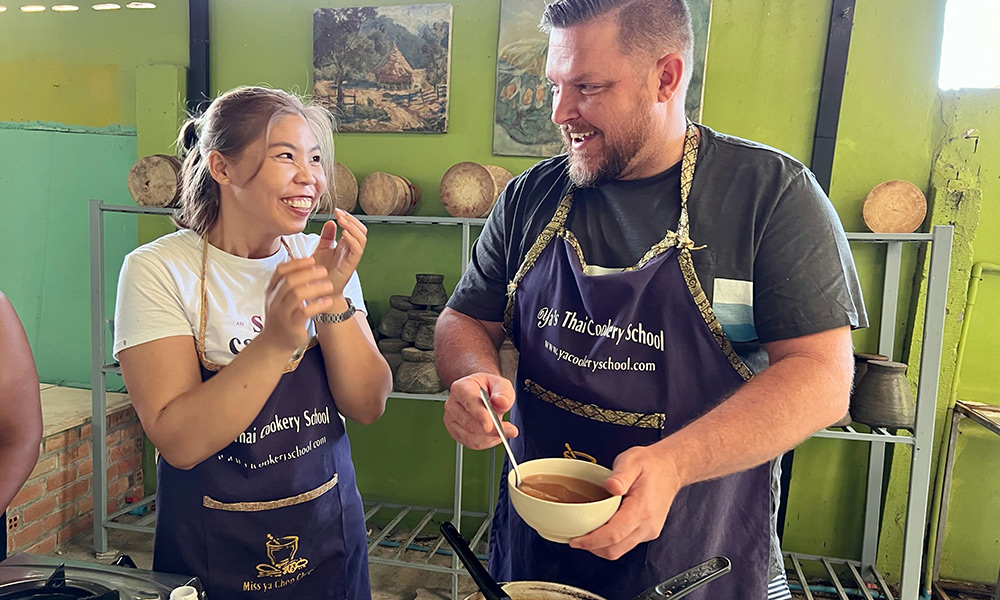 Participants can choose four of the nine dishes to make during the class. As there were two of us, we managed to cover off almost the entire menu by ourselves. Don't worry though, you're unlikely to miss out on tasting that final dish – everyone shares their food at the end.
I pick red chicken curry, laab gai (chicken mint salad), chicken with holy basil, and a tom yum soup with coconut milk. From the very first dish, it's immediately clear the phrase of the day will be "Bang bang".
Almost every recipe requires some level of banging, be it galangal beaten into submission on the wooden chopping board, or the spices fused into a deliciously fragrant paste using the pestle and mortar. It's a workout at times, but worth it.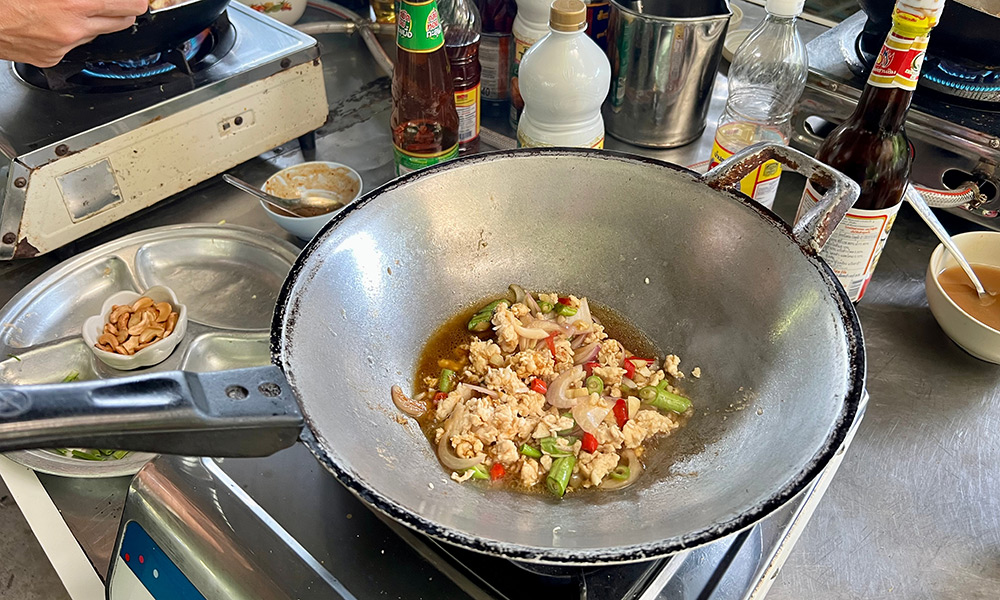 Our instructor guides us through every recipe from start to finish, juggling the various dishes and ingredients needed for each participant with aplomb.
We eat as we go, tasting elements of our own and the dishes of others from our group. My red curry is silky and smooth; the laab kai packs just the right amount of heat. But wow, the massaman curry made by three others in my group is definitely one of the best dishes.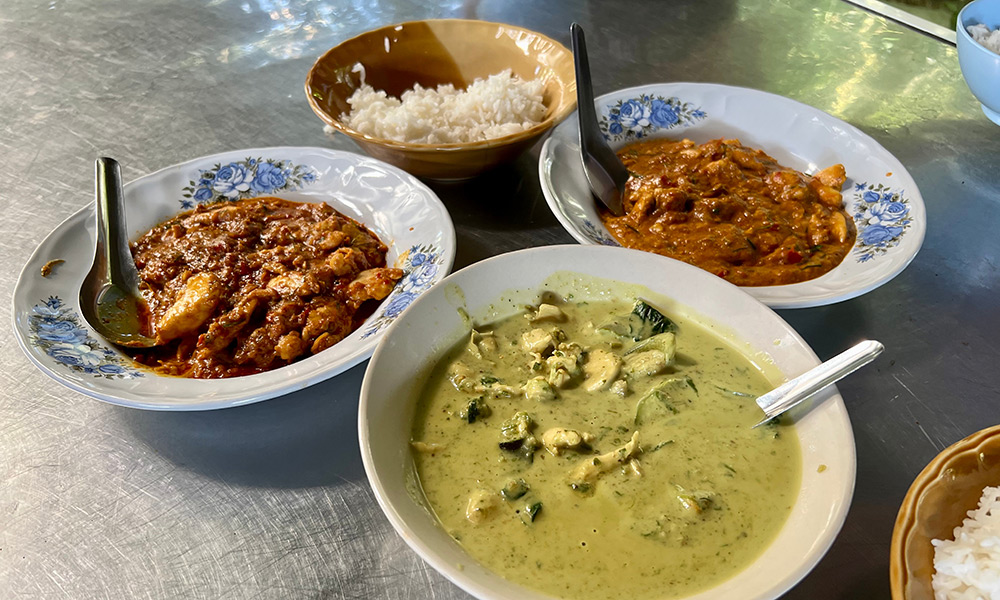 When it's time to move onto the next course, the school's team springs into action, cleaning and resetting each station with the required ingredients and cooking equipment… always with that trusty pestle and mortar for more bang-banging.
Krabi Cookery School have done this many times before, and it shows. Everything flows like a well-rehearsed dance, though there's still plenty of room for ad libbing and fun. Because that's what cooking is meant to be – fun. You're not going to remember the recipes (as there are quite a few of them), but you will remember the laughs.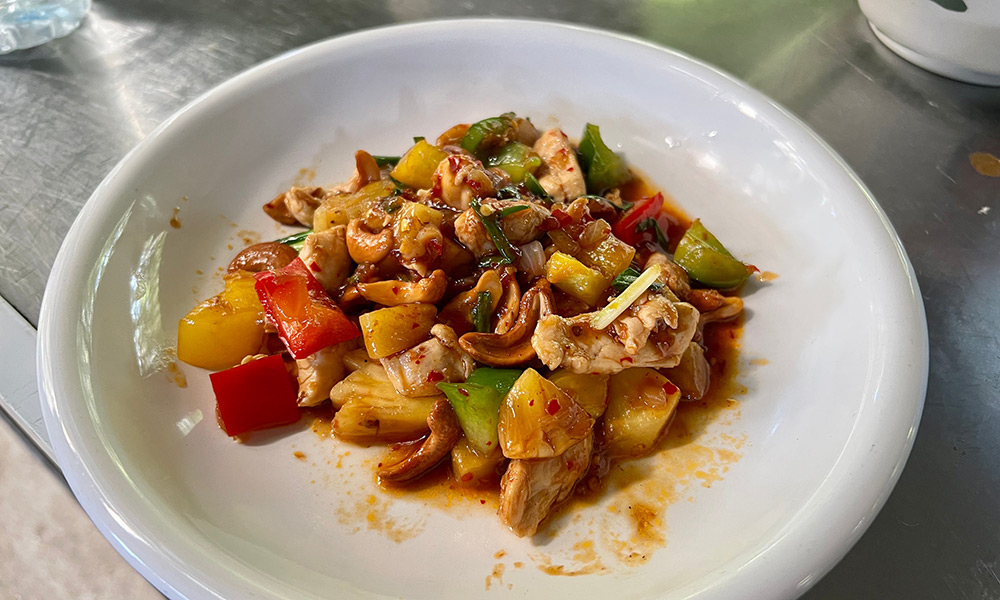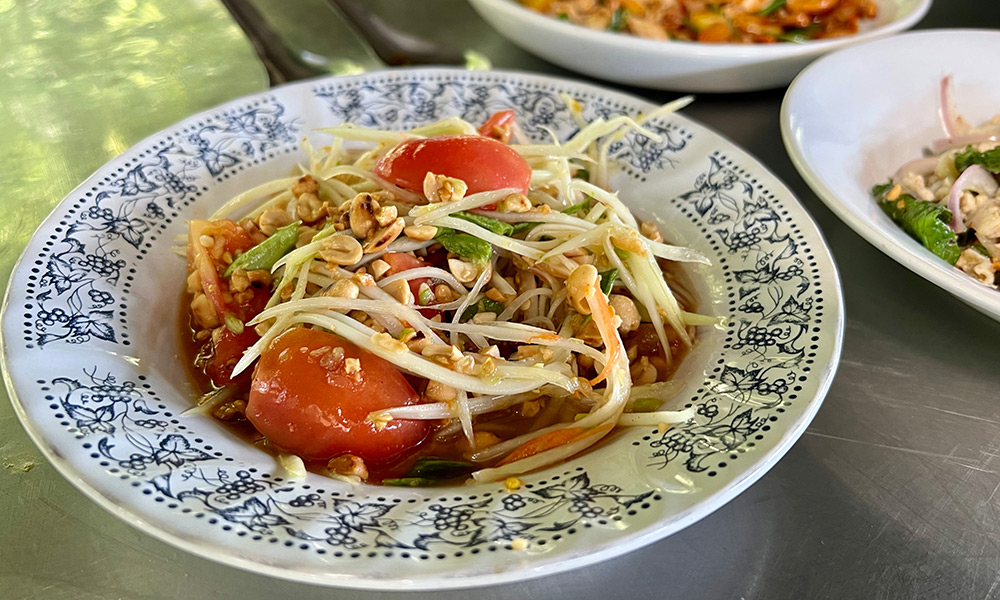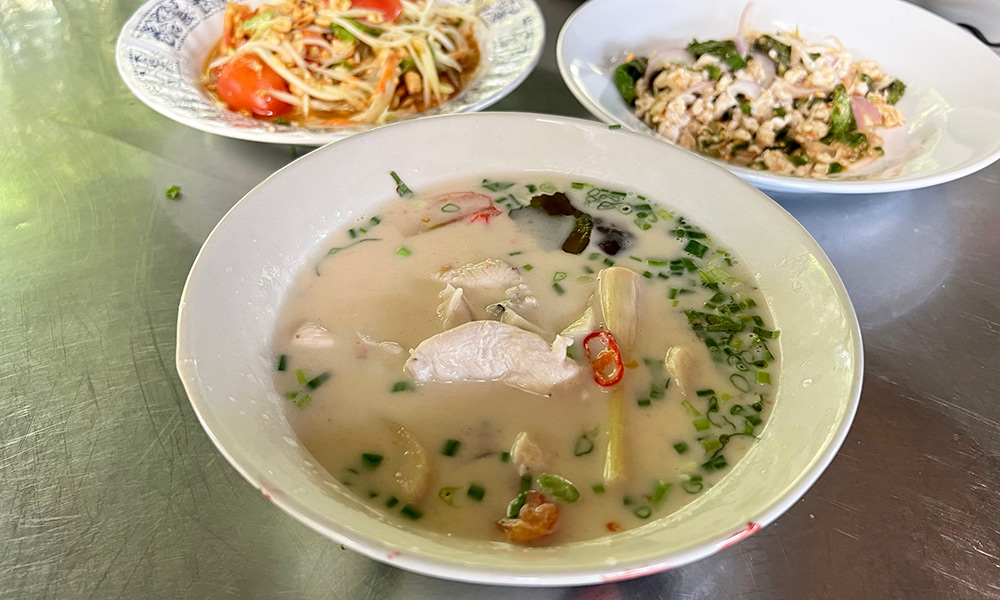 Thankfully, there's no requirement for note taking. Recipe books are handed out at the end of the day. The yellow and green ones have different recipes, so be sure to get both.
All up, it takes around four hours to complete the full cooking program. That's inclusive of the time devoted to savouring every mouth-watering spoonful as you go. And if I had the opportunity to do another class, I'd grab it with both hands. Highly recommended.
For more info or to book, visit yacookeryschool.com
We participated at our own expense.