Penang is the second smallest state in Malaysia, but what it lacks in size it makes up for in unique things to see and do. I was in town for a few days but feel like I just barely scratched the surface of what the island had to offer.
If you've only got limited time to explore Penang, or just don't know where to begin journey, here are my top five must-do's.
1. Visit the Clan Jetties
As Penang's popularity as a trading port grew in the 1800s, so too did the influx of foreign migrants. When Chinese first arrived in town, many moved into the Clan Jetties first. Clan Jetties were where people of the same family name would be welcomed and given the support they needed to get established in their new home. These jetties are still occupied today and can be explored at any time, but early morning is usually the best time. The Chew Jetty is the most tourist friendly. Just remember to use common sense and respect the residents; ask before taking their pictures.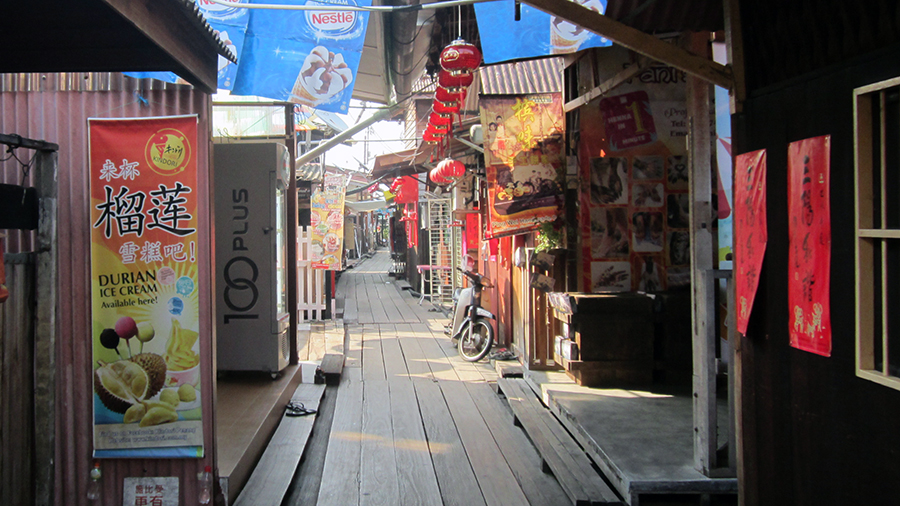 2. Eat your way through the alphabet
Street food is what Penang is renowned for. During my trip several people told me 'if you don't put on at least 2kg during your visit to Penang, you haven't experienced it'. I didn't put on those 2kg, but I gave it my best shot. Eating my way through the old town I started with Indian, followed it up with Malaysian and Chinese, then finished off with Nonya cuisine – a fusion of Malaysian and Straits Chinese. My tried and tested personal motto is 'if there are western people in the restaurant, find another'. This is the best way to find authentic, non watered down flavours.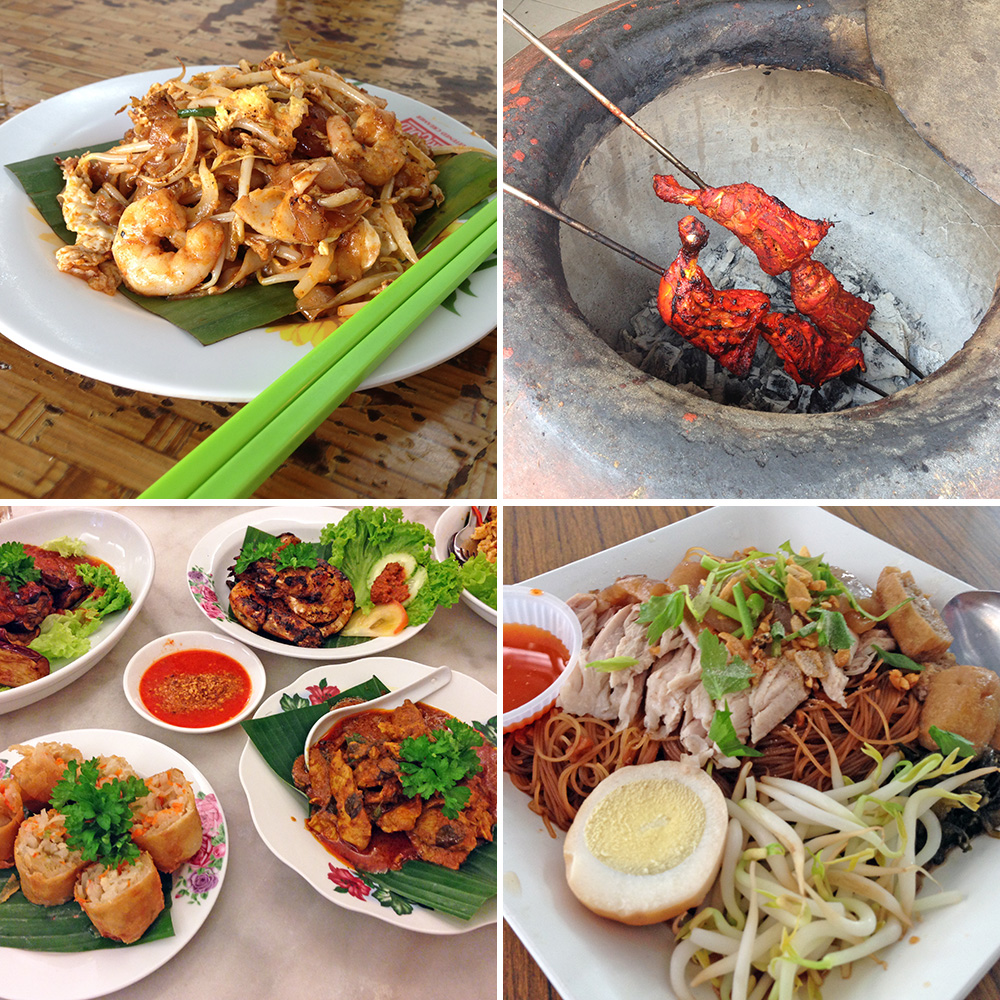 3. Explore the UNESCO Heritage area
George Town's UNESCO heritage zone is a place of living history. There are historic clan fortresses built in secret to hide their existence from police, ramshackle homes seemingly held together by wallpaper, street markets that tickle your senses with new sights, sounds and smells, and some of the most stunning street murals around. The 'Boy on a Bike' and 'Children on a Bicycle' murals by Ernest Zacharevic often get shared around on Facebook. I recommend getting up early to explore the heritage zone by foot – this way you can see what daily life is George Town is really like.
4. Penang Round Island Cycle
A great way to explore Penang is by bike. The most popular route is clockwise from George Town's Pengkalan Weld, south along the Jelutong Expressway to Bayan Lepas, around the island's south eastern foothills and north to Batu Ferringhi, then the final stretch around the north eastern tip to George Town again. Hire bikes can be found in several locations around the island, or you can sign up for a group cycling tour. The advantage of taking a tour is you get to enjoy the island from a local's perspective, but solo is just as fun. If you can't be bothered cycling all the way around the island, I still recommend hiring a bike if you can as it's a brilliant way to just explore the island and soak up the atmosphere.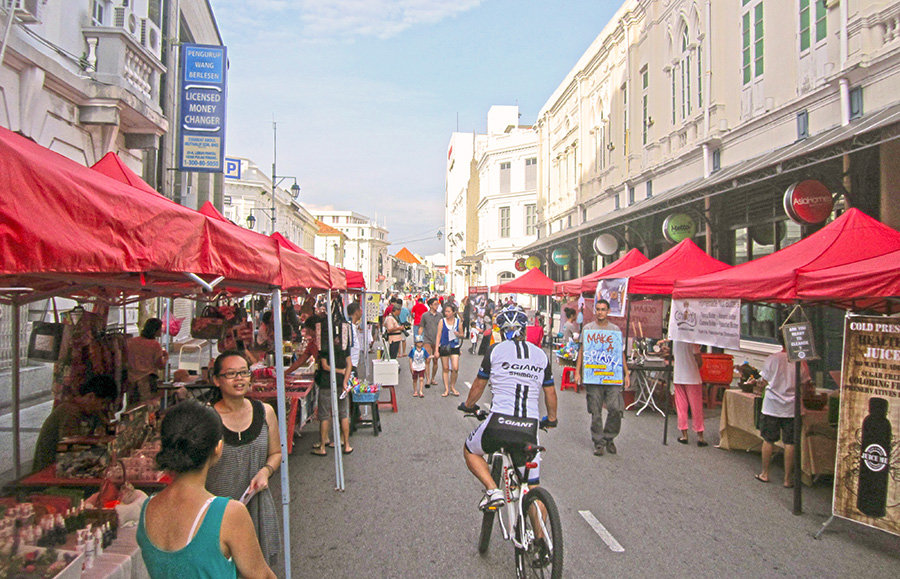 5. Take the hop on hop off bus
If you've only got limited time to explore Penang, a great way to tick off all the boxes is the Penang Hop-On Hop-Off bus. There are two routes to choose from, the city and the beach, are both are equally as interesting. Kek Lok Si, the Blue Mansion, Little India and the UNESCO Heritage Zone are the highlights of the city tour. If you're like me, you'll want to perch yourself at the very front of the open-air second floor. The buses run seven days, and generally arrive at each stop every 20-30 minutes.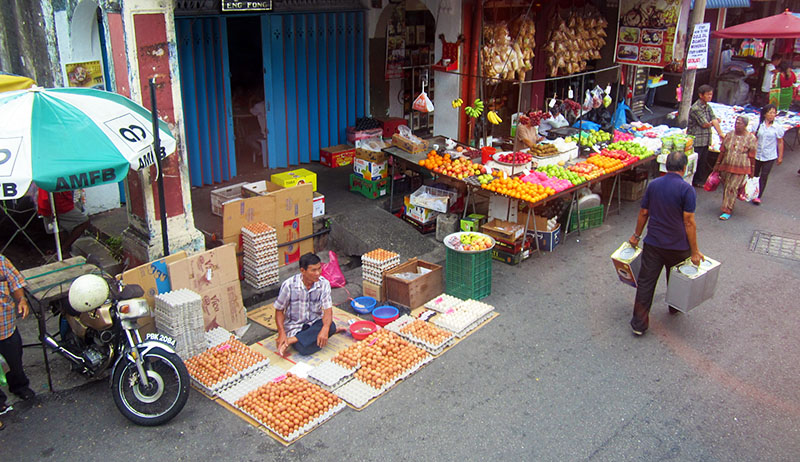 These five things were my personal highlights, but they're by no means the only things worth doing in Penang. Visit the Tourism Malaysia website for more info on Penang and it's many delights.
Getting There
Malaysia Airlines operate daily flights to Kuala Lumpur from most major Australian capital cities. From Kuala Lumpur it's a short connecting flight down to the island of Penang.  Visit malaysiaairlines.com for info.
– I travelled as a guest of Tourism Malaysia and the Penang World Music Festival.