Gin is the most exciting spirit in the world right now. I know that'll probably ruffle feathers with passionate whisky and rum fans, but, to me, it's just the gift that keeps giving. Gin has limitless potential. The flavour combinations – ingredients sourced near and far melding into something truly unique – are as much a product of their location as they are time.
I'm not alone in this view either. Australia's craft distillery scene has been slowly building for the last decade, but the last two years have seen it truly explode. Now, all around our island nation you'll find passionate distillers tinkering away to perfect their methods and recipes – the fruits of their labour blooming like the botanicals within their spirits.
One of those distillers is Toby Angstmann from the award-winning Underground Spirits.
A trained surgeon and leading fertility specialist, he dreamed of starting his own distillery for many years. While travelling in the United Kingdom in 2016, he experienced a moment of realisation that life was too short to keep putting off his dreams forever – and had the push he needed to launch Underground Spirits in Australia's capital, Canberra.
So what does Canberra taste like?
In the case of Ad Crescendum var. Flosferam – the distillery's new collaboration with the Australian National Botanic Gardens – it's a delicate, herbaceous, and slightly floral flavour that showcases the diversity of Australian natives. It's the kind of thing you could happily drink out in the garden on a hot, sunny day (which is what I intend to do later). It goes great with a Fever Tree Naturally Light Tonic.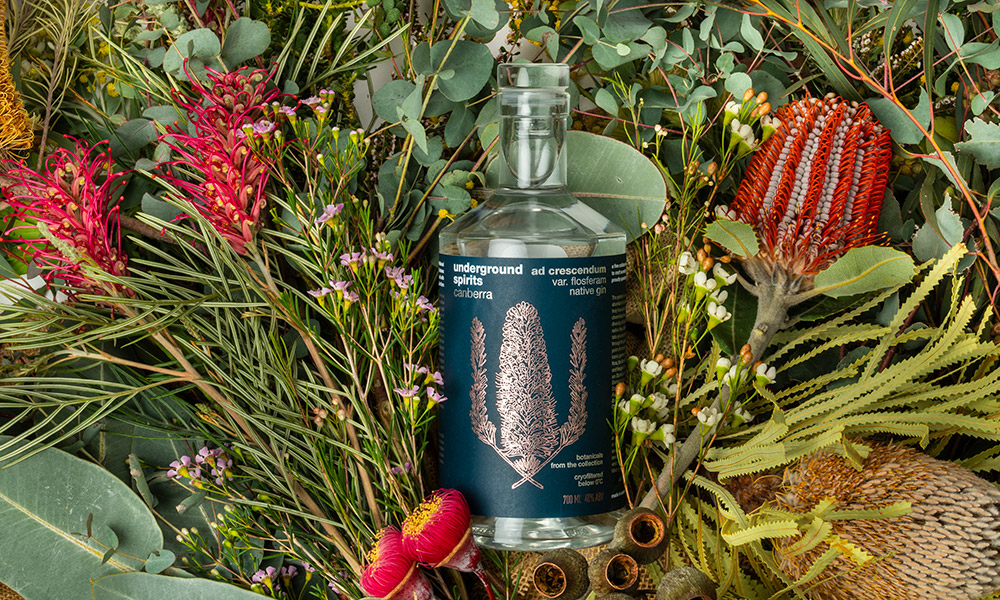 The limited-edition gin gets its crisp, floral flavour from 10 native botanicals, including three varietals of Banksia (Banksia ericifolia, oblongifolia and spinialosa), as well as Geraldton Waxflower (Chamelaucium uncinatum), Midgen Berry (Austromyrtus dulcis), Kurrajong (Brachychiton populneus) and Lemon Scented Gum (Corymbia citriordora).
This release is the second collaboration with the Australian Botanical Gardens. The first was in February 2020, when Australia was coming out of its worst ever bushfire season, the Gardens had been devastated by a huge hailstorm, and the pandemic about to kick into overdrive.
Things are in a much better place with this release. Despite lingering lockdowns, Underground Spirits' CEO Claudia Roughley says their fans just didn't want to wait any longer.
"It's been amazing to taste the final product," says Roughley. "Gin is growing in popularity across the country and there is a real movement to find true Australian tastes and recipes that no one else can replicate and quality that can't be copied. And that is what Ad Crescendum has become for us."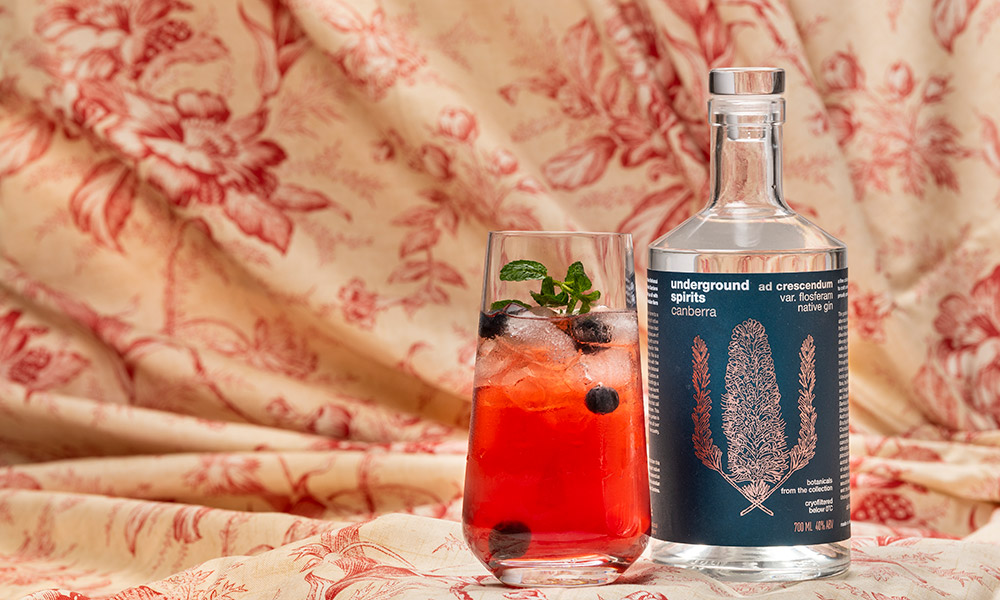 "It really is an amazing interpretation of what the Gardens' Banksia Garden tastes like and that's not a sense that you instantly consider when you're visiting the gardens. Most people are content to look, smell and touch what's growing at the foot of Black Mountain – now with this Gin, you can taste it as well."
"Having access to the nation's leading botanic garden, its plants and its talented Horticulturalists has really given us all the ingredients to authentically produce a taste of the Australian bush. And it's a taste that is a world first – there's no native Banksia inspired Gins anywhere on the market right now, and we're proud to be trail blazing in this space with the Australian National Botanic Gardens team"
Part of the proceeds from every bottle go back to the Australian National Botanic Gardens for their conservation work and continued projects, including the National Seed Bank Project. The gardens will also be reopening for public visits later this month.
Ad Crescendum var. Flosferam is now on sale online direct from undergroundspirits.com.au and at other speciality independent liquor retailers and bottle shops.