I love a good cruise ship. Perhaps I'm an old soul, with a longing to sail the high seas and fill my days enjoying shuttlecock, stage shows and Michelin-quality cuisine. As you can imagine, news that Cunard was offering a first look inside its new Queen Anne ship definitely caught my attention.
After revealing the name of the ship on 8th February, the cruise line is now lifting the lid on details for what it hopes will create a new benchmark for luxury ocean cruising.
Queen Anne will become the fourth ship in the Cunard fleet when it sets sail in 2024, joining the Queen Mary 2, Queen Victoria, and Queen Elizabeth.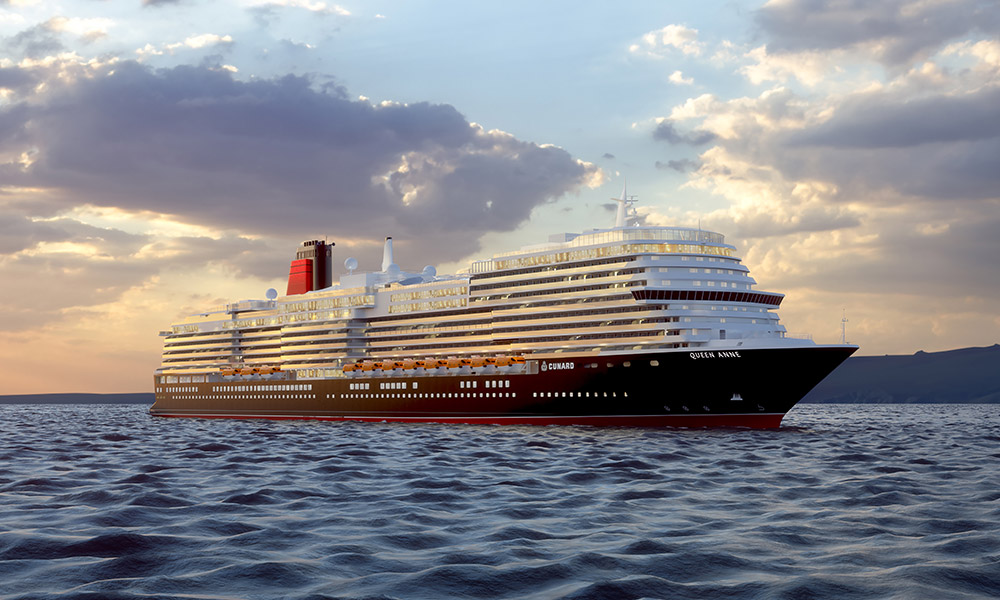 Interiors will take inspiration from Cunard's glamorous past, celebrating the Art Deco style that the brand is known for, while also taking its design in a fresh direction.
Creative Director Adam D. Tihany has collaborated with a mix of talented designers, including David Collins Studio, Richmond International and Sybille de Margerie, to create a stylish and sophisticated look, complemented by artworks from established and emerging artists.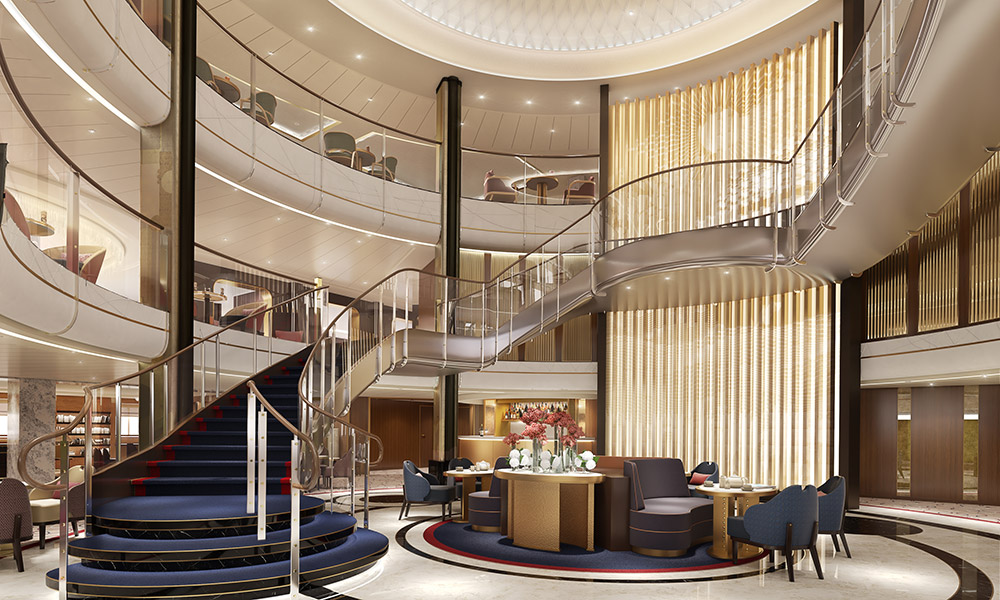 Lee Powell, Cunard Brand Vice President says the ship represents the next chapter for the Cunard brand. "[Queen Anne] will be the finest ship of her era. She embodies all the characteristics that make this brand so well-loved and at the same time reimagines the complete ship experience extending the Cunard Line for future generations."
With a total of fifteen restaurants on board – all distinctive – guests will be able to enjoy a wide variety of cuisines, ambience, and décor, from the striking interior of the Britannia Restaurant to the relaxed atmosphere of Cunard's ever-popular Golden Lion pub.
Designed by David Collins Studio, Queens Grill Grand Suites are the showstopping headliner, with a dedicated dining room and adjacent butler's pantry, walk-in wardrobes, marble finished bathrooms with views out to sea, and the largest balconies onboard.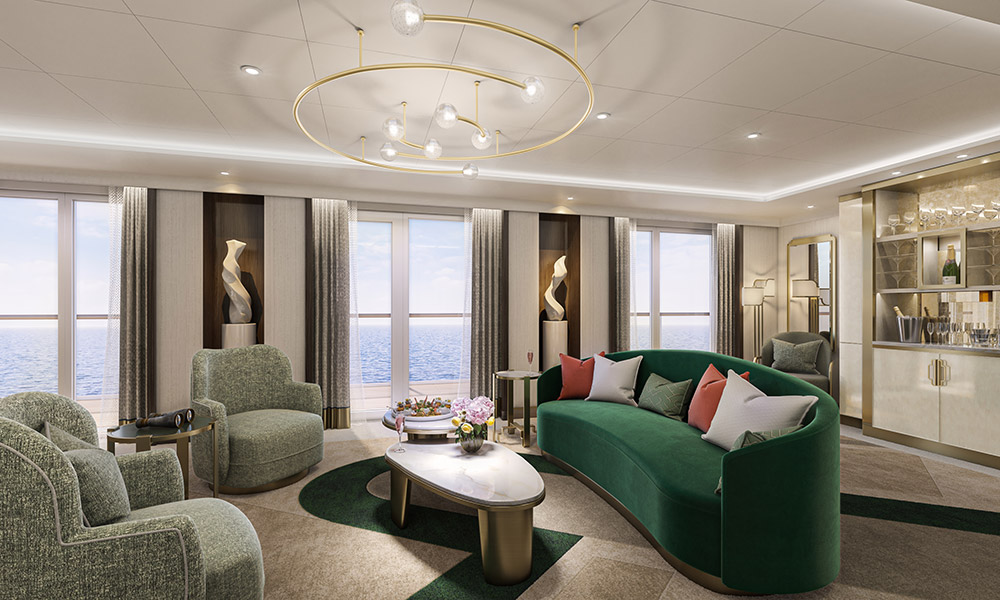 The Princess Grill Suites, designed by Sybille de Margerie, feature bespoke furnishings like a dressing table and bar area with a feature wall panel, while Britannia Balcony Staterooms provide cosy sofa seating areas looking out to sea, and light, bright bathrooms with glass walk-in showers.
On the entertainment side, Queen Anne will include the flagship Royal Court Theatre, an 825-seat space which spans two decks and will host a variety of musical, celebrity headliners and insightful speakers; as well as a reimagined Queens Room for events and Gala evenings, and a variety of other venues yet to be revealed.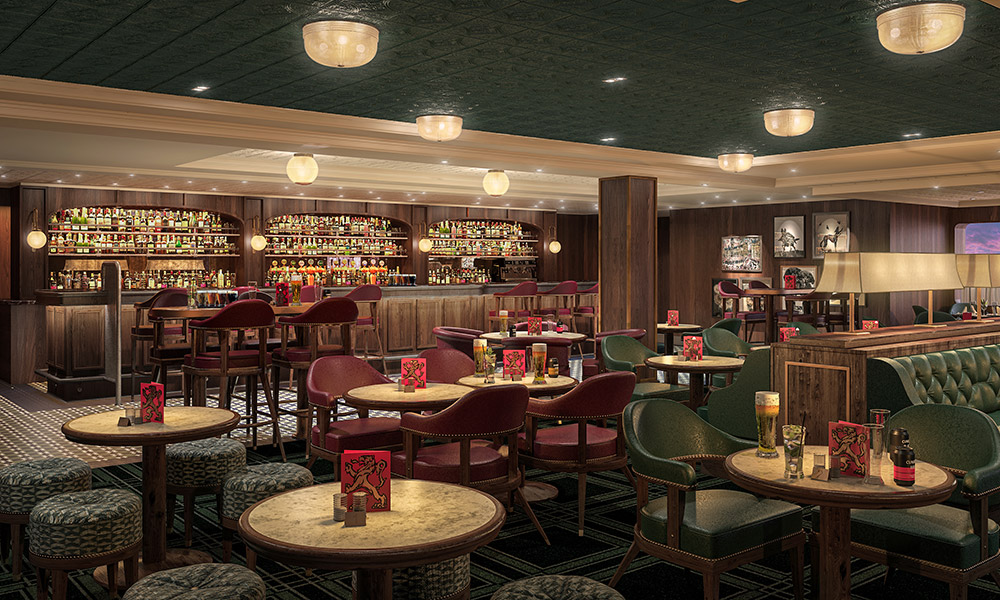 Cunard's Mareel Wellness & Beauty is also at hand when you need some pamperiong. Featuring the widest selection of fitness, beauty, thermal and spa facilities so far seen on a Cunard vessel, Queen Anne will present an exclusive array of treatment rooms and a private spa suite alongside an awe-inspiring new top-deck wellness studio.
Queen Anne will set sail in early 2024, with tickets for her maiden season available from May 2022.