Once Upon a Time in Hollywood, the ninth film from director Quentin Tarantino, is kind of a big deal. Not only does it bring Hollywood heavyweights Leonardo DiCaprio, Brad Pitt and Margot Robbie together in one film, it also serves as a love letter to the city of Los Angeles.
It pays homage to a golden era of film and television, taking in a mix of iconic and lesser known gems across L.A. – and it will have you seriously considering a trip straight after.
To give you a little inspiration on where to have the full 'Once Upon A Time' experience, Los Angeles Tourism has put together a guide to some of the movie's main filming locations.
"Bounty Law" + "The F.B.I." (Puerco Canyon)
The 703-acre ​Cameron Nature Preserve​ in Puerco Canyon (3501 Puerco Canyon Rd., Malibu) is part of a contiguous block of public parkland which stretches from Corral Canyon Park at Pacific Coast Hwy inland to Malibu Creek State Park. Featured in the movie's fictional 50s Western starring Rick Dalton, the park offers ocean views and miles of trails to explore.
Casa Vega
Dalton and Booth (DiCaprio and Pitt) get a drink at ​Casa Vega (​13301 Ventura Blvd, Sherman Oaks 91423), the Valley institution founded by Rafael "Ray" Garcia in 1956. Diners can slide into red leather booths and tuck into classic fare, just as they have for over six decades. If you want the real Once Upon a Time experience though, ask for table C6.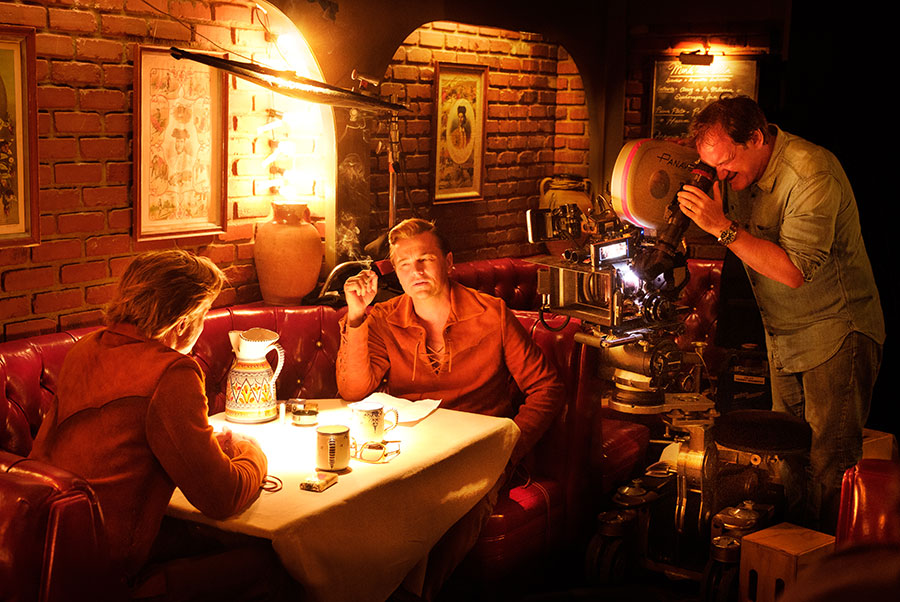 Cinerama Dome
The City of Angels is home to several iconic theatres, from Grauman's Chinese Theatre to The Orpheum. The Cinerama Dome​ (6360 W Sunset Blvd, Hollywood 90028), however, is the first and only theatre of its kind in the world. Opened in 1963, it's hosted over five decades of premieres and blockbusters. For Once Upon a Time, this iconic theatre was used as a set piece for the premiere of disaster film Krakatoa, released in 1969.
El Coyote Mexican Café
Opened in March 1931, ​El Coyote Mexican Cafe​ moved to its current location (7312 Beverly Blvd, Los Angeles 90036) in 1951. A favourite among L.A. locals, generations of guests have dined on authentic Mexican cuisine and sipped the famous Margaritas in El Coyote's lively, colourful setting. Autographed photos of Hollywood stars can be seen lining one wall.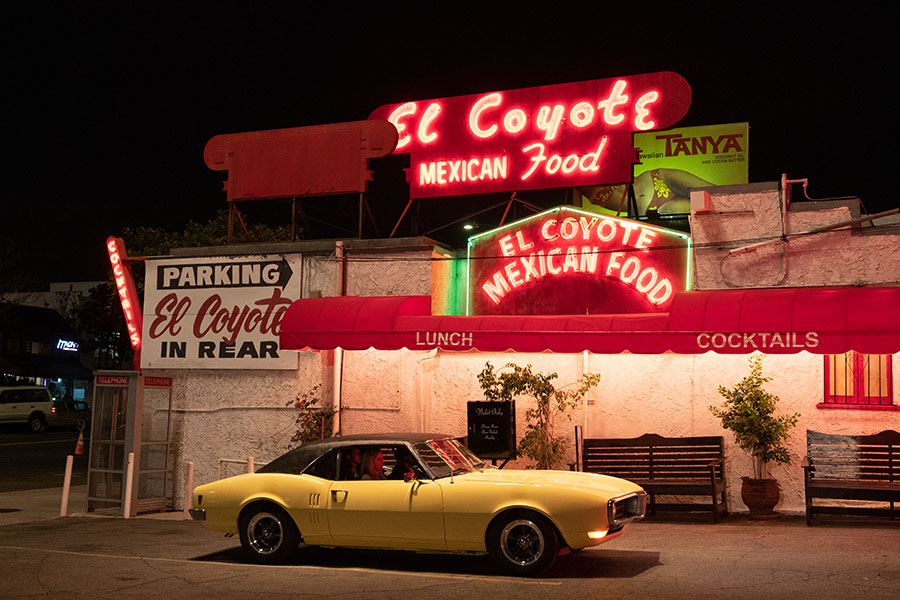 Fox Bruin Theatre + Fox Village Theatre
Located near UCLA at the corner of Broxton and Weyburn in Westwood, the ​Regency Bruin Theatre ​(948 Broxton Ave, Los Angeles 90024) opened in December 1937. In ​Once Upon a Time in Hollywood, ​Sharon Tate (Margot Robbie) stops by the Bruin to watch herself in ​The Wrecking Crew -​ the 1969 film starring Dean Martin. ("I play Miss Carlson, the klutz.")
Spahn Ranch (Corriganville Park)
Spahn Ranch was a 55-acre movie ranch that is infamous for being the primary residence of the Manson Family for most of 1968-69, including the Tate-LaBianca murders. Now part of Santa Susana Pass State Historic Park, Spahn Ranch hosts organisations like Atlas Obscura that offer guided tours of the former Manson Family hideout. In the film​,​ Spahn Ranch is portrayed by ​Corriganville Park​ in Simi Valley.
Musso & Frank Grill
The iconic ​Musso & Frank Grill ​(6667 Hollywood Blvd, Hollywood 90028), Hollywood's oldest restaurant, is featured prominently in the ​Once Upon a Time​. Celebrating its centennial this year, Musso's is as famous for its Martinis as the legendary clientele, which spans generations of celebrities from Charlie Chaplin and Marilyn Monroe to Keith Richards and Johnny Depp. Musso's was also a mecca for famed writers like William Faulkner, F. Scott Fitzgerald, Nathanael West, William Saroyan and Dorothy Parker.
For more info on Los Angeles, visit discoverlosangeles.com
Once Upon a Time in Hollywood is in cinemas now.